The Weather Channel Is Now Teaching Kids, at 50 Past the Hour: 8 Things We've Learned About Snow, Atmosphere, Planets & More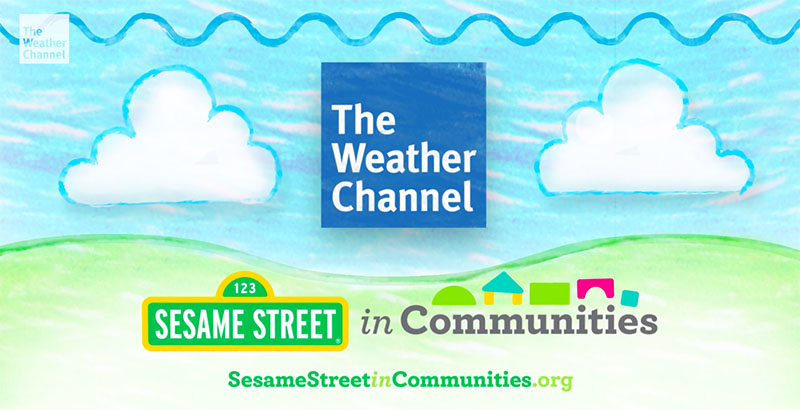 America's dislocated students now have an unexpected outlet for science lessons amid the pandemic: The Weather Channel.
The cable network is hitting pause on forecasts and weather maps once an hour, at 50 minutes past, to share student-focused content, ranging from weather phenomena to astronomy to destigmatizing the inner workings of such scary things as thunderstorms and blizzards.
They're also now identifying for families the best time of the day for "recess," given the meteorological conditions. In a partnership with Sesame Street, Elmo occasionally accompanies the network's on-camera meteorologists:
We spent a few days tuning in at the 50s; here are 8 things we learned about the weather:
1 Why snow is white:
Elmo helped introduce the subjects of snowflakes, ice crystals and how light reflects and is absorbed in different structures. After an explanation that white objects reflect light and black objects absorb light, we learn that snowflakes are composed of crystals, which redirect light in every possible direction. As a result, snowflakes look white to the human eye.
2 Atmosphere caps:
Meteorologist Jacqui Jeras landed a more advanced lesson — and a nifty metaphor. Wearing a baseball cap, she introduces the concept of the atmosphere cap: a layer of warm air situated a couple thousand feet up in the atmosphere that stops air from rising and can delay thunderstorms. As the heat under the cap escalates, the cap can break and spark strong storms.
3 The vernal equinox:
Why did spring start last week, on March 19? How does the leap year affect the date? What does "equinox" mean? Jeras, again, has all the A's to these Q's. But if you're dying to know, here's what we got: The first day of spring occurs when the sun rays are directly over the equator; the word "equinox" essentially means equal parts of day and night; and the leap year played a part in this being the earliest arrival of spring in 124 years.
4 Helping kids cope with thunderstorms:
With strong storms in the forecast, meteorologist Jim Cantore explains to a frightened Elmo what happens during thunderstorms. "If you know what's happening, maybe they're not so scary," Cantore assures. With that comfort comes a glimpse of science behind the rumbling: Lightning occurs when negatively charged particles in clouds collide with the positively charged ground. Thunder comes from the air becoming superheated by the lightning, rapidly expanding and then crashing back together. The lesson wraps up with a helpful catchphrase: "When lightning roars, go indoors."
5 What are we seeing in the night sky?
At this time of year, it's most likely Venus, says veteran space reporter Kelly Beatty. (Space.com notes that this month marks the planet's highest altitude in its eight-year cycle.) He suggests grabbing the family and a pair of binoculars to take advantage of all you can see during this clear time of the year — including the massive craters on the moon — that can be seen with the naked eye. (The next full moon is scheduled for April 7.) He also recommends loading the web application Globe at Night, a "citizen-science campaign" that allows users to upload their observations (and to also gauge the state of light pollution worldwide).
6 The many faces of spring:
Ringing in the new season, Jeras explains to young viewers that spring doesn't always arrive in full bloom and illustrates its unpredictable variability with two cities in Arizona. Wintry weather remains in a snow-covered town two hours outside of Flagstaff, while a more balmy yet stormy landscape is unfolding just south in Phoenix.
7 What is a blizzard — and how can families stay safe?
Heavy snow + heavy wind = blizzard warnings. And to be safe, you need to prepare for the cold, for a possible loss of electricity and for decreased visibility. Because of this, best advice is to stay home or to keep an emergency kit equipped with blankets, flashlights and extra batteries.
8 The dangers of lightning:
In light of impending bad weather, meteorologist Jen Carfagno explains how and why people are struck by lightning — and notes a few key locations to avoid during thunderstorms. Avoid beaches, golf courses and telephone poles — and remember this one for trivia: Lightning can be five times as hot as the surface of the sun.
If you're a parent-turned-overnight-homeschooler, these weather whizzes are offering some helpful, regular breaks for your pupils. Chances are some adults could benefit from brushing up on these topics too.
Get stories like these delivered straight to your inbox. Sign up for The 74 Newsletter