The War Against 'Lunch Shaming': NYC Joins Growing List of Cities and Districts That Are Rethinking Mealtime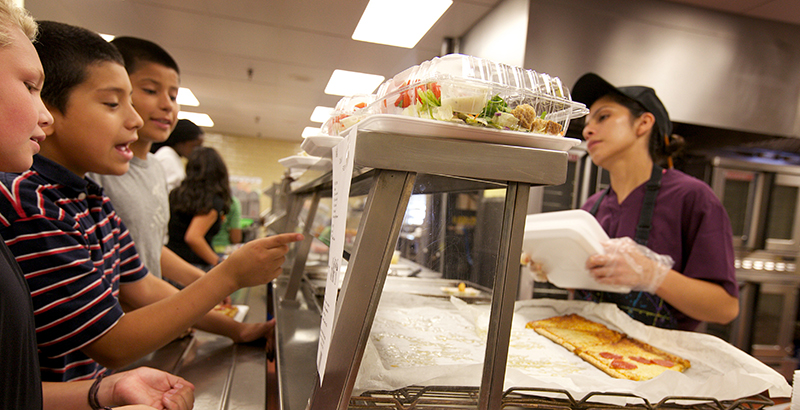 The day before students returned to class this month, New York City officials announced that all 1.1 million public school students would be provided with a free daily lunch. The move came a few months after state Senator Liz Krueger and state Assemblymember Jo Anne Simon introduced a bill to address school meal debt — and, more specifically, lunch shaming — across the state.
Lunch shaming is the practice of publicly penalizing students — whether stamping their wrists, calling them out of line, requiring manual labor, or providing alternative meals — for past-due lunch balances that their parents have not paid. (In one notable example last year, an Alabama student was forced to walk around with "I Need Lunch Money" stamped on his arm.)
Mayor Bill de Blasio was slow to roll out universal lunch citywide, but groups like Community Food Advocates praised the administration's "universal lunch" approach for creating a system that will go beyond lunch balances to also provide for students who may have refused to ever apply for free or reduced-price lunch to avoid being stigmatized by their peers.
Since long before lunch shaming became a top issue of concern for America's largest school district, educators and advocates have been making inroads in smaller states and districts across the country, convincing state education leaders to rethink their policies for low-income students. In several states this year, and in three of the country's 10 largest school districts — New York City, Los Angeles, and Houston Independent — this advocacy has yielded new laws, rules, and policies.
Here's a recap of how America's school cafeterias have changed in 2017:
New York: In early September, NYC rolled out universal lunch to put an end to lunch shaming.
Washington, D.C.: The United States Department of Agriculture (USDA), which administers the National School Lunch Program, now requires all districts to have written policies regarding unpaid meal charges. These policies must now be communicated to staff, parents, and the community as of the 2017–18 school year.
Oregon: The state Senate unanimously approved a bill in June to provide lunch to all students regardless of ability to pay.
Texas: Gov. Greg Abbott signed a bill in June forbidding lunch shaming for students who run out of funds in their lunch accounts.
Pennsylvania: A bipartisan bill to prohibit schools from stigmatizing children with outstanding balances was introduced in June.
California: In May, the Senate approved legislation preventing schools from shaming practices and denying students lunch if a parent/guardian has not yet paid.
New Mexico: Gov. Susana Martinez signed the Hunger-Free Student Rights Bill in April that outlawed shaming tactics for students and declared that all schools receiving federal food subsidies must work directly with parents to address debts and assist them with signing up for federal food programs.
Media coverage of the damaging shaming trend has prompted celebrities like John Legend to take up the issue, and inspired Good Samaritans like this Idaho second-grader who sold lemonade to pay down other kids' school lunch debt.
Get stories like these delivered straight to your inbox. Sign up for The 74 Newsletter