Texas 'Get Out the Vote' Campaign Prompts Lone Star AG to Seek School Emails and Conservative Group to Call for Teacher 'Whistleblowers'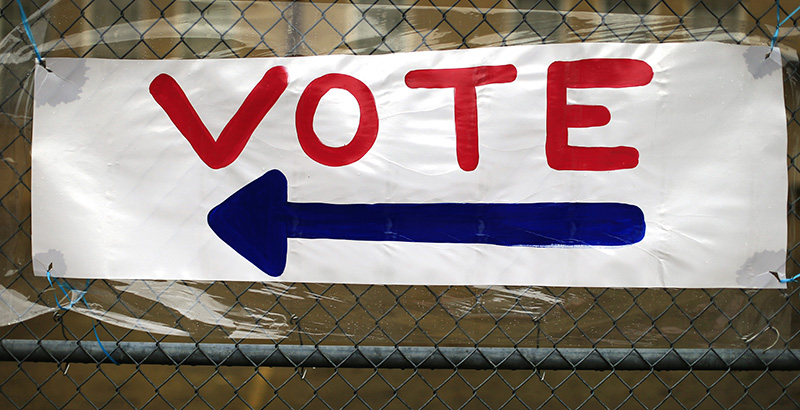 Days after Texas voters went to the polls Tuesday to vote in state primaries, educators in the Lone Star State were still puzzling over a request by the state's Republican attorney general to seek emails from superintendents and principals regarding efforts to get students and school personnel to vote.
Scott Niven, superintendent of the Allen Independent School District, near Dallas, told The Dallas Morning News that he's never seen anything like it in his more than 20 years in public education.
The oddness of the issue, which is likely to continue into the midterm general election, was underscored in February when a conservative group called Empower Texans sent letters asking teachers to report on administrators misusing district resources for political purposes, and even set up a special email address for "whistleblowing" teachers to outline their concerns.
The dustup appears to have begun when more than 100 districts in Texas, including Niven's, adopted "Culture of Voting" resolutions. School boards adopted the resolutions to give their district administrators permission to encourage and facilitate voting among students and staff. Districts have the option to give teachers "no cost incentives," such as passes to wear jeans to school, if they vote. Some districts also choose to include transportation to polling places — but the resolution included a note that districts should check with their lawyers before busing educators to the polls. The purpose of the resolution, part of a project called Texas Educators Vote, is for educators to model civic participation for students.
Laura Yeager, who directs Texas Educators Vote, told The 74 that the project is simply a "get out the vote" campaign.
"I think they're worried that people were going to vote," she said of the politicians and groups who criticize the project. "You would think everyone would encourage civic engagement and support voting, especially an elected official. … I think maybe they felt threatened."
She added: "We don't tell anyone who to vote for, we don't tell anyone what to support, but as a citizen in a democracy, people need to understand what they're voting on — and then vote."
In Texas, the conflict is not about Republicans vs. Democrats as much as it is about "moderate Republicans vs. Tea Party Republicans," Yeager said, noting that much of the pushback has come from individuals and groups that are "closely aligned" politically, on the far right.
Earlier this year, Attorney General Ken Paxton issued a non-binding opinion stating that districts cannot provide students or educators with transportation to the polls unless the trip serves "an educational purpose," the Denton Record-Chronicle reported. That decision came at the request of state Sen. Paul Bettencourt, a Houston Republican, who said efforts to encourage voting through school district incentives violated state law. The attorney general has also sent cease-and-desist letters to some districts regarding voting initiatives, according to the Fort Worth Star-Telegram.
"You can't force people to register, you can't force them to vote, and you can't offer a reward for that," Bettencourt said.
Ahead of election day, Paxton issued open records requests — an action that his office normally arbitrates — to several school districts, asking for all emails from superintendents and principals regarding voting and elections, The Dallas Morning News reported.
The attorney general's office did not respond to requests for comment from The 74.
Niven, the Allen superintendent, told the Morning News that although "it is certainly within their legal right to do a public information request," the action was "a little bit odd, in my opinion."
Michael Q. Sullivan, president of Empower Texans, the conservative group, said on Twitter that "lots of teachers are reporting administrators doing things that appear to be illegal or unconstitutional." He did not elaborate. Empower Texans did not respond to requests for comment from The 74.
When the conservative group sent letters to teachers asking them to become whistleblowers on school-related election hijinks, teachers and others soon mocked the idea on Twitter with the hashtag #blowingthewhistle. Rather than reporting inappropriate behavior, they celebrated teachers who go out of their way to care for students, such as by secretly buying shoes for a child or privately doing laundry for a homeless student. Many also used the hashtag to say they had voted in Tuesday's primaries.
Get stories like these delivered straight to your inbox. Sign up for The 74 Newsletter