Terror in Manhattan: 2 Students, 2 Staff Members Injured in NYC Terror Attack That Killed 8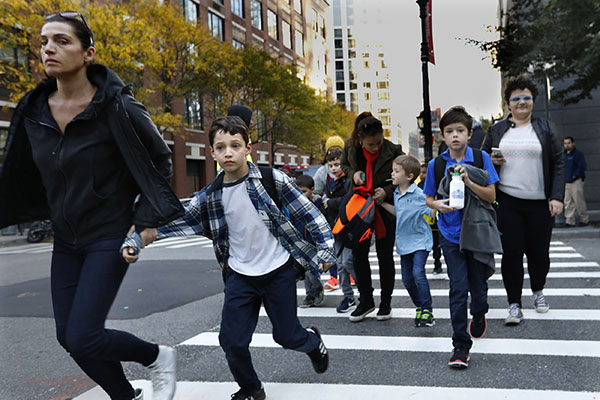 Two students and two staff members were injured in Tuesday afternoon's terrorist attack in lower Manhattan that left eight dead and 12 hurt. One of the students was in critical condition, the city Department of Education said Wednesday morning.
The attack, which city officials called the deadliest in New York City since Sept. 11, 2001, unfolded near several public schools just blocks from the World Trade Center: Stuyvesant High School, P.S. 89, P.S. 234, and I.S. 289 Hudson River Middle School.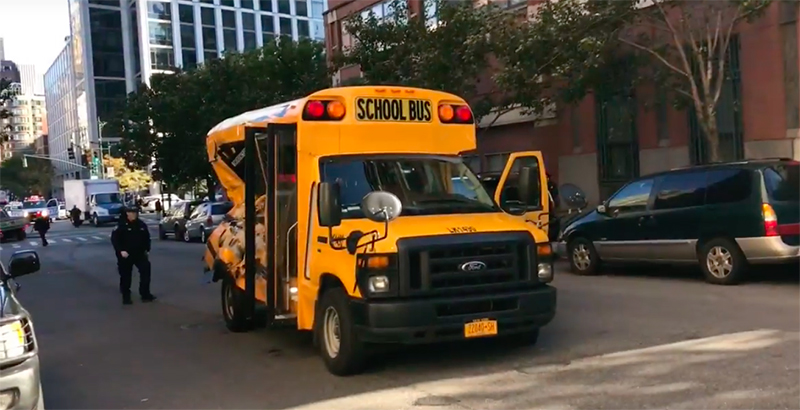 Eight people were killed when the attacker, identified as 29-year-old Sayfullo Saipov, drove a rented pickup truck into a bike lane, mowing down cyclists and pedestrians in his path. The rampage ended when the truck crashed into a school bus that was used to transport students with disabilities at two schools in lower Manhattan, The New York Times reported. A second suspect was being sought Wednesday night, and officials have charged Saipov with terrorism in the name of ISIS.
The injured students and the staffers — a driver and an attendant — were on the bus. A district spokeswoman did not provide additional information about the two injured students, citing the federal student privacy law. It remains unclear which school or schools the students attend and whether they were in close proximity to the attack.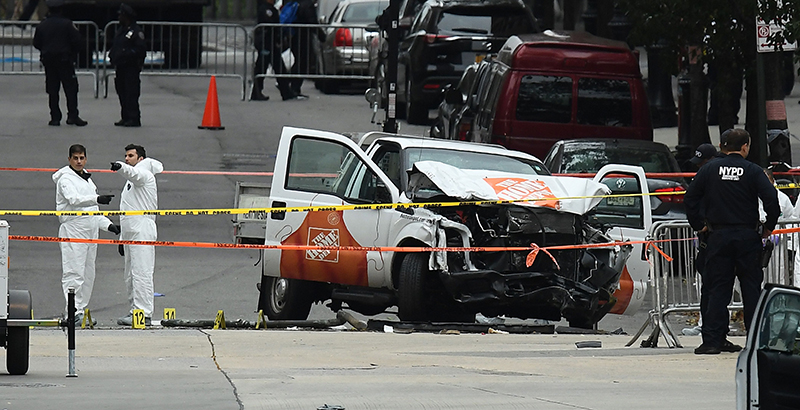 School Transportation News, a trade publication, reported Tuesday that the student in critical but stable condition is 14 years old and suffered broken ribs and internal injuries. A second student was reportedly in stable condition, the driver was released from the hospital Tuesday, and the attendant was in serious condition with a lacerated liver, the trade paper reported.
The incident took place on Halloween afternoon at the end of the school day.
"There was an act of terror in close proximity to several schools in lower Manhattan," Schools Chancellor Carmen Fariña said in a statement. "We stand with the entire city as we mourn this senseless loss of life. We are grateful to the first responders and school staff who work tirelessly to help keep our schools and communities safe. Ongoing guidance and trauma counselors will be provided across schools to those in need today."
Just steps from the scene of the bus crash, people left bouquets of flowers outside P.S. 234 on Wednesday afternoon. Children on the playground shot baskets and hula-hooped like any other day, despite the helicopters overhead and police officers, barricades, and television crews nearby. "Love is stronger than hate," read a T-shirt hanging on the playground fence.
Among those who brought flowers was Marisa McGrody, a former preschool teacher who knows several current P.S. 234 students. After she heard the news Tuesday afternoon, she called their parents, "and the first words you heard from everybody was, 'I'm OK,' " she said.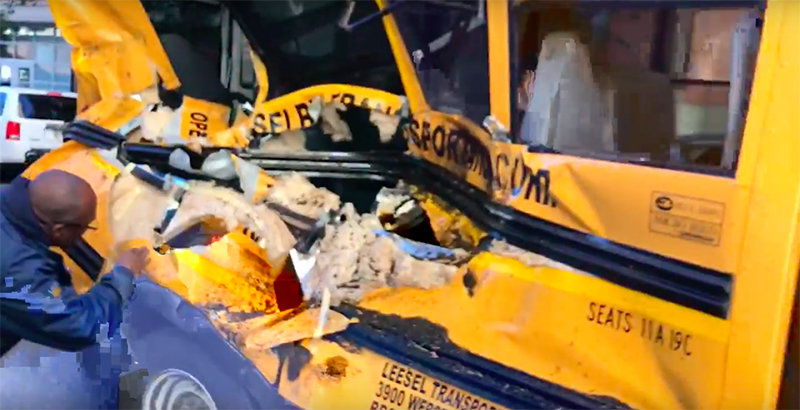 The principal, Lisa Ripperger, sent an email notifying parents Tuesday evening of the school's response after the attack "occurred in our backyard."
"I strongly advise you to help prepare your child tomorrow morning, if you haven't already, for the reality that a terrible incident happened very close to our school where a man drove a truck onto the bike path and injured and killed people," Ripperger wrote in the email. "They will have questions about why this happened. We will not have comprehensive answers."
Ripperger said school staff "sheltered in" about 85 elementary school students attending an after-school program Tuesday afternoon, along with 234 teachers and staff. That lockdown lasted nearly three hours, until 6:05 p.m.
"We need to help all of our children understand that although there will be occasional, random acts of terror by individual human beings, the grand, vast majority of people are generous, loving, and stay united when faced with challenge," she continued in the letter.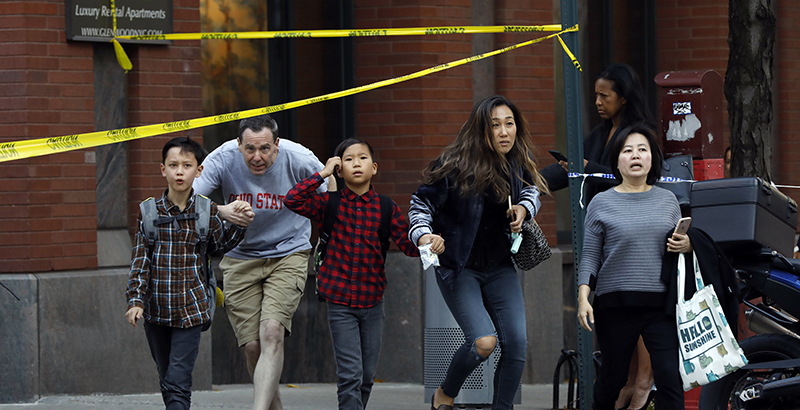 Faith Matlin, whose 6-year-old son Gavin attends the school, said the principal's message, and the school's safety procedures, helped her family feel safe. As Ripperger predicted, Gavin flooded his mother with questions after learning about the incident.
"I tried to answer briefly and honestly, and he continues to have questions about it," she said. "It's a hard thing to process, what happened on the bike path in the area that we walk almost every day."
Kenny Wong, a 16-year-old junior at Stuyvesant High School, said he was in a music room when he heard the collision. "I thought it was a guitar crashing, so I didn't take much notice to it," he said. Moments later, a school official announced the building was in lockdown. Although officials began to release students about 6 p.m., Wong said he stayed at the school until 6:45 p.m.
The rapid response from police gave Wong a sense of security, he said, but other students at the school were upset on Wednesday. Still, despite the emergency scene outside the building, the school day was mostly normal, he said.
"Some history teachers decided to teach about terrorism today, but my history teacher felt — and I agree with my history teacher — that in order to not give these terrorists prominence, we have to ignore them," Wong said. "We have to keep on living life the way it is."
Get stories like these delivered straight to your inbox. Sign up for The 74 Newsletter