Ten Finalists Named for $1 Million Global Teaching Prize, Including an Engineering Teacher Who First Brought Robotics Programs to Hawaii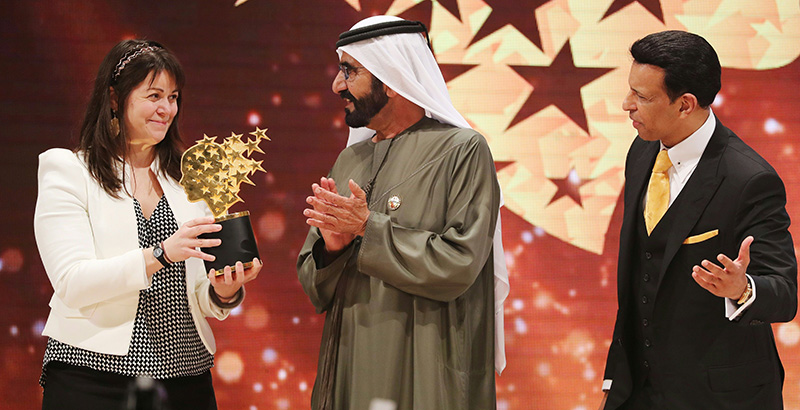 Ten teachers are one step closer to winning $1 million.
Bill Gates announced the 10 finalists for the Varkey Foundation Global Teacher Prize Wednesday morning in a video posted online.
The finalists represent 10 countries and were selected from more than 30,000 nominations and applications from 173 countries.
"Research has shown that having a great teacher can be the most important factor that determines whether students get a great education," Gates said in the video. "Finalists were selected based on a rigorous set of criteria, including their proven effectiveness in inspiring students and helping them learn."
One American, Glenn Lee, an engineering teacher from Hawaii, is in the running for the prize. Lee created Hawaii's first organized robotics program in 1999, Hawaii News Now reported.
"He's one of those people that, if you ask him for something that's going to help you grow and learn, he's going to do it, he'll go out of his way," his student Levi Kim said.
The prize celebrates exceptional teachers and recognizes the importance of the teaching profession. The first winner, Nancie Atwell of Maine, received the award in 2015.
The full list of finalists:
Nurten Akkuş, a preschool teacher and principal at Ayvacık Pre-School, Samsun, Turkey: After founding the first kindergarten in her community, Akkus increased family engagement by creating a program to get fathers involved in education. Learn more.
Marjorie Brown, who teaches history at the Roedean School, Johannesburg, South Africa: Brown has improved literacy in South Africa with a program called Kids Lit in SA. Learn more.
Luis Miguel Bermudez Gutierrez, a social science teacher at the Colegio Gerardo Paredes IED, Bogotá, Colombia: Gutierrez created a new curriculum for his students that led to a drop in teen pregnancy and was recognized as Colombia's teacher of the year in 2017.
Jesus Insilada, who teaches English and creative writing at Caninguan National High School in Lambunao, Iloilo, the Philippines: Insilada is an advocate for indigenous people and teaches his students through traditional dances, songs, crafts, and games.
Glenn Lee, an engineering and technology teacher from Waialua High & Intermediate School, Waialua, Hawaii: Lee is a former engineer who advocates for STEM education across Hawaii. Learn more.
Diego Mahfouz Faria Lima, director of Darcy Ribeiro Municipal School, in São José do Rio Preto, São Paulo, Brazil: As a school leader, Lima harnessed the power of his community to transform the school culture and improve the school's reputation.
Koen Timmers, a lecturer at PXL University College in Hasselt and a computer science teacher at CVO De Verdieping school in Heusden-Zolder, Belgium: Timmers co-founded a project that provided education resources to refugee camps in Kenya and created projects that teach students to be global citizens.
Eddie Woo, a mathematics teacher from Cherrybrook Technology High School, Sydney, Australia: Woo is a math teacher famous for his WooTube videos that help people learn worldwide. Learn more.
Andria Zafirakou, an art and textiles teacher from Alperton Community School, Brent, London, United Kingdom: Zafirakou has taken the time to learn phrases from the 35 languages her students and their families speak, and she uses real-world situations to help her students in math. Learn more.
Barbara Anna Zielonka, an English teacher at Nannestad High School, Norway: Zielonka is an English teacher who uses a "genius hour" to allow her students to pursue projects they are passionate about.
"The thousands of nominations and applications we received from every corner of the planet is testimony to the achievements of teachers and the enormous impact they have on all of our lives," Sunny Varkey, founder of the Varkey Foundation, said in a statement.
The winner will be announced at the Global Education and Skills Forum in Dubai on March 18, 2018.
The Varkey Foundation is a nonprofit "established to improve the standards of education for underprivileged children throughout the world," according to its website.
Support The 74's year-end campaign. Make a tax-exempt donation now.