Teacher of the Year Mandy Manning Leading El Paso 'Teach-In' This Weekend, Protesting Trump Administration's Child Detention Policies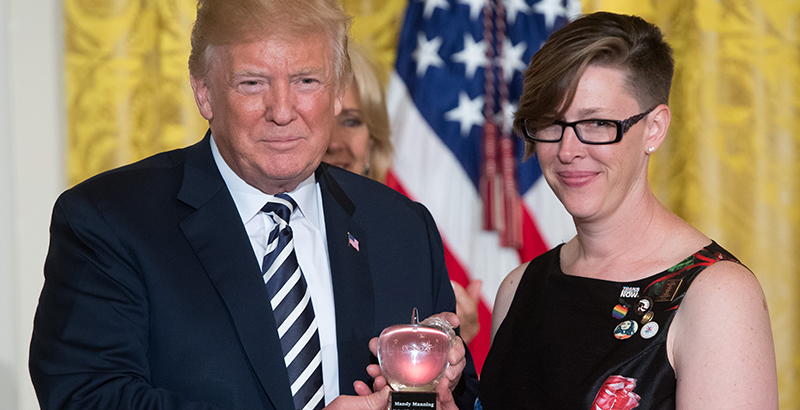 When educator Mandy Manning visited the White House last year, President Donald Trump presented her a small trophy recognizing her as the national teacher of the year. But Manning also came with something for the president: a stack of letters from her immigrant students, who wrote to Trump about their experiences coming to America.
This weekend, Manning will once again use her platform to defend immigrant children and call out Trump directly for one of his most controversial policies: child detention. On Sunday, Manning and educators from across the country — many of them state teachers of the year — plan to stage a "teach-in" in El Paso, Texas, to push the government to end the lengthy detention of children in shelters.
The shelters became a flashpoint last year when a "zero tolerance" policy led to the separation of undocumented children from their parents. Although a court ordered the Trump administration to reunite children with their families, the issue is far from over. The number of children in the shelters had reached historic levels by the end of 2018.
"Educators are mandatory reporters of suspected child abuse, and what's happening to these children is child abuse," Manning told The 74. For the past six years, she's taught new immigrant and refugee students at a high school in Spokane, Washington — students who often come with limited English proficiency and significant trauma. "These are children that we're talking about, children with endless potential."
At the teach-in, scheduled to begin at 9 a.m. MST with a livestream on social media, teachers plan to discuss the circumstances driving young refugees to flee their home countries and the challenges of being separated from their families and detained. The event, which will include educators from Mexico, will center on a list of demands, including: The government should never separate children from their parents; children should be held in community-based shelters with no more than 50 children for no longer than 20 days; and the children should receive at least six hours of classroom instruction per day.
The event has garnered support from several prominent immigrant rights groups, along with the nation's largest two teachers unions and several local affiliates.
Though Manning said she doesn't inquire about her students' immigration status, some have discussed their experiences crossing the border as unaccompanied minors and being detained in shelters for up to a month.
But now, children are staying in shelters for longer durations. During fiscal year 2018, children stayed in federal custody for 60 days on average, Commander Jonathan White, who led the government's efforts to reunite children with their parents, testified in a House subcommittee hearing earlier this month. In 2019, average detention stays have spiked to 89 days, though White said the government expects that to decline over the year.
"The trauma has to be just absolutely astronomical," Manning said. "Even just having the experience of going through that process for a very short time causes a lot of anxiety and depression and physical ailments like stomach illnesses and major headaches, exhaustion."
While the government must ensure unaccompanied youth are placed with safe and appropriate sponsors, officials should try to release children as quickly as is safely possible, said Mark Greenberg, a senior fellow at the nonpartisan Migration Policy Institute who served as a senior official at the Department of Health and Human Services during the Obama administration. Lengthy youth detentions, he said, raise "significant concerns about impacts on child well-being."
There's also evidence child separation is still occurring, though at a slower rate, Greenberg said. He pointed to a January report from his former department's Office of Inspector General, which found that more than 2,700 children had been separated from their parents under the "zero tolerance" policy. However, the report acknowledged that the tally doesn't capture the full extent of family separation and may not account for "thousands of children," including at least 118 the agency received between the June 2018 federal court order requiring family reunification and November. But the Department of Homeland Security has provided "limited information about the reasons for these separations," according to the report, which may limit the government's ability to "determine appropriate placements."
The number of children housed in the facilities has also spiked to historic highs. In May 2017, some 2,400 migrant youth were housed in the facilities. By December 2018, that number had jumped to 14,700 children in about 100 shelters across 17 states.
Though several factors are at play, Greenberg said the rapid growth in sheltered students can be attributed in part to a June policy that required everyone in a potential sponsor's household to submit fingerprints for background checks. Meanwhile, the Department of Health and Human Services agreed to share information about potential sponsors with immigration enforcement officials.
"It creates a situation where a parent has to be fearful that coming forward could result in being arrested," Greenberg said.
The administration changed course in December and began to require only potential sponsors — not everybody in their household — to undergo fingerprinting. Since then, the number of children in shelters has dwindled. The shelters housed about 11,400 children on Feb. 10, a Department of Health and Human Services spokesperson said in an email.
Tornillo
For Manning, the idea to protest child detention began on a Teacher of the Year trip to Texas. While there, she realized she was close to the "tent city" in Tornillo, a temporary "influx" shelter that at one point housed some 2,800 children. Flustered because she was unable to visit the camp during her trip, she hit upon the idea to rally teachers to hold a vigil outside the facility.
Amid fierce scrutiny from critics who opposed Trump's immigration policies, Tornillo closed in January. That caused Manning and her fellow teachers to change course, and they'll now hold the event at San Jacinto Plaza in El Paso.
Manning sees the closure as a reason to keep fighting.
"I believe that Tornillo closing suggests that we have the ability as a nation to make the decision to close these facilities," she said. "We've done it, we've proven that it can be done, and so therefore what is standing in our way? We should be closing all of them."
Ivonne Orozco, who teaches high school Spanish in Albuquerque, offered a similar sentiment. Orozco, last year's New Mexico teacher of the year, is among the educators who plan to attend the protest. With Tornillo closing, Orozco said, children in federal custody are simply being relocated to other locations such as a second tent city in Homestead, Florida. About 1,500 children are currently being detained at Homestead, the Department of Health and Human Services spokesperson said.
The issue is deeply personal for Orozco, who was born in Mexico and immigrated to the U.S. when she was 12. Though she now has a green card, until recently she had a work permit and received deportation relief through the Deferred Action for Childhood Arrivals (DACA) program. As a child, she arrived to the U.S. unable to speak English and faced significant trauma, but she said she benefited from public education.
"I am so grateful that I had that opportunity because that's essentially what we are robbing these over 10,000 children who are being detained in immigration centers," she said. "In these prison camps, we are taking away the opportunity for them to experience what I did."
Although children in federal custody are entitled to an education, the services weren't designed to serve children for long periods of time. Under the 1997 federal Flores Agreement, shelters are required to provide "education services appropriate to a minor's level of development and communication skills in a structured classroom setting" for six hours a day, but they aren't held to the same accountability standards as traditional public schools. In "influx" shelters like Tornillo, however, federal policy says education services are simply "encouraged." At Tornillo, there was no school and children were given worksheets but were not required to complete them. At Homestead, "classes are part of the daily structure," the HHS spokesperson said, with instruction focused on Spanish, English, and mathematics.
By protesting youth detention, Orozco said, she hopes to send the message that educators want the children to be released from shelters to sponsors so they can enroll in school. She rebuked Trump, who, during his State of the Union speech, said illegal immigrants overburden schools.
"Teachers care for all children, and all children have endless potential, all children deserve to be free," she said. "We are really saying, 'We welcome all students.'"
Get stories like these delivered straight to your inbox. Sign up for The 74 Newsletter