Teacher Appreciation Week: A Look Back at 18 Incredible (and Inspiring) Ways Students & Schools Celebrated Their Teachers Over the Past Year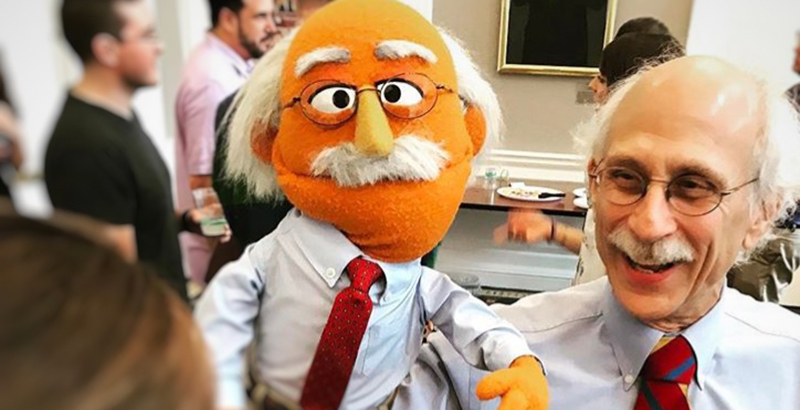 Classrooms nationwide on Tuesday will celebrate Teacher Appreciation Day. While teachers do important — and often thankless — work every day, this day is set aside to honor the nation's estimated 3.6 million teachers for their endless contributions to schools and communities around the country. In ways both profound and silly, students and their communities have been sharing the love for their teachers. From students buying their teacher a new puppy to parents doling out personalized bottles of wine, here's a roundup of 18 of our favorite moments of the past year.
1. Whittling down the bucket list: Texas students help sick teacher raise money to see the redwoods — and splash in the Pacific — before it's too late.
Michelle Wistrand, a middle school English teacher, was dying of terminal cancer. But she had a bucket list, including a desire to see the Redwood Forest and swim in the Pacific Ocean. Eager to help a teacher they loved, her Texas students raised more than $10,000 on GoFundMe for her trip. Wistrand was able to visit several bucket list destinations before she died last month.
"I just feel loved and humbled by it and so extremely grateful I have these people in my life," Wistrand said. (Read more at ABC 13)
2. 'We are going to carry you': Ohio students promise to save their wheelchair-bound teacher in the event of a school shooting.
The deadly Valentine's Day massacre in Parkland, Florida, sparked difficult conversations among teachers and students around the country. What would they do if a shooter came into their classrooms? But for Marissa Schimmoeller, a high school English teacher in Ohio, there was an added level of anxiety: She uses a wheelchair. When her students asked what they should do if a shooting breaks out at school, Schimmoeller explained that their safety is her main concern; if they have a chance to escape, they should take it, she said — even if she doesn't make it.
What happened next brought her to tears. She described it on Facebook: "Slowly, quietly, as the words I had said sunk in, another student raised their hand. She said, 'Mrs. Schimmoeller, we already talked about it. If anything happens, we are going to carry you.'" (Read more at Upworthy.com)
3. 'We knew she loved us': Fifty years later, Nashville students throw a party for their favorite teacher.
There are some teachers you never forget, no matter how long you've been out of school. Marie Wiggins, 96, of Nashville, is one. The students she taught in the 1960s remembered that Wiggins had been there for them in difficult times, had helped them put on plays, respected them, and loved them — without putting up with their nonsense. Recently reconnected on Facebook, they organized a reunion to honor her.
"She was so precious," one student remembered. "We had her respect, and we knew she loved us. She was like our little mother."
"My sixth-grade year in school, President Kennedy was assassinated," another said. "[Mrs. Wiggins] was there with us, I remember that we talked, I remember I felt safe and I felt calm." (Read more at The Tennessean)
4. In her first major post–White House speech, Michelle Obama credits educators with having 'a far bigger impact on our kids' lives than any president.'
If you ask Michelle Obama, teachers basically run the world.
In her first major post–White House speech in February, the former first lady gave a reminder that real change doesn't happen "from the top down in Washington."
"It happens on the ground, in classrooms, in those face-to-face and heart-to-heart interactions between our kids and caring educators and counselors," she told the audience at the Kennedy Center in Washington, D.C., assembled for the School Counselor of the Year ceremony. "The men and women on this stage … have a far bigger impact on our kids' lives than any president or first lady." (Read more at Bustle)
Start watching at 05:10 to hear Obama's thoughts on teachers' meaningful contributions to students' lives:
https://www.youtube.com/watch?v=oNr0RXYrqhk&t=313s
5. Two astronauts are bringing the 'lost' lessons of fallen teacher and Challenger astronaut Christa McAuliffe to life.
Christa McAuliffe, tapped to become the first teacher in space, died when the space shuttle Challenger exploded in 1986. Her lesson plans — which would have been filmed in space for students on Earth — faded into oblivion. But in January, the Challenger Center, an educational nonprofit created after the disaster, announced that astronauts Joe Acaba and Ricky Arnold, both former educators, would use McAuliffe's writings and notes to bring four of her six "lost lessons" to life.
The pair planned to record the lessons on the International Space Station over several months, with video postings on the Challenger Center website slated for spring. McAuliffe's lesson plans delve into topics such as liquids and Newton's laws of motion.
"We look forward to helping inspire the next generation of explorers and educators," Acaba said during the January announcement. (Read about McAuliffe's "lost lessons" here)

6. Maybe their son didn't drive his teachers to drink, but these Ohio parents knew he wasn't the best-behaved. So they gave his teachers the perfect gift: personalized bottles of wine.
For Christmas last year, the parents of Ohio eighth-grader Jake Sommers wanted to give his teachers something more than a stereotypical coffee mug. Since Jake has been a bit of a "school clown" since kindergarten — as his mother Mary Sommers affectionately told BuzzFeed News — alcohol seemed appropriate.
So 10 of Jake's teachers received a bottle of chardonnay with his face smack-dab on the label. The corresponding message read: "Our child might be the reason you drink so enjoy this bottle on us."
Jake's mom told BuzzFeed News that "none of the teachers were shocked" by the gift. (Read more at BuzzFeed News)
7. Chance the Rapper has given millions to Chicago schools. Now he's heading a teachers awards show in June.
Chicago teachers will be getting the all-star treatment this June, with rap icon and Chicago native Chance the Rapper spearheading a new awards ceremony to recognize "teachers, parents, principals, and students that convey leadership" in area schools.
The annual "Twilight Awards" show, first announced in September, will feature special guest performances. CBS late-night personality James Corden will host.
Chance is a known education advocate. His nonprofit, SocialWorks, allotted $100,000 grants to 20 Chicago public schools last year. (Read more at Pitchfork)
Watch here, with mention of the Twilight Awards at 17:30:
8. Indiana teacher receives the gift of color — with a Harry Potter–themed twist.
When Beau Scott's Indiana students made him dress like he was getting ready for a Quidditch match out of the Harry Potter books, he had no idea they had something truly magical in store. Scott's students knew he was colorblind, so they pitched in $5 to $10 each for a $300 pair of special glasses to allow him to see colors.
When Scott put on the fancy "Quidditch goggles" his students gave him, he saw colors for the first time — an experience he described as "awesome." (Read more at U.S. News)
9. This Is Us star Sterling K. Brown gives thanks to his high school advisor — 'the first adult who spoke to me about life' — at TIME 100 gala.
Sterling K. Brown has made a name for himself, starring in the NBC drama This Is Us and nabbing a historic Emmy win in 2017. But at the TIME 100 gala in April, Brown took a moment to honor his high school adviser and middle school algebra teacher.
Barbara Jenkins Bull taught him the ins and outs of the stock market. She'd encouraged him to explore other countries. She cheered him on at every football and basketball game.
"She influenced the trajectory of my life in ways she and I could never have imagined," he said. "I felt like I could run through a brick wall, and I wanted to do it for her." (Read more at TIME)
Watch the video starting here:
10. Students wanted to honor a Harvard educator who loves Sesame Street. So they transformed him into a muppet.
A few students in Harvard's Graduate School of Education wanted to thank professor Joe Blatt last June for bolstering the school's relationship with Sesame Workshop, a Sesame Street–based nonprofit that supports children's educational development.
Nothing seemed more fitting than a look-alike muppet. So they reached out to Sesame Workshop CEO Jeffrey Dunn and commissioned the professorial miniature — complete with a balding head, fluffy white mustache, rimmed glasses, and red tie.
"Joe was such an inspiration to us this year; he has done so much to bring the Sesame relationship back to Harvard," one student presenter said at the muppet's unveiling. Another added jokingly, "When [the Sesame Workshop team] got the pictures, they said, 'He already looks like a muppet.'" (Read more at GoodNewsNetwork.org)
Watch the unveiling and Blatt's reaction here:
11. Puppy love: Alabama teacher's class buys him a dog after he loses his.
Troy Rogers, a high school teacher in Athens, Alabama, told his students in December that his dog of 11 years had run away, probably to die. After hearing the news, his senior class pooled their money and surprised him with a new puppy because they knew how much their teacher missed his old dog. Rogers named the puppy Clementine.
"I love these kids. There are no words," Rogers wrote in a Facebook post. "I will consequently be adding the estimated cost of the puppy to the senior fund, out of my pocket." (Read more at Fox 13)
12. 'This is everything': Utah teacher breaks down when a former student shows up at her door after four decades.
Utah teacher Margaret Foote had an unanticipated visitor last May: a former student from four decades prior, bearing a bouquet of red roses and a tiered, personalized cake.
In 1978, Foote was a pillar of support for Cindy Davis, a Salt Lake City third-grader struggling with her mother's remarriage, a recent move, and a lack of friends. Davis is now an educator herself.
"All throughout my career I have remembered you and thought about what a great teacher you were to me," Davis told Foote. "I've tried to pay it forward."
Foote was moved to tears. "You don't know what this means to me, as a teacher," she said. "This is everything." (Read more at KSL.com)
Watch their reunion here:
13. Rhode Island teacher's dream comes true when high schoolers create prosthetic arm for her son.
All Rhode Island middle school math teacher Nicole Mancini wanted was for her 9-year-old adopted son, Olly — born without a lower left arm — to have a semblance of normalcy and independence. Last December, a group of Scituate High School students gave him just that, manufacturing a plastic prosthetic arm with a 3-D printer.
The arm is green and purple, Olly's favorite colors. In a Providence Journal video, Olly, sporting a huge grin, curled his new fingers a few times and leaned over to give his mom a hug.
"This is the greatest gift anyone could have given me," Mancini told the Journal. "Olly is blessed to have these kids in his corner." (Read more at the Providence Journal)
See the gallery here, and watch the video of Olly trying on his new arm:
14. New Mexico students surprise their teacher with a Christmas gift for his sick son.
Widowed math teacher Nathan Neidigk, of Albuquerque, New Mexico, didn't think he'd be able to afford Christmas presents for his son, who is struggling with leukemia and has required frequent hospital visits. His students surprised him, chipping in for a Nintendo Switch gaming console. The high schoolers also set up a GoFundMe page to help with other health care costs. (Read more at GoodNewsNetwork.org)
15. Avengers' Chris Hemsworth asks Twitter to support 'the real superheroes' — teachers like his mom.
Avengers franchise star Chris Hemsworth, a.k.a. Thor, whose mom was a teacher, took to Twitter on April 30 to promote a partnership between Marvel Studios' Avengers: Infinity War and Ziploc, which has pledged $100,000 in funding for classroom projects.
Those who purchase Ziploc's superhero-themed bags and containers that celebrate the film's release will help support the donation, part of Ziploc's #MoreThanATeacher initiative.
"As the son of a teacher, I know that educators like my mom are the real superheroes," said Hemsworth. "My mom taught me everything I know, and I continue to learn from her every single day." (Read more about the initiative at TriplePundit)
16. Fairbanks, Alaska, Girl Scouts give their highest honor to a retired — and beloved — Fairbanks teacher and Girl Scout leader. 
Claudia Pierson, a retired teacher who has worked with Girl Scouts in Fairbanks for decades, recently received the highest award the organization bestows on a volunteer, the Thanks Badge II, for dedicated service to the organization. A self-described "volunteer addict," Pierson led her daughter's Girl Scout troop in the 1980s and now leads her granddaughter's. She also volunteers at a youth homeless shelter and at her granddaughter's school, organizes a Christmas charity event, and hands out food boxes at her church. (Read more at the Daily News-Miner)
---
Despite her credentials, [Pierson] is a humble volunteer, willing to do what needs to be done, whether it is moving a Coke machine, fixing a bulletin board, selling tickets for charity or cleaning up after a charity event.
—the Daily News-Miner
---
17. A sweet gesture: Huntsville, Alabama, student gives her ice cream money to teacher to help pay for father-in-law's funeral.
Price Lawrence was teaching his sixth-grade students one morning when they noticed something was off. He explained that he was worried about his wife because her father had recently died. When class ended, one student slipped a piece of paper and some coins in Lawrence's hand. The note said "I'm sorry." The coins were the student's ice cream money for that day.
"This is for your wife. I know it was real expensive when my daddy died and I don't really want ice cream today anyways," the student said. Price shared the touching story on Facebook, where it was shared more than 250,000 times. (Read more at GoodNewsNetwork.org)
18. Students throw surprise party for Iowa teacher who's been in the same district for 50 years.
David Houseman has been teaching in southern Iowa's Moulton-Udell School District for 50 years, and he still hasn't updated his chalkboard to a SmartBoard. His former students, some of them teachers themselves now, recently reunited for a party to celebrate his half-century in the classroom. Houseman, who has no plans to retire, said his students keep him coming back.
"I think the kids are actually better, a lot of people think kids are worse," Houseman said. "Maybe I'm just more liberal or more tolerant. … At M-U, and Moulton, I think the kids … and the community has an appreciation for education. And that's one reason why I like this school district." (Read more at the Daily Iowegian)
https://www.facebook.com/leah.a.scott.5/posts/10209475520165219
Get stories like these delivered straight to your inbox. Sign up for The 74 Newsletter