Study Shows That Kids Who Were Oldest in Kindergarten Enjoyed Benefits Well Into Their Teenage Years — and Beyond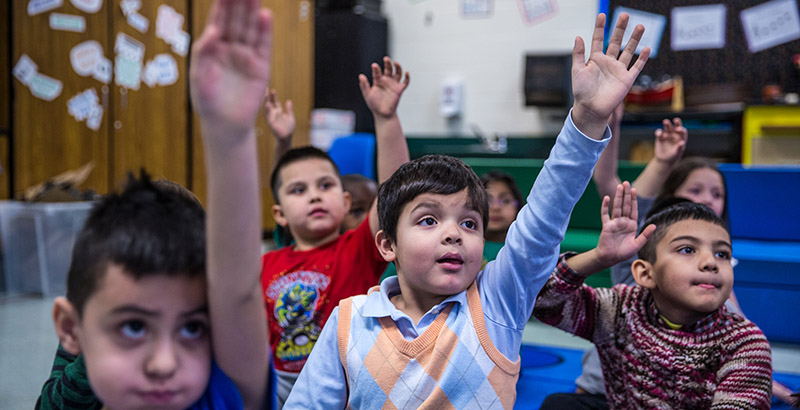 Can being the oldest in kindergarten help students get into better colleges? A new study suggests the answer is yes.
The National Bureau of Economic Research found that being an older kindergartner has benefits that last into the teen years and beyond — students who are the oldest in their class are more likely to get into selective colleges, more likely to earn a degree, and less likely to become involved with the juvenile justice system than their younger classmates.
The study compared children born in September with those born in August, to see how their age when entering school affected them over time. Researchers examined data from public schools in Florida, which use a Sept. 1 cutoff to determine when students will start kindergarten, to track the children from academic years 1997–98 through 2011–12.
They discovered that the older students outperformed their younger peers on tests by a consistent amount regardless of factors like birth weight, maternal education, and poverty. Siblings with August and September birthdays showed a similar distinction.
The researchers found September-born children were:
2.1 percent more likely to attend college
3.3 percent more likely to graduate from college
7.2 percent more likely to graduate from a selective college (as defined by Barron's)
15.4 percent less likely to be incarcerated before age 16
The report said that these benefits were concentrated among white students and more likely to be observed in middle-class families. It also noted the issue of redshirting, the practice of holding children back from starting school so they will be among the oldest in their class.
More affluent and better educated parents are more likely to delay the start of kindergarten for their children, and are more likely to hold back sons than daughters. In some cases, districts mitigate the differences by holding children back a year in the early grades.
David Figlio, an author of the study, told NPR he thinks educators should be looking for ways to close this gap, which could be equivalent to 40 points on the 1600-point SAT. For example, schools could group students into kindergarten classes by birth date so teachers can more easily account for developmental differences among students.
One of the authors warned about using the data as a reason to hold children back from starting kindergarten.
"On average, it is the case that August-born children are going to do slightly worse than September-born children, but this has no implication that Mr. Smith should redshirt their perfectly fine kid to give them an extra edge," Krzysztof Karbownik told Education Week. "There are real costs to them."
Get stories like these delivered straight to your inbox. Sign up for The 74 Newsletter