Study: Chicago's Civilian Monitoring Program Kept Kids Safe on School Commutes, Providing Possible Model for Urban Districts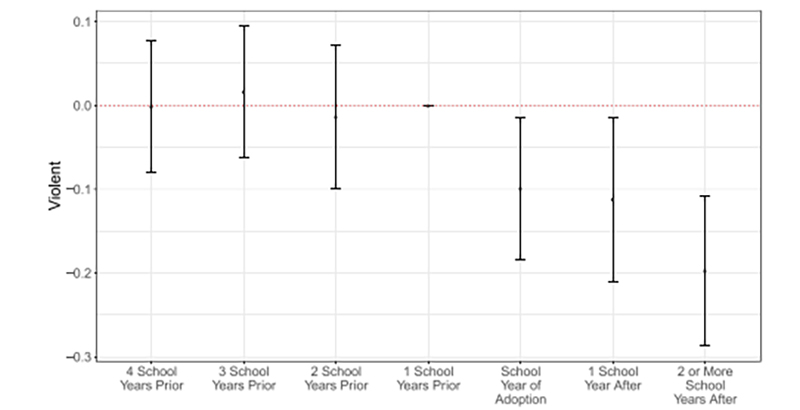 This is the latest article in The 74's ongoing 'Big Picture' series, bringing American education into sharper focus through new research and data. Go Deeper: See our full series.
A Chicago program designed to safeguard students' commutes to and from school led to significant decreases in crime, according to a study released this spring. The initiative — in place for a decade while the city has experienced periodic swells of street violence — also increased attendance among participating schools, the study authors found.
Evidence of the program's success may recommend it as a model to other schools and districts contemplating ways to curb misconduct and absenteeism among their student populations.
The study, co-authored by economists at the University of Illinois and the University of Georgia, examined Chicago's Safe Passage project. After a successful multiyear pilot, the idea was first widely implemented in 2009 following the highly publicized murder of Derrion Albert, a 16-year-old honors student who was killed while heading home from his high school on the city's South Side.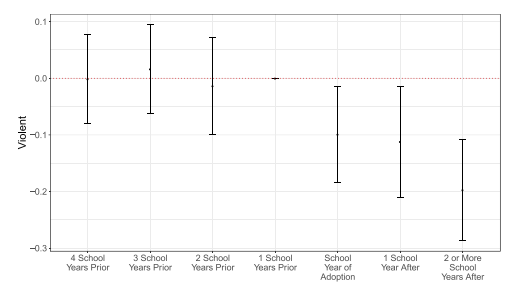 Coordinated jointly between Chicago Public Schools and the city's police department, Safe Passage places civilian monitors — often the parents or grandparents of students, as well as other community members — along commonly used transport routes for roughly 2.5 hours at the beginning and end of the school day. The employees are paid $10 per hour and are each responsible for patrolling roughly one block of each route.
Though they are unarmed and have no means of apprehending criminals, the monitors must undergo de-escalation training and are encouraged to both resolve conflicts that arise among students and report suspicious activity to police.
First rolled out in 35 schools in relatively high-crime areas during the 2009-10 school year, Safe Passage now disperses 1,300 employees along routes serving more than 150 participating schools.
The program has been a celebrated success even as Chicago has struggled to reduce troubling rates of violence in recent years. In June, newly elected mayor Lori Lightfoot celebrated the end of the school year with Safe Passage employees, feting them for helping bring peace to local neighborhoods.
Other large districts have already taken note: In Newark, where crime has been dropping in recent years, officials instituted their own safety campaign — similarly dubbed Safe Passage — five years ago. It will grow to encompass 11 schools this fall, and Superintendent Roger León has called for an even broader expansion in the years to come.
In determining the Chicago program's effects, study co-authors Daniel McMillen and Ruchi Singh used crime data provided by the Chicago Police Department to track both violent and property crimes in the vicinity of Safe Passage routes. Dividing the areas into individual cells accounting for 1/64th of a square mile, they compared areas guarded by Safe Passage employees with similar ones nearby.
After three years of participation in the program, the authors found, Safe Passage schools saw a significant reduction in violent crime along their commuting routes. Importantly, this effect grew, rather than receded, with time, with no evidence of "deterrence decay" as bad actors adjusted their criminal patterns to the presence of civilian monitors. And by charting crimes in adjacent areas, the authors found that crime wasn't simply migrating to nearby blocks — it just didn't occur.
"We find that Chicago's Safe Passage program has had a persistent reduction in crime three years after the experiment began," they write. "We find that the effects are persistent over time and continue to lower crime throughout the implementation period. Schools that had the program for more than two school years show a significant reduction in crime, with an approximate 20 percent decline in violent crime."
Perhaps best of all, by reducing the risks of getting to and from school, the program seems to be encouraging more students to attend. Safe Passage schools saw their attendance rate boosted by 2.5 percent compared with non-participating Chicago schools between the 2009-10 and 2015-16 school years. And the effects appear to be mutually reinforcing: By getting more kids into classrooms, Safe Passage takes them away from dangerous situations.
"The program provides an interesting insight into policies aimed at reducing crime," McMillen and Singh contend. "While the program directly deters crime, it also increases the probability that students will attend school, which in turn reduces the number of potential perpetrators of the crimes."
The approach may also be emulated by other cities looking to tamp down crime among young people. Washington, D.C., has seen the killings of 17 juveniles over the past two years, leading high school students to lead their own anti-gun campaigns. In neighboring Baltimore, a study from earlier this year found that students forced to make long commutes through rough parts of the city were noticeably more likely to miss time in school.
Get stories like these delivered straight to your inbox. Sign up for The 74 Newsletter