Students and Colleagues Mourn Teachers & School Staffers Killed in Las Vegas Massacre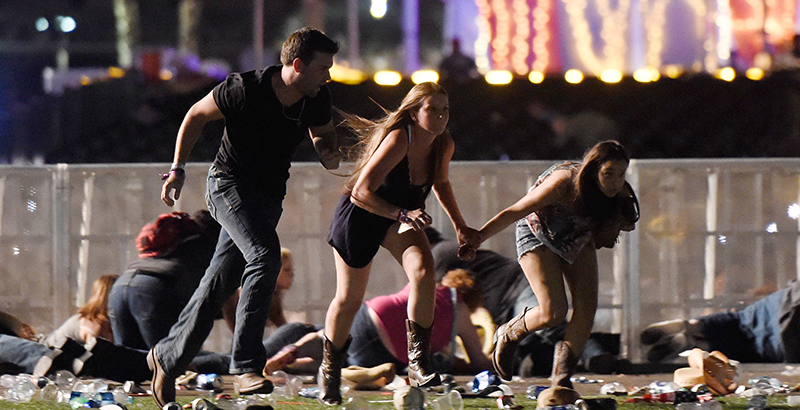 Updated 5:30 p.m.
Officials in Las Vegas have confirmed 59 deaths and more than 500 injuries in the mass shooting at an outdoor country music festival in Las Vegas late Sunday.
The mass shooting was the deadliest in modern U.S. history. Just 16 months ago, the shooting at the Pulse nightclub in Orlando, Florida, which claimed 49 lives, was considered America's deadliest.
---
---
As officials began identifying victims Monday, news reports identified several school staffers who were caught in the mayhem. Here's a list of those known at this point to have been killed in Sunday's violence, along with responses to the tragic news from colleagues and students.
Sandy Casey, middle school special education teacher from Redondo Beach, California
At least a half-dozen educators from the Manhattan Beach School District in Southern California attended the Las Vegas concert, The New York Times reports. Among them, Casey was the only one who was physically harmed. Superintendent Mike Matthews said she had worked in the district for nine years.
"She was a person who brings light wherever she is," he told the Times. "She has a classroom full of light and hope and caring."
Lisa Romero-Muniz, high school disciplinary secretary from Gallup, New Mexico
Romero-Muniz was a secretary at Miyamura High School. "We were known as the two loudmouths of the office," Rosie Fernandez, a friend and supervisor at the high school, said of Romero-Muniz. "She knew 90 percent of the kids at this school. She would talk to them like she was talking to her own children. I'd hear her saying, 'I know you can do better than this.' "
Susan Smith, elementary school office manager in Simi Valley, California
Smith was an office manager at Vista Fundamental Elementary School. Jake Finch, a spokeswoman for the Simi Valley School District, told The Washington Post that Smith was "a big country music fan."
"She was great with the children and with the staff," Finch said. "In a school this size, the office manager is really at the center, the hub. You have to be able to get along with everybody."
Jessica Klymchuk, Catholic school educational assistant, librarian, and bus driver in Alberta, Canada
Klymchuk was a fixture at St. Stephen's school who had recently gotten engaged. "The scope of this tragedy is worldwide, and we are feeling its impact here at home," Betty Turpin, the Holy Family Catholic Regional Division superintendent, said, according to HuffPost.
Jenny Parks, kindergarten teacher from Lancaster, California
Parks taught at Anaverde Hills School, according to The Antelope Valley Times. A parent told the newspaper she was loved by students, parents, and the volleyball team she helped coach.
Bill Wolfe Jr., elementary school wrestling coach from Shippensburg, Pennsylvania
Wolfe, a father of two, had coached the team for about three years and was also a local Little League baseball coach, the Pittsburgh Post-Gazette reported. He and his wife were in Las Vegas celebrating their 20th wedding anniversary.
Get stories like these delivered straight to your inbox. Sign up for The 74 Newsletter