State Weighing the Future of Struggling Houston Schools After Hurricane Harvey Disrupts District Calendar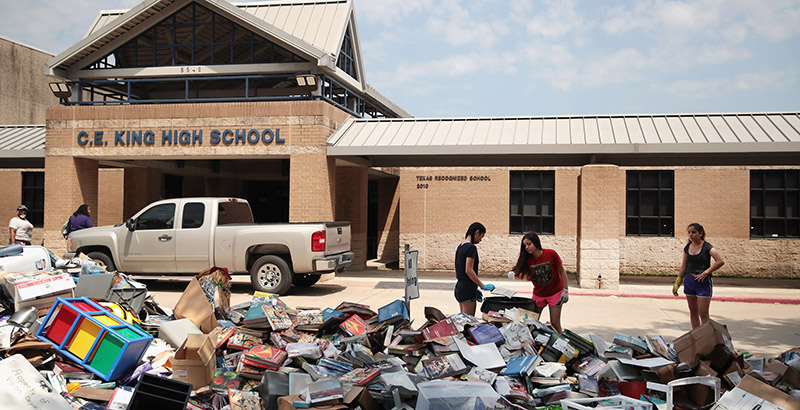 Even before Hurricane Harvey hit, a storm was brewing for some of Houston's lowest-performing schools. Just 10 days before the hurricane made landfall in Texas, the state education department released its latest school ratings, putting the city on notice.
After several consecutive years of poor academic performance, 10 of Houston's long-struggling schools had once again failed to make the grade, putting the nation's seventh-largest district in danger of state intervention, including a possible takeover. Now, following several weeks of missed classes, millions of dollars in damage to school facilities and supplies, and displacement for millions of Texas students, state lawmakers and education officials are debating how to proceed with a state law that holds schools accountable for student academic performance.
House Speaker Joe Straus on Thursday called for the public education committee to explore tweaks to the state's school accountability system "to prevent unintended punitive consequences to both students and districts" as a result of Harvey and its aftermath.
Under a 2015 law, any district that has schools with "improvement required" ratings on state tests for five consecutive years faces state intervention starting in 2018. Houston's Kashmere High School, which received its eighth consecutive "improvement required" rating in August, helped motivate state lawmakers to pass the 2015 rule. The law could force sweeping changes in dozens of Texas districts.
Before the storm, Houston school board trustees said they were already working on a plan to turn around underperforming schools, including 10 that face state intervention. Those schools are included in the district's new "achieve 18" plan, which devoted $24 million to improve 32 struggling district schools.
Education Commissioner Mike Morath said in a meeting Wednesday that the Texas Education Agency is discussing ways to proceed with accountability decisions for low-performing schools, though he doesn't anticipate a delay in state tests.
"We haven't made any final decisions yet," he said, "but we do still want to make sure students know how to read, write, and do math, and so the issues related to accountability that come up are fairly complicated."
Meanwhile, the agency approved waivers that exempt students in hurricane-affected districts from making up nine school days lost because of the storm. But the Houston school board voted Thursday to extend the school day this fall at 12 campuses to make up for lost instructional time.
Most of Houston's district schools opened Monday after a two-week delay, and schools that experienced the most severe hurricane damage are opening on a rolling basis.
Students at four schools that are scheduled to reopen Monday will be in class for an additional 25 minutes every day, while students at eight schools scheduled to open Sept. 25 will attend class for an extra 55 minutes a day. The extended time will be in effect through December.
The 10 schools that could prompt state intervention opened their doors last week.
"We have to be creative in how we get our students all their instructional time for state requirements," Houston Superintendent Richard Carranza said in a news release. "More importantly, we have to get this instructional time in because it's the right thing to do in order to ensure none of our students are left behind because of a natural disaster beyond anyone's control."
Carranza initially estimated $700 million in storm-related damage to the district, including damages to school facilities and equipment. He told the school board on Thursday, however, that number "is coming down significantly," though he didn't provide an updated estimate. Since the storm struck, he said, the district has received $1.3 million in donations to help offset recovery costs.
Get stories like these delivered straight to your inbox. Sign up for The 74 Newsletter