Social Media Videos, Photos, Reactions Capture the Chaos Outside Florida School Shooting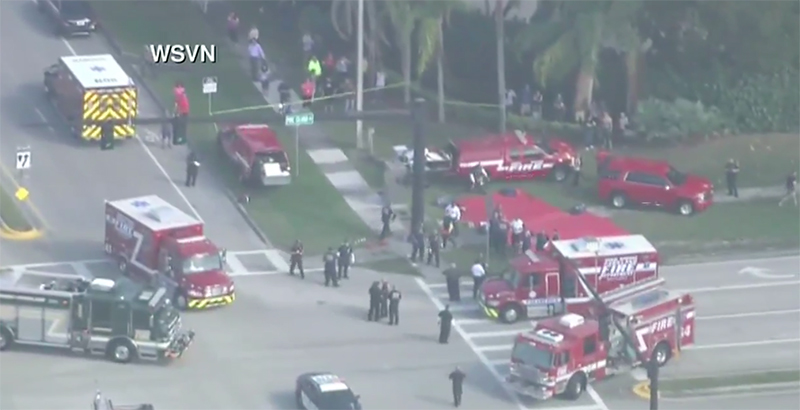 This report will no longer be updated. It was last refreshed at 10:30 p.m. EST; follow us on Twitter @the74 for the latest updates on the incident.
Officials report that at least 17 people have died and more than a dozen have been injured following a Wednesday afternoon shooting at a South Florida high school. Photos and videos shared on social media in the minutes and hours after the attack captured scenes of heroic rescue efforts, chaotic evacuations, and confusion as students streamed out of school, parents rushed to reunite with their children, and law enforcement officials descended on the scene, fighting to get the situation under control.
Some of the sights and sounds from the day:
The shooting happened at Marjory Stoneman Douglas High School, in Parkland, Florida, which is about an hour northwest of Fort Lauderdale. The school is part of Broward County Public Schools.
Shortly after 3 p.m. Wednesday, videos started to emerge of first responders reaching the wounded:
And students evacuating under police protection:
As those students ran out, a SWAT team ran in.
Inside the building, armed emergency responders helped students evacuate.
A harrowing livestream captured the moments students fled their school, hands over their heads:
One parent called CBS to share what he heard from his daughter, who was inside the school at the time of the shooting:
One teacher spoke to CNN about hiding in the closet with her students during the incident.
Other parents waited anxiously for word from their children.
At least 14 were transported to area hospitals, Broward Sheriff Scott Israel said during a press conference.
Israel described the incident as "catastrophic."
Parkland Springs Mayor Christine Hunschofsky's reaction: "A tragedy can happen anywhere."
Authorities said the suspect, who was identified as a former student at the school, was taken into custody without incident.
Sen. Chris Murphy of Connecticut, an outspoken advocate for stricter gun regulation, spoke about the incident on the Senate floor. "If you turn on your television right now, you're going to see scenes of children running for their lives." He said the United States is seeing an "epidemic of mass slaughter" that doesn't happen anywhere else in the world.
Broward County Superintendent Robert Runcie confirmed that there were multiple fatalities.
President Donald Trump reacted on Twitter soon after the news broke:
As helicopters hovered overhead, families reunited. A family reunion site was set up at a nearby hotel, according to WSVN.
The 74 has been tracking every incident of gun violence on school property in 2018. (You can see our recap of all the incidents thus far here.) To get the latest school safety news delivered straight to your inbox, sign up for The 74 Newsletter.
Get stories like these delivered straight to your inbox. Sign up for The 74 Newsletter