Schools That Serve Poor, Minority Students Are Systematically Shortchanged, but Disparities Are Closing, Report Finds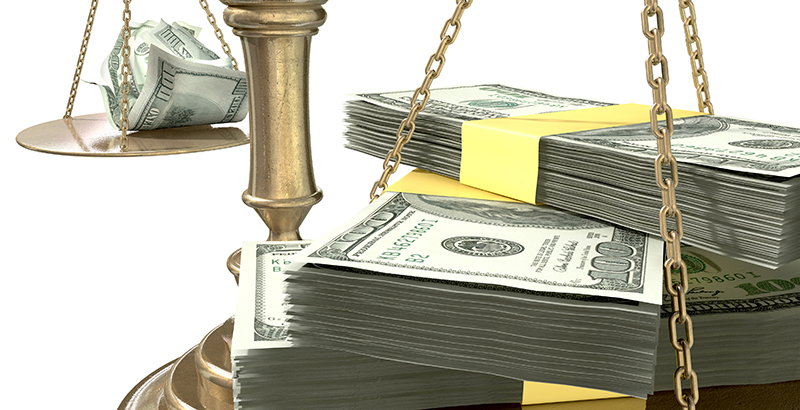 School districts serving America's most impoverished children receive about $1,000 less per student than those in America's most affluent communities, according to a new report that analyzed the extent of education funding inequities across the country. The disparities are far bleaker, however, between districts serving the most students of color and those serving the fewest, where the gap was roughly $1,800 per student.
For equity advocates, however, there was something approaching a silver lining to the grim statistics: These fiscal disparities continue to shrink.
The report was released Tuesday by The Education Trust, a nonprofit advocacy group which promotes policies that direct more resources to school districts that serve larger populations of high-need students. America's school funding system relies largely on local property taxes. Although researchers found that a handful of states continue to shortchange students of color and those from low-income households, the report offered hope for equity advocates.
Compared to an earlier report The Education Trust released in 2015, the funding gap between the poorest and wealthiest districts decreased by 3 percentage points, from 10 percent to 7 percent. Meanwhile, national funding disparities between districts with the largest and smallest percentages of students of color dropped by 2 percent, from 15 percent to 13 percent.
This change is "a story of not-fast-enough progress," said Ary Amerikaner, the group's director of P12 resource equity. Amerikaner said state policies that intentionally direct more resources to high-need school districts have mitigated some of the fluctuations in property taxes. But several factors, including a possible change in student enrollment, might have contributed to the change between the two reports.
Analyzing the numbers state-by-state, researchers found four states — Illinois, Maryland, New York, and Alabama — that have "regressive" funding formulas that direct more than 5 percent less to their poorest school districts than their wealthiest. While 20 states spend at least 5 percent more in their highest-poverty districts, 22 states spend about the same between wealthy and low-income districts.
The bleakest income-based disparities were observed in Illinois, where the highest-poverty districts received 22 percent less in state and local dollars than the wealthiest districts. Although the analysis relies on the most recent education finance data — from 2013, 2014, and 2015 — it doesn't capture a policy shift that could have huge implications for education funding equity in Illinois, long considered the most inequitable state. Illinois lawmakers approved in 2017 a new school funding formula that aims to distribute resources more equitably between the highest- and lowest-poverty districts. Future reports will analyze the effects of that shift, Amerikaner said.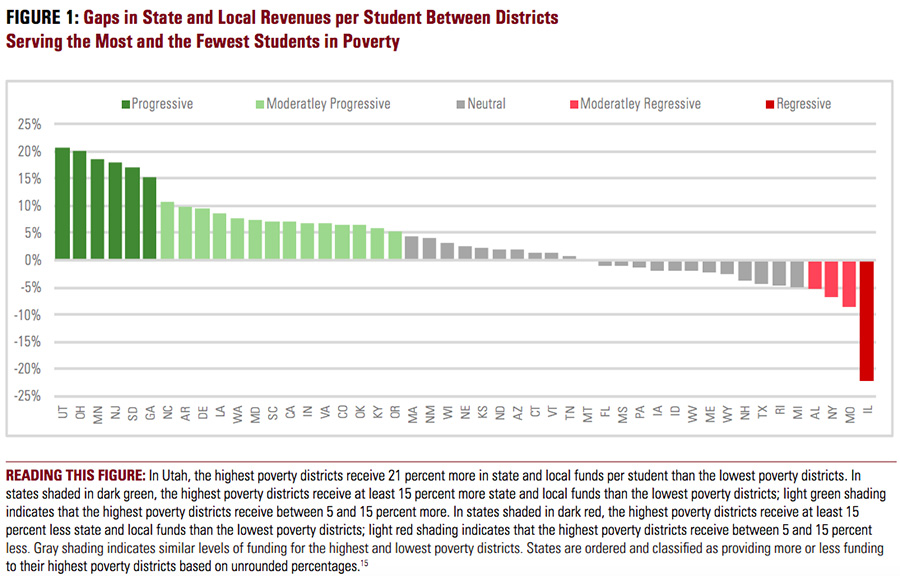 While education funding equity is most often framed through student income, The Education Trust's analysis goes one step further and highlights disparities based on racial demographics.
Race and poverty often overlap, Amerikaner said, but they don't serve as good proxies for one another.
In 14 states, school districts that serve the most students of color received more than 5 percent less in funding than the whitest districts. Districts with a large concentration of students of color received more money in 14 states, and funding was nearly equal in 15 states.
Although the charts above analyze funding equality, The Education Trust and other advocacy groups have long pushed for equity — the idea that high-need students, such as those from low-income households, need more money to help offset challenges. When accounting for these needs, researchers found that just seven states provide equitable funding to the highest-poverty districts.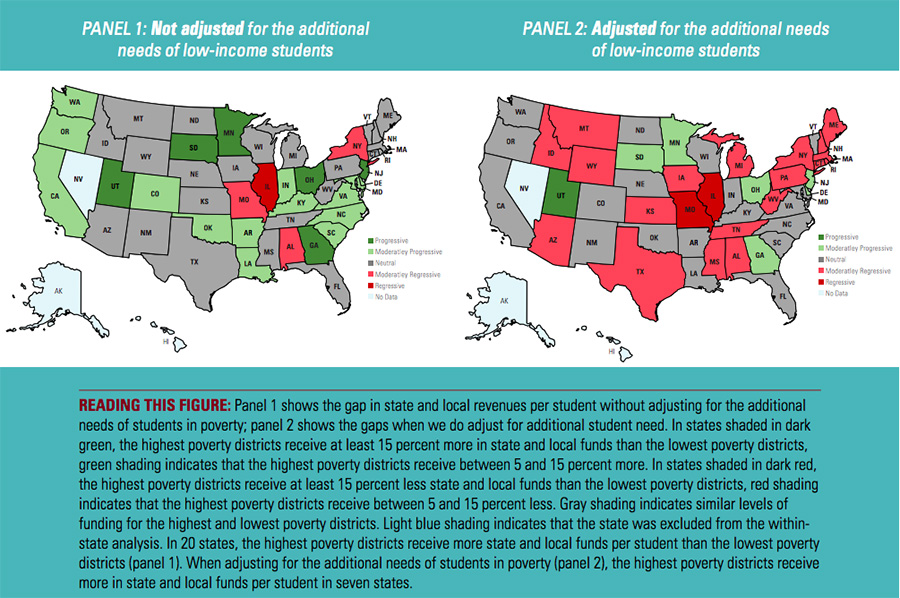 Get stories like these delivered straight to your inbox. Sign up for The 74 Newsletter