#SchoolChoiceWeek 2021: As Annual Celebration Goes Virtual, Here's How Students, Parents & Educators Are Celebrating Their Unique Classroom Communities This Week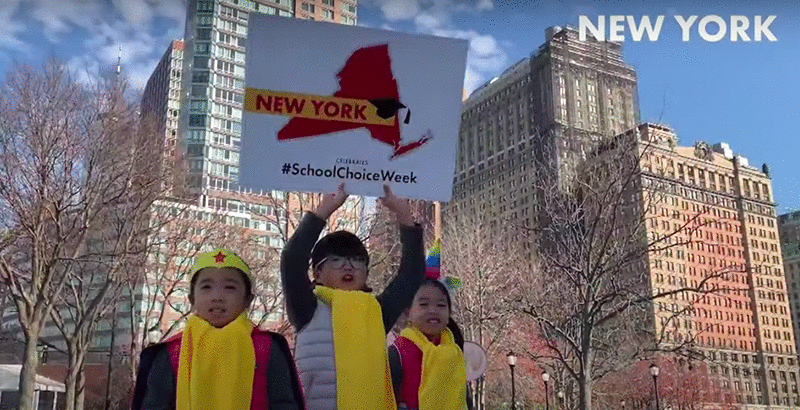 Sunday marked the launch of the 11th annual National School Choice Week, a coast-to-coast celebration of school leaders and classroom communities, as well as a collective sharing of educational resources.
Due to the ongoing pandemic, this year's celebration — including the choreographed "School Choice Week jig" — has moved mostly online, with participants sharing their moves and stories on Twitter via #SchoolChoiceWeek and with a number of prominent landmarks across the country lighting up in recognition of the occasion.
NSCW President Andrew Campanella hosted a kickoff livestream Monday that featured students from all 50 states:
Among the week's social media highlights thus far:
More than two dozen landmarks, from Alaska to New York, will illuminate in the customary colors of yellow and red throughout the week.
It may be the year of printable, socially-distanced activities (dozens were provided for schools and families), but there were still grand displays of support from every corner of the country.
Students celebrated from their classrooms — whether that be in pajamas from the living room or wearing their scarves on campus
View this post on Instagram
Joining students were several state leaders
The dance prevails: Despite the circumstances, students managed to pull off the famed School Choice Week jig.
Democracy Prep Charter High School students in New York City give the step by step and Glenview College Preparatory High School students in Arizona show their take.
Students in Austin, Texas jumped into an outdoor scavenger hunt and colorfully displayed what they love about their schools with National School Choice Week's printable worksheets
As did students farther east in Florida …
And in New York and New Jersey.
As in past years, the week provides resources to parents
A notable one being National Schools Choice Week's new tool "Schools Near Me." Families curious about finding new schools can search for 130,000 public, charter, magnet and private schools with data provided in partnership with Public School Review and Private School Review.
View this post on Instagram
STEM students at the Pioneer Technology & Arts Academy in Dallas used their tech talent to show their school spirit
After a week of dancing, sharing and showing support, participants can settle in for screenings of "Miss Virginia" via streaming or the drive-in big screen
"Miss Virginia" shares the true story of Virginia Walden Ford, a single mother who fought for federally funded scholarships for underprivileged students in Washington D.C.
Beyond the fun activities, other highlights this year were all the personal testimonials reflecting on the value of distinct school models for different students:
Get stories like these delivered straight to your inbox. Sign up for The 74 Newsletter