Roll Red Roll: Documentary on Ohio High School Rape Case Offers Scathing Take on Culture of 'Boys Will Be Boys'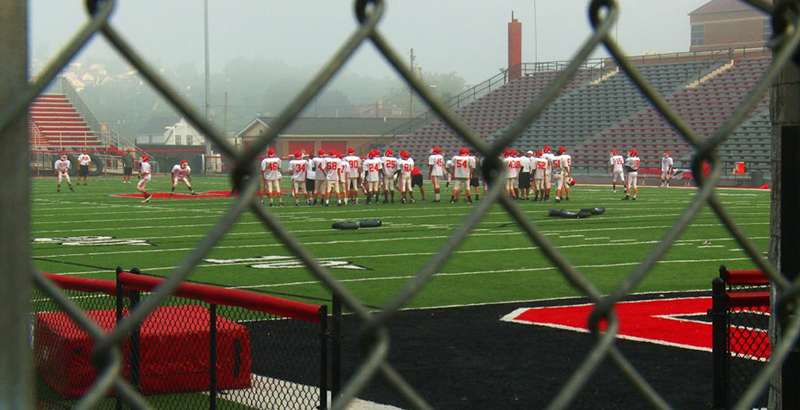 The text messages and social media posts led police right to the crime.
It was 2012 when Steubenville, Ohio, came under international scrutiny as a scathing rape case roiled the town's lauded high school football program — leading to the convictions of two student athletes. But the case highlights challenges that exist far beyond eastern Ohio. That's the chief takeaway of a new documentary, Roll Red Roll, which uses the Steubenville case as a prism to explore America's "boys will be boys" culture of sexual misconduct.
Billed as a true-crime thriller, the 80-minute film premiered last year at the Tribeca Film Festival and will make its national theatrical debut on Friday at the Film Forum in New York City and will broadcast on PBS on June 17. The documentary, which cuts between students' damning social media posts and heated police interrogation videos, isn't so much about the victim but the bystanders — classmates, parents, coaches — who looked the other way.
As the situation unfolded in Steubenville, it became one of the first rape cases to go viral online, Nancy Schwartzman, Roll Red Roll's director and producer, told The 74. That attention, she said, contributed to the rise of the viral #MeToo movement.
"It was the first time we were able to see rape culture play out in the laughter and the jokes and in how callous everybody was," Schwartzman said. By focusing largely on social media posts by students who witnessed the crime, she said, "we really had the opportunity to read and understand how boys were talking about sexual assault."
During a booze-fueled pre-season party in the summer of 2012, high school football players raped a 16-year-old girl who was unable to remember the attack the following morning. Text messages and social media posts, however, led police to the perpetrators. Throughout the attack, other students documented the incident with their phones, posting graphic details on social media and cracking jokes about what happened.
"There's something so visceral about the language of social media," Schwartzman said. "It's so immediate, it's so, in this case, enthusiastic, that I thought the tone was really important to show."
What the students didn't do, however, was stop the violence. As the case rippled through the community, some residents recognized the gravity of the situation. Others blamed the victim for placing the high school's storied football program in a bad light. As the case consumed the community, the situation escalated. Multiple school officials eventually faced charges, some of which stemmed from an earlier sexual misconduct incident.
The students' social media posts were brought to light by true-crime blogger Alexandria Goddard, a central figure in Roll Red Roll, the same name as a website devoted to Steubenville High School athletics. After highlighting the social media activity on her blog, Goddard fended off intense public scrutiny and a defamation lawsuit. Her stories caught the attention of the hacktivist group Anonymous, which accused community members of engaging in a cover-up.
"The people in Steubenville, they hate my guts," Goddard says in the film. "They hate my freaking guts, and it's OK that they hate me because I did what I thought was the right thing to do."
Goddard's work was critical because she understood how social media functions, Schwartzman said. She knew to save copies of tweets, for example, before they were deleted. Without her work, it's unlikely the story would have received much attention.
"While it wasn't criminal evidence, per se, it was evidence of the larger culture," Schwartzman said. Without Goddard's work, "this would have just been a small-town case with a comment section locked up on the local news report and that's it."
Although the Steubenville case is now several years old, Schwartzman said it remains relevant since rape culture remains omnipresent in America's schools and elsewhere. In order to combat sexual violence, she said, schools need to teach evidence-based sex education and hold students accountable for misbehavior. Students need to speak out when they witness their peers engaging in misconduct, while parents need to understand how their children use social media.
The students' social media posts, Schwartzman said, indicated that many didn't fully understand what constitutes sexual misconduct.
"There should be no confusion," she said. "If kids are not clear on the definition of consent and we're not breaking down victim blaming and breaking down harmful and rigid gender stereotypes, we're in trouble."
Support The 74's year-end campaign. Make a tax-exempt donation now.