Report: Dozens of Arts Programs Could Receive Funding Under Federal Education Law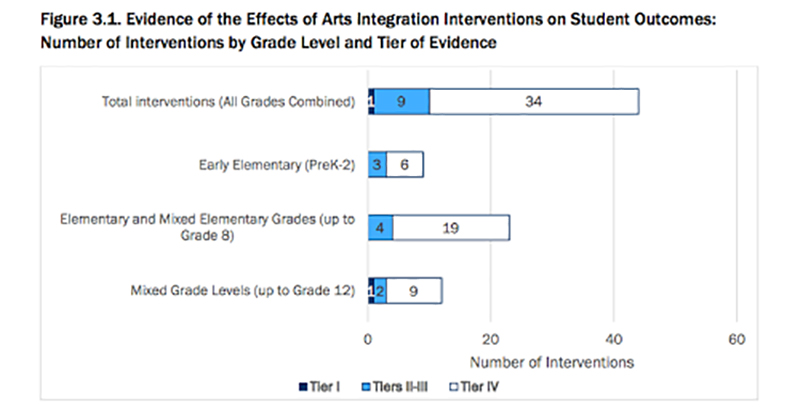 Dozens of "arts integration" programs, which employ artistic expression as a means of teaching a variety of subjects, are eligible for federal funding under the Every Student Succeeds Act, according to a new study from the American Institutes for Research. More investigation into the efficacy of the method is needed, the authors report, but 10 such programs have already been shown to meet ESSA's highest evidentiary standards.
Arts integration is a curricular strategy that combines fine-arts activities with instruction in other content areas. Teachers might use rhyming songs in a lesson about fractions, design a writing exercise around analysis of a Rembrandt painting, or stage a play to help build reading skills. It can be used to organize individual classroom exercises or inform an entire school model, and teachers use it with students from kindergarten through high school.
"These funding opportunities can be used to support activities such as teacher professional development, school improvement efforts, supports for English learners, arts integration courses, instructional materials, extended learning time programs," the authors write. "They can also be used to support arts-focused charter or magnet schools."
The 10 programs that meet with highest tiers of evidence, including preschool arts enrichment services and field trips to museums and the theater, could be especially promising candidates.
Extra revenue is particularly important at a moment when arts funding has yet to recover from recession-era declines. Over a nearly decade-long period when schools in many states were struggling to keep teachers paid and buses running, music and art classes were often among the first to be cut. In March, when President Trump's proposed budget called for deep cuts to federal arts and humanities agencies, many feared for the thousands of classroom programs across the country underwritten by the National Endowment for the Arts and the National Endowment for the Humanities.
In the AIR study, conducted for the Wallace Foundation, researchers reviewed 135 studies of arts integration conducted since 2000. Their goals were to determine whether various programs were sufficiently rigorous to merit federal funding under ESSA and to isolate their average impact on student performance.
In all, 44 separate interventions, ranging from poetry-writing to origami to live theater, met with ESSA's four tiers of evidentiary rigor. Most only met the lowest level, Tier IV. But studies of 10 arts integration programs actually cleared Tiers I–III ("promising evidence," "moderate evidence," and "strong evidence"), which require proof of statistically significant effects.
Even those interventions that cleared the lowest bar of Tier IV are judged by the authors to be potentially worthy of federal funds available under ESSA. While those made up the majority of the programs deemed eligible for funding, a handful also withstood scrutiny under Tiers I–III.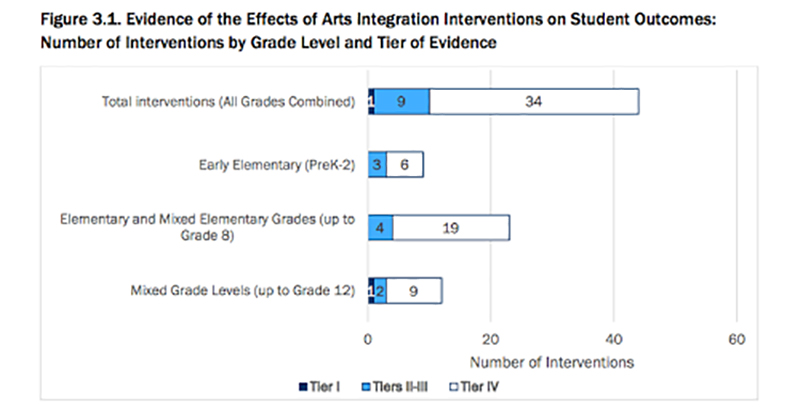 The authors warn that, with their conclusions often based around the outcome of a single study, more research is required into the impact of arts instruction on specific student populations and subject areas.
Support The 74's year-end campaign. Make a tax-exempt donation now.