Report: District-Charter Funding Gap Grows to 33 Percent Less Per Student; 12 Cities Provide 'A Trivial Amount' or 'No Funding' for Charters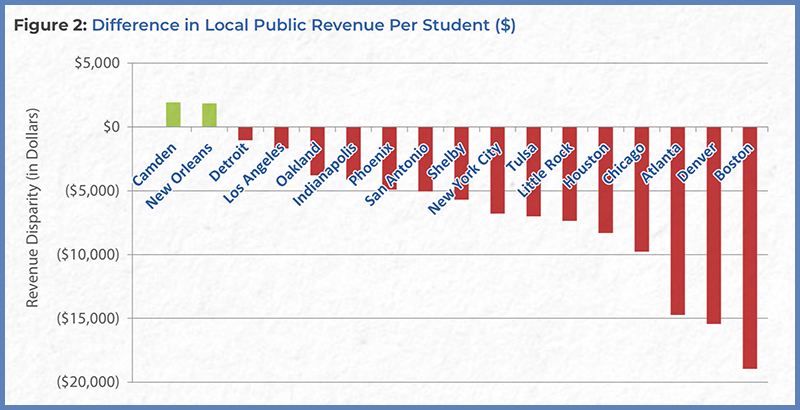 Charter schools across 18 major U.S. cities received, on average, 33 percent less funding per student than traditional schools during the 2017-18 school year, according to a new analysis.
The gap more than doubled over a 15-year period in eight cities that include Atlanta, Houston, and Los Angeles — from $3,266 in 2003 to $6,701 in 2018, adjusted for inflation. Across cities added to the study since 2013, the gap has grown by almost 30 percent.
The research team, led by the libertarian Reason Foundation's Corey DeAngelis and Patrick Wolf of the University of Arkansas, examined all sources of available funding, including federal, state, local, and philanthropic sources. They attribute the growing disparity to a lack of funding for charters at the local level. Twelve of the school districts examined "provided either no or a trivial amount of local funds to their public charter schools," the report said.
The researchers grade the 18 regions on funding gaps between district and charter schools. Shelby County, Tennessee, where charter schools receive $550 less per student than district schools, is the only site to receive an A. In the 12 districts that received an F, the gap ranged from 29 percent less for charter school students in Detroit to 57 percent less in Little Rock, Arkansas.
The researchers argue that per-student funding should be "portable" and follow students to any public school they attend.
"If we had student-centered funding, students wouldn't be penalized just because the traditional school didn't work for them," DeAngelis said during a press call Wednesday.
The report notes that federal funding typically doesn't make up the gap between charter and district schools. Boston and Phoenix were the only cities where charter schools received more federal funding per student than district schools.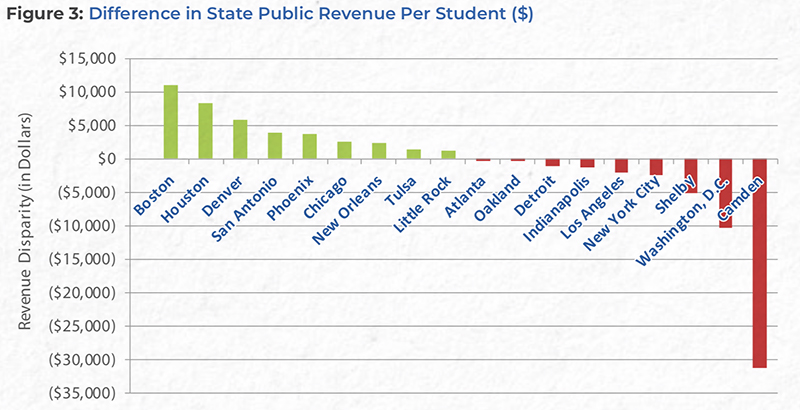 A part of Biden's 'coalition'
The paper is part of the research team's continuing comparisons of funding between charter and district schools — an issue that has grown increasingly heated in recent years. Charter proponents argue their schools get better student achievement results with less money. But supporters of traditional schools say charter growth hurts their funding, especially in districts with declining enrollment. The debate intensified during the presidential campaign, when Biden said he wasn't "a fan" of charter schools, fueling questions about where he will come down on the issue now that he is president-elect.
Michael Petrilli, president of the conservative Thomas B. Fordham Institute, recently advised charter advocates to "remind the new president and his team of the real-life people that charter schools serve, people who are a key part of his coalition. Building back better means, in part, continuing to build charter schools that are lifelines for the people Biden knows and loves," he wrote.
DeAngelis and Wolf address some of the common reasons charter critics cite for giving more funding to district schools. One argument is that district schools serve more students who quality for special education. But the analysis shows that enrollment rates of students with special needs only explained the funding gap in two places — Boston and Shelby County.
Second, advocates for traditional schools sometimes say that charter schools serve fewer low-income students. But the researchers found that in seven of the 18 locations, charter schools are serving a higher proportion of low-income students and still receive less per student than district schools.
Finally, some say charter schools receive significant philanthropic or "nonpublic" funding. About five years ago, data supported that argument. In 2015-16, charter schools were receiving $655 more per student in nonpublic funds than district schools, and even then those resources were "highly skewed towards a small number of favored operators."
But since then, nonpublic funding for traditional schools — including donations to public school foundations, investment earnings, and real estate sales — has "surged," they wrote, and by 2017-18, charters were receiving an average of $1,412 less per student. In Shelby County, however, charters are still raising more nonpublic funds than traditional schools, which partly explains the funding relative parity between the two sectors, the researchers said.
'Fundamentally different'
The pandemic has further added to the finger-pointing on both sides of the charter-district funding debate. For example, advocates for traditional school systems argued that some organizations running charter schools were essentially double dipping because they received millions in Paycheck Protection Program funds in addition to normal education funding.
Meanwhile in California, legislation freezing state funding, so schools losing enrollment wouldn't also lose money, has led to some growing charter schools not receiving funding for new students. Several schools are now part of a lawsuit against the state, arguing that districts are getting to keep funding for students that opted to leave for charter schools.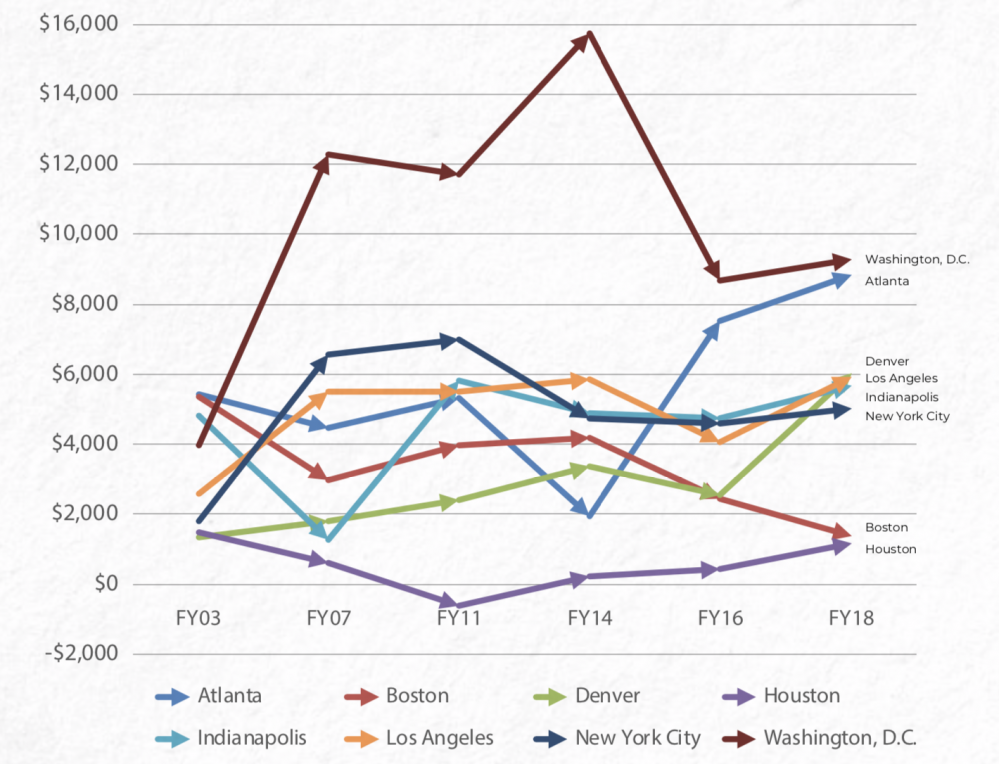 Some observers say that there's no way to make a fair comparison between charter and district schools.
"A charter is fundamentally a different organization than a district school," said Sean Gill, a research analyst at the Center on Reinventing Public Education at the University of Washington. "Are we expecting schools to do the same thing or have the same mission?"
Districts have costs such as employee pension obligations or debt payments that might not apply to charter schools. Districts also have to maintain some "excess capacity" rather than close as soon as they lose students, he said.
In fact, declining enrollments in traditional schools in cities such as Detroit, Indianapolis, and Washington, are "part of the story," Wolf said, adding that Indianapolis, for example, is "funding a system that is built for far more students that they are serving."
He suggested that districts either "hold on to [their] enrollments" or "think about rescaling."
Gill, who has studied district-charter collaboration, said sometimes such funding comparisons can lead to efforts to share resources, such as transportation systems or curriculum expertise.
"Every dollar that a public school gets doesn't mean it's taken from a charter," he said, adding that while there's value in examining resources, "at the end of the day, it doesn't have to be a zero-sum game."

Support The 74's year-end campaign. Make a tax-exempt donation now.