Reimagining March Madness: If the Sweet 16 Celebrated Schools For Helping Students Reach Higher Incomes Than Their Parents, We'd All Be Cheering For Providence & UCLA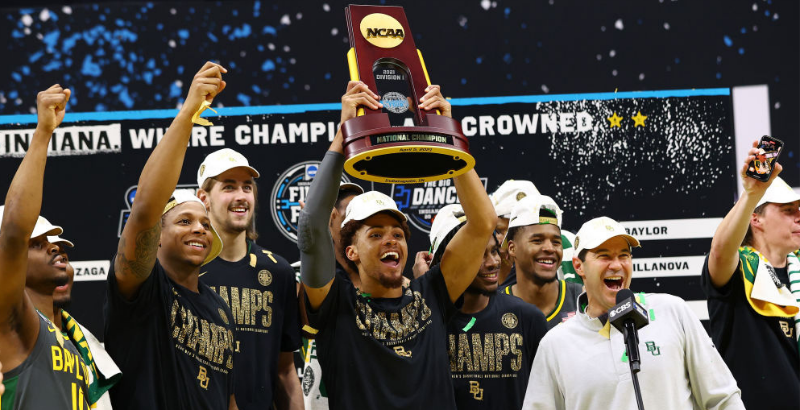 Support The 74's year-end campaign. Make a tax-exempt donation now.
With the NCAA Men's Basketball Tournament set to resume today in San Francisco, Chicago, Philadelphia and San Antonio, the sports world will again be focused on every dunk, free throw and three-pointer playing out on the courts.
But here at The 74, we thought we'd use the occasion of March Madness to celebrate top schools for an entirely different reason — elevating graduates into the workforce and empowering social mobility.
Colleges vary widely in how well they set graduates up for career success and aid them in climbing the "income ladder." Recently Jorge Klor de Alva, president of the Nexus Research and Policy Center, worked with the Harvard-based Opportunity Insights dataset to match and analyze data from thousands of colleges as well as millions of income tax returns to determine every school's ability to take students born to parents in the bottom 40 percent of income distribution and to help them go on to achieve earnings in the upper 40 percent of household income by their early 30s.
By identifying the percentage of students who made this ascension, Klor de Alva was able to compare schools in an apples-to-apples fashion in a reimagined March Madness bracket.
"A score of 0.50 on our bracket means 50 percent of students whose parents were in the lowest 40 percent were able to climb to the top 40 percent in earnings," he wrote in a recent essay. "Our Social Mobility Tournament Bracket spotlights the extent to which disadvantaged students enrolled in the selected colleges have managed to reach family-sustaining earnings 10 years after leaving the school."
As we enter Sweet 16 weekend, here's what the finalists would look like if used Klor de Alva's social mobility percentages to determine winners: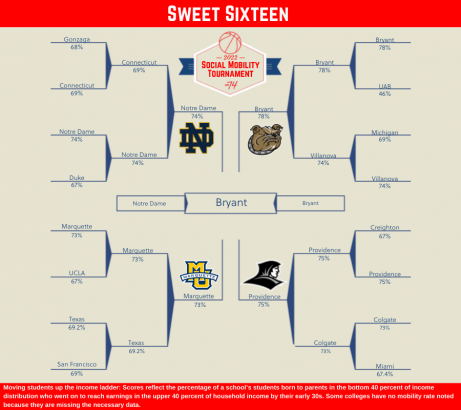 In real life, Bryant University's basketball team lost their First Four game and failed to progress in the brackets. But, as the school celebrated last week after seeing our "Social Mobility Tournament," Bryant would be the 2022 contest winner if the focus was celebrating schools that helped students prosper.
For context, here's the full March Madness bracket, scored by social mobility percentage (click to enlarge):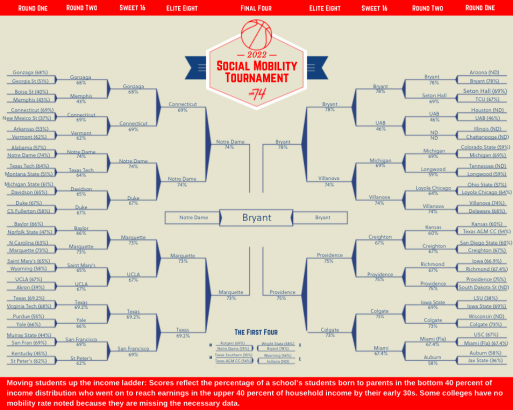 Of note: UCLA, which previously won our Social Mobility Tournament in 2017, makes it all the way the Social Mobility Sweet 16 before being knocked out by Wisconsin's Marquette University.
To learn more about the calculations, the rationale and the importance of celebrating schools in moving students up the ladder, read Klor de Alva's deep dive right here.
Support The 74's year-end campaign. Make a tax-exempt donation now.