RAW TEXT: Read the Education Department's Findings of How Chicago Public Schools Mishandled Allegations of Student Abuse and Assault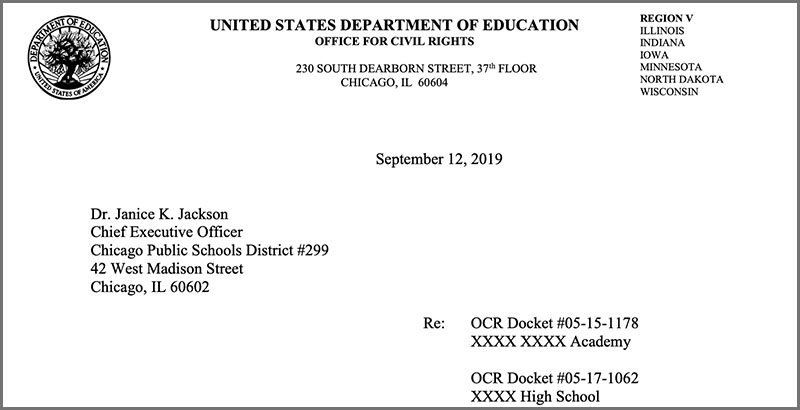 Thursday morning, the U.S. Department of Education both released a summary of findings from its Office for Civil Rights and announced a legally binding agreement with Chicago Public Schools to reform its handling of student assault and abuse cases. We've embedded the full 40-page summary below.
Among the most notable and alarming sections (warning here, graphic language below):
Assault Oversight in a 'State of Disarray': "For years, the District's management, handling, and oversight of complaints of student on student and adult on student sexual harassment have been in a state of disarray, to the great detriment of the students the District is responsible for educating. The District's investigations were poorly managed and were often conducted by staff who were not properly trained in effective investigative techniques or the specific requirements that Title IX imposes on recipients in addressing instances of sexual harassment. Investigations were conducted by a patchwork of both school-level personnel and District personnel without any District-wide coordination of efforts and results. This patchwork structure compromised the ability of students to learn in a safe educational environment. Finally, the District's lack of organizational strategies to ensure adequate and reliable investigations and coordinated efforts to address and prevent sexual harassment was exacerbated by poor record-keeping. Documentation concerning complaint investigations was very often incomplete, and much of it was maintained in schools, rather than in a centralized location where it could be easily reviewed by high-level administrators."
Assaults in Buses, on Playgrounds, in Hallways: "Many complaints alleged on-going physical sexual harassment of District students, including that students were repeatedly groped, grabbed, or fondled by their peers, who were often repeat offenders with a history of sexually harassing other students. These complaints documented reports of unwelcome touching over and under clothing, on the breasts, buttocks, and groin throughout the school day and at all locations in school buildings, including in school bathrooms, on the staircase and in hallways, while lining up at the water fountain, during recess on the playground in front of their peers, in the school parking lot, on school buses while traveling for school-sponsored field trips, to extra-curricular activities, and to/from their homes to school.
OCR observed that many of the complaints described students exposing their genitals at school to and in front of peers — in the classroom, on the playground, in the school bathroom — and during field trips and extracurricular activities. Schools reported a significant number of complaints of verbal threats and harassment, with students disclosing that their classmates and peers made comments such as 'I'm going to rape you in the bathroom'; ordered them to 'suck my d—k'; spoke extensively about graphic sex acts they would perform at school on their peers; and claimed, 'It isn't rape if you enjoy it.' Some students threatened more violence if their peers reported the conduct. Finally, the complaints included numerous reports of widespread social media distribution of sexually explicit images and videos that were shared with classmates and peers both during the school day and after school…"
More Than a Decade of Complaints About the Same Teacher: "In one particularly egregious sexual harassment case, XXX school XXX instructor at a XX school was accused of sexually harassing students over the course of a twenty-year career. The teacher was reported to DCFS, temporarily reassigned to a Network Officer during the pendency of one investigation and ordered to undergo mandatory sexual harassment training. However, the teacher's behavior continued, and over the years, students reported that he made them extremely uncomfortable.
The teacher's documented history of sexual harassment at the District began during his first year as a District employee when a student complained about his inappropriate classroom behavior, including that he touched her on the thigh, stomach and shoulder. This report resulted in an oral reprimand following a hearing in XXX. At the end of that school year, the teacher transferred to the District selective enrollment high school where he remained employed for 20 years and continued to work as of XXX, when the District provided information about him to OCR. In XXX, the selective enrollment high school's then-principal documented a meeting he had with the teacher in which he counseled the teacher that he was 'possibly dancing with appropriate boundaries in terms of physical contact with selected female students,' and suggesting that the teacher 'remove the blinds from his office window and ensure that he not close the door fully when meeting with students.' In XXX, a female student reported anonymously that the teacher grabbed her thigh to take hold of a temporary student ID that she had taped to her pants, stating: 'You girls wear your I.D.'s down there so that us old men get in trouble for looking.' The incident was reported to DCFS and the District temporarily reassigned the teacher to a network office during the DCFS investigation. The teacher was returned to the classroom several weeks later; however, as a result of that investigation, the Principal directed the teacher 'to attend an in-depth workshop on sexual harassment issues.'
Over the course of the next decade, multiple students complained about the teacher's inappropriate conduct, although few of the complaints were entered into the Verify system and none resulted in formal discipline of the teacher. During the spring semester of the 2017-18 school year, a group of students with one parent complained to the school principal that the teacher was checking students out in class and staring at their breasts, caressing their legs and thighs, and stomachs, touching their buttocks and stroking them inappropriately 'starting from the top of their backs to the small of their backs.' Students reported the teacher regularly commented on student attire (allegedly discussing girls who wear thongs) and compared students' bodies to those of teachers and staff at the school, suggesting that female musicians would get higher ratings from judges during competitions based on their physical appearance. The students also alleged that the teacher frequently told sexual jokes and made sexual innuendos in class, including, on one occasion, telling a male and female student who sat in the back of his classroom that he hoped their hands 'were not sticky,' insinuating they had engaged in sexual activity during class. The students reported that the teacher's conduct and comments were 'creepy' and unprofessional. They reported that he made them extremely uncomfortable. Some students disclosed that they were afraid to go to school, while others asked to drop orchestra despite wishing to continue to play a musical instrument, because of the teacher. Several students complained that their reports, which they felt went unheeded by school administrators in the past, caused the teacher to retaliate against them in the classroom by singling them out for criticism, chiding them for telling on him to their parents or making comments like 'I'm always getting into trouble with faculty because of you kids,' and giving them cold stares when he encountered them at school."
In Key Case, School Staff Laughed at Student's Concerns: "In XXX, Student B's attorney requested that for Student B's safety she be permitted to transfer to the District's XXX, which the District granted. Student B attended the school for approximately XXX during which she missed more than XXX days of school because she was afraid of taking public transportation to school alone. In XXX, Student B's family moved to a different neighborhood within the District and requested a transfer to the District's XXX School. After meeting with Student B, her mother, and their lawyer, XXX staff developed a safety plan for Student B effective XXX. Although the safety plan included an assigned staff escort for Student B between classes, Student B and her mother reported, which the District denied, that the person who was assigned to escort Student B between classes failed to show up at times or picked Student B up late and the School did not have a back-up escort. On XXX, Student B informed a clerk in the attendance office that her escort failed to pick her up and the clerk allegedly laughed at Student B, told her that she was not going to walk her to class, and stated, "I hope you don't have an anxiety attack." On XXX, Student B's lawyer wrote a letter to the Assistant General Counsel complaining about the Philips staff conduct and stated that Student B needed XXX from XXX. Student B's lawyer requested that the District provide Student B homebound educational services, but informed OCR that the District did not provide the requested services."
Read all the findings from the U.S. Department of Education:
Get stories like these delivered straight to your inbox. Sign up for The 74 Newsletter