Race and Debt: Black Grads Default More Frequently Than White Dropouts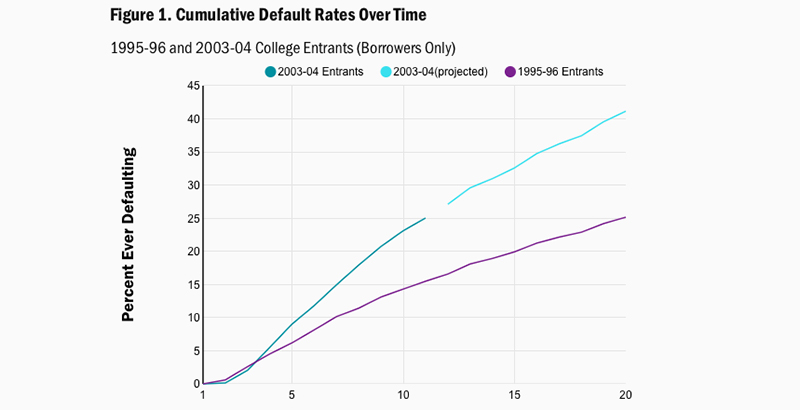 The nationwide spread of student debt default is growing worse with time, according to a new report from the Brookings Institution, and black students are especially economically vulnerable. More than 1 in 4 borrowers currently default on their student loans, and the author warns that if current trends persist, the rate could skyrocket over the next few years.
The report, authored by Columbia Teachers College professor Judith Scott-Clayton, uses federal Education Department data on student debt and repayment released last year. The numbers provide a new vantage point on student finance, she writes, since previous figures only followed borrowers for a few years after entering repayment.
Instead, she traces outcomes for two groups of students: one that entered post-secondary education (whether a four-year college, community college, or certificate program) in the 1995–96 school year, the other in the 2003–04 school year.
More than two decades after starting college, the default rate for students from the 1995–96 cohort now stands at 26 percent of all borrowers, and it continues to climb. Meanwhile, the prospects for the 2003–04 group are even more ominous. Those students have already exceeded the earlier class's default rate, hitting the 27 percent mark just 12 years following college entry. If they miss loan payments between years 12 and 20 at the same frequency their elders did, an astonishing 38 percent may default by 2023.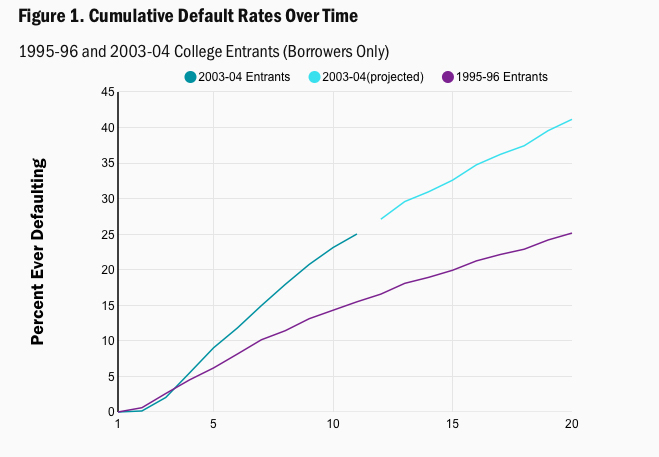 The utility of the new Education Department statistics is twofold, Scott-Clayton says. Not only can she follow repayment activity over much longer spans of time, she can also place the experience of borrowers within the context of all students. This is particularly meaningful when observing the financial challenges faced by students at for-profit colleges like the University of Phoenix and the now-shuttered Corinthian Colleges. If we only consider borrowers, students enrolled at for-profit schools and certificate programs default at twice the rate (52 percent vs. 26 percent) of those in public two-year colleges.
That's an unflattering picture, but not a complete one, since for-profit students are also much more likely to take out loans in the first place than community college students. Among for-profit students overall, 47 percent later default on a student loan, as opposed to just 13 percent of students at public two-year colleges. The default differential between the sectors has thus leaped from 2-to-1 to nearly 4-to-1.
Examining data for specific sub-populations is even more revelatory, with black students exposed to unique financial risks. White college graduates who didn't attend for-profit schools defaulted at among the lowest rates of any group, just 4 percent. Black students who dropped out of a for-profit school, meanwhile, defaulted on loans at a rate of 67 percent. That's a differential of almost 17-to-1.
If that doesn't sound like an apples-to-apples comparison, consider this: The default rate for black holders of bachelor's degrees — perhaps the safest educational investment available — is over five times as high as that of their white classmates on the commencement stage (21 percent versus 4 percent). Black BA graduates are even more likely to default than white dropouts from BA programs (21 percent versus 18 percent).
The key conclusion, according to Scott-Clayton, is one borne out in other studies: The total amount owed in college debt is less important than who holds that debt, and what institutions they attended while accruing it. Whites may owe more than blacks, but they have an easier time paying it off, partially due to disparities baked into the economy. Graduating from a for-profit program may be worse in the long run than dropping out of a four-year school, since earnings are vastly lower among for-profit alums.
"Defaults are highest among those with small debts," she writes, adding that "37 percent of those who borrow between $1 and $6,125 for undergraduate study default within 12 years, compared with 24 percent of those who borrow more than $24,000."
Get stories like these delivered straight to your inbox. Sign up for The 74 Newsletter