Philly Appoints 2 Students to Its School Board as Students Nationwide Fight to Be Heard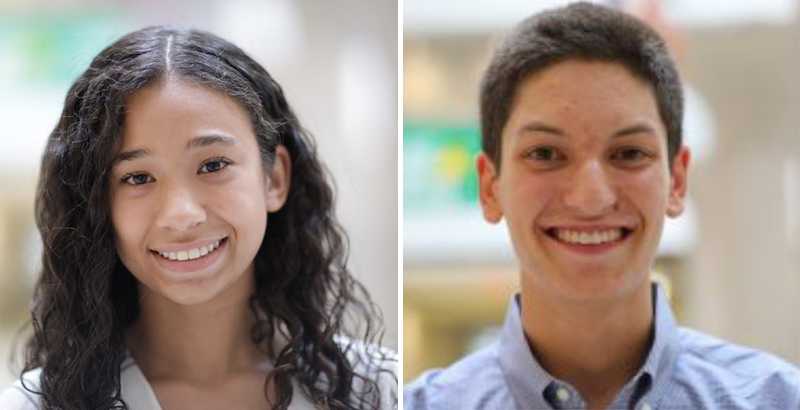 For the entire lives of most Philadelphia students, the city's school district was governed entirely by adults. But that changed last week when, for the first time in nearly two decades, two high school seniors were sworn in as student representatives on the city board of education.
The move is part of a larger shift for public education in Philadelphia, as the district returns to local control. School leaders see the new role as a way to bring to the table those most affected by key decisions: students.
The young people selected for the new role, high school seniors Julia Frank and Alfredo Praticò, agree. And while Frank and Praticò have their own ideas on how to improve one of America's largest school districts, their first task is to hear from the approximately 200,000 students they're tasked to represent.
"There can be a big difference between the policies that are made and then how they end up impacting student life," said Frank, a senior at Northeast High School, a large neighborhood high school. "There are some things that the people at the top, the officials who are making the policies, just don't see. I think that's the value of having a student perspective."
In Philadelphia, student representation is actually mandated by city ordinance. But when the school district was placed under state control in 2001, the practice was discontinued. The district returned to local supervision in July, with Frank and Praticò being sworn onto the revived Philadelphia Board of Education last Thursday. Although the student representatives are able to participate in board meetings and can weigh in on most topics, they won't get a vote.
One advocate said Philadelphia's move fits into a growing awareness nationally of the need for student voices in state and local governance, including on school boards. Adam Fletcher, director of the nonprofit SoundOut, works with school districts to improve student input in decision-making and encourages youth representation on school boards.
"These democratic institutions need to be held accountable to the people who benefit from them the most but also have the most to lose by their failure," Fletcher said, adding that the share of school boards embracing student representation remains small. Still, he said a movement to embrace student voices is gaining steam. "We also have a trend around students joining city councils; we have a trend around more people under the age of 18 trying to run for office than ever before."
The degree to which students are able to participate, however, varies by state. Fletcher found that 19 states include students on their state boards of education and 25 allow student participation on district school boards. Meanwhile, he found, 14 states have laws that exclude students from serving on school boards. Among those leading the charge in student representation on school boards is the Montgomery County, Maryland, school district. In that district, the student board member is elected by peers and can vote on board decisions.
This spring, student voices drove the national news conversation as young people from across the country walked out of school to protest gun violence, a movement that erupted after the February mass school shooting in Parkland, Florida. Six teenagers ran for governor in Kansas. Arguing that the school board in Buffalo, New York, could use "some adult behavior," a high school student mounted a challenge against a board incumbent. The incumbent won the election but was later ousted from his seat. In Greenbelt, Maryland, the city council recently approved a measure that allows 16- and 17-year-olds to vote in local elections.
In Philadelphia, Frank and Praticò were selected over the summer from a field of 54 applicants. Frank, who plans to study biochemistry in college, owns City Slickers Lip Balm Co. and works part-time at a pizzeria. Praticò, who plans to study political science in college, has served on the district's citywide student government, the superintendent's student advisory council, and the Philadelphia Youth Commission. Both students are 17. Praticò attends Masterman Secondary School, a magnet school.
Since Philadelphia hasn't had any student board members for nearly two decades, they'll have to chart their own path. Praticò said that "it's fairly intimidating not having any real precedent, but it's also liberating."
Initially, the board planned to appoint just one student representative, but ultimately both of the finalists were selected, said Claire Landau, the board of education's chief of staff, because of the size of the workload. Landau said it's "much more authentic" to have student representatives collect student input on board decisions than to rely on outreach from adults.
That student outreach is a first step before settling on top priorities, Praticò said. Still, the duo have their own ideas on how to improve schools in Philadelphia, including a greater emphasis on equitable education funding so students have ample opportunities regardless of which school they attend.
"Everyone from their experience has a voice that they can share, and it's really about having that heard but also being able to convince adults," Praticò said. He added that, through their inclusion on the board, "we can really emphasize to adults around the city why students are important in the process and why they need to be truly integrated into it and not an afterthought or not a side addition."
Both Praticò and Frank took a glass-half-full position on their inability to vote during board meetings. Praticò said that reality allows them to focus more heavily on board deliberations that are more in line with students' interests.
"It will also help us to work harder because all we have is our voice," Frank said. "All we can do is present it and talk about it and talk about ways to fix it."
Support The 74's year-end campaign. Make a tax-exempt donation now.