Parents and Educators Hope the Rise of Online Learning Lives On After the Pandemic, Report Finds. But Researchers Say Privacy Protections Shouldn't Be Sacrificed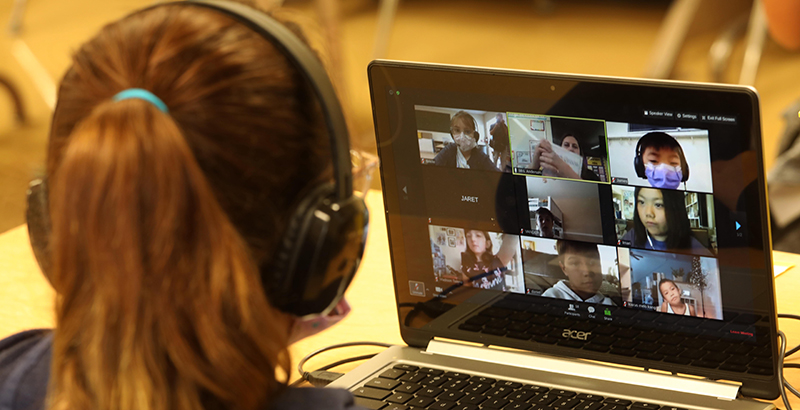 Although the pandemic forced students into an abrupt shift to haphazard online learning earlier this year, a majority of parents and educators support the boom in education technology and hope online learning goes on after the public health emergency subsides, according to a new report.
But researchers argued that the surge in digital education shouldn't come at the expense of privacy protections that keep kids safe online — even if neither parents nor educators ranked that as an urgent concern.
"Candidly, this was not something we expected to see" because of the challenges that came with transitioning to online learning so quickly, Elizabeth Laird, the senior fellow for student privacy at the nonprofit Center for Democracy and Technology, said during an Oct. 21 webinar.
"In spite of those challenges, parents and teachers really do see value in online learning and the task ahead is to figure out how to do it responsibly, how to protect students' privacy," and make sure they're not subjected to data breaches and other threats, she said.
Yet the emphasis on student security hasn't kept up with the proliferation of new tech, the group found in its report, which the center released Oct. 22.
Nearly half of teachers reported receiving no substantive training on how to protect students' personal data. For example, 65 percent of teachers reported using group video conferencing programs such as Zoom — but just one in five educators said they've been trained on the privacy implications of the platforms.
At a moment of heightened instability for both families and educators, neither group considered students' digital privacy to be a top priority during the pandemic, according to surveys, and 70 percent of parents said they trust schools' student data practices. However, just four in 10 parents said their school has explained how it protects student data. In focus groups, students also expressed little concern about data privacy and security, all the while highlighting incidents where video calls were hacked or teachers exposed students' grades while sharing their screens with the class.
Online surveys and focus groups in the report were conducted by the firm Edge Research between May and August and included a nationally representative sample of more than 1,200 parents and more than 1,000 K-12 teachers.
When the pandemic shuttered campuses, schools nationwide scrambled to provide computers and internet to children without home access to technology, a trend that played out in the center's survey data. In the teacher survey, 43 percent of educators said their schools provided students with computers before the pandemic. After COVID-19 closed campuses, that number jumped to 86 percent. But as the use of technology grows, the report argues, it's incumbent on policymakers and educators to ensure that it's used responsibly without hampering students' civil rights.
Several recent incidents bring the issue to the forefront. Through a partnership with the company GoGuardian, Chicago teachers are able to access students' computers remotely, giving them a window into how children use district-issued devices. But when the pandemic turned students' bedrooms into makeshift classrooms, the program gave educators an unprecedented look into students' homes. By providing teachers access to students' webcams and microphones, a default setting within GoGuardian allowed teachers to watch tens of thousands of students without their knowledge, according to the Chicago Sun-Times. The issue was fixed last month.
A recent report by The 74 highlighted how more than 100 school districts across the country — including the Minneapolis public schools — have contracted with the digital surveillance company Gaggle to monitor students' online activities during remote learning. Through artificial intelligence and a team of moderators, Gaggle scans student emails, chat messages and files in search of trigger words like "bomb" and "kill me." Though Gaggle is designed to keep students safe, critics argue it violates student privacy rights.
Beatriz Beckford, a parent and national director of the nonprofit MomsRising, said during the webinar that third-party education technology companies should be subjected to greater regulation — especially software that "use algorithms that are steeped in racial bias." Parents are unsure how education technology companies, including big players like Google, which was hit with an antitrust lawsuit this week by the U.S. Justice Department, safeguard student data, she said.
"Parents aren't at a space where we know to even ask them, like, 'Oh, they're using Google Classroom, well how heavily regulated is Google Classroom with respect to student data?'" she said. "'Is there going to be some data leak that happens somewhere and then that 43 that my kid got on a test because he had the flu that day is now circulating the internet forever?"
Laird noted that Beckford's concerns were reflective of parents' sentiment more broadly, according to the center's report.
"Most parents report schools not having those conversations with them, so parents are left just wondering what is happening with the data," she said. "We think that schools should be having those conversations."
Get stories like these delivered straight to your inbox. Sign up for The 74 Newsletter