No Exceptions: New York, Washington, Maine Abolish Religious Exemptions for Measles Vaccine, California Looks to Limit Medical Exemptions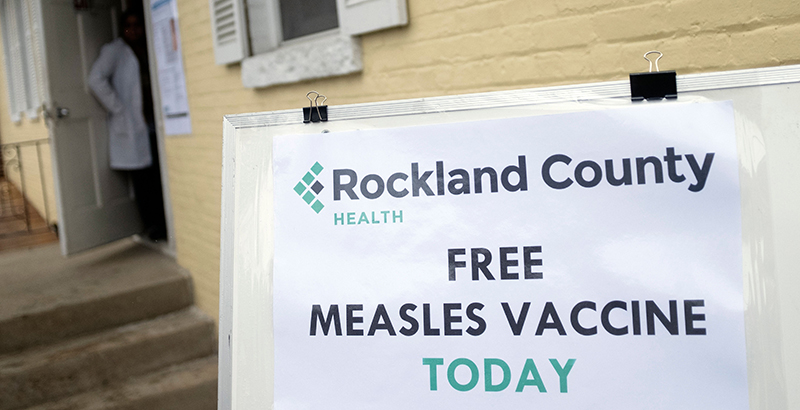 Update, June 18: California Sen. Richard Pan updated the proposed legislation there to expand the list of medical conditions for vaccine exemptions and loosen the role of government oversight in granting exemptions. The state Assembly Health Committee is expected to vote on the measure Thursday, according to The Los Angeles Times.
The measles outbreaks that have spread through different parts of the country this year are causing lawmakers and advocates in several states to rethink their policies about vaccinations, despite ongoing skepticism and sometimes-fierce political pushback from anti-vaxxers.
New York, Maine and Washington state have all taken steps to restrict vaccine exemptions based on religious beliefs this year, and California is considering a measure to tighten up its existing policy governing medical exemptions.
Since Jan. 1, 1,044 cases of measles have been reported in the United States. The disease was declared eliminated from the U.S. in 2000, but the Centers for Disease Control warned in May that if the outbreaks continue through the summer and fall, the United States could lose its status as a country that has eradicated measles.
The most recent measles death in the U.S. occurred in 2015, but before the vaccine was common, the disease killed hundreds of children each year, according to the CDC.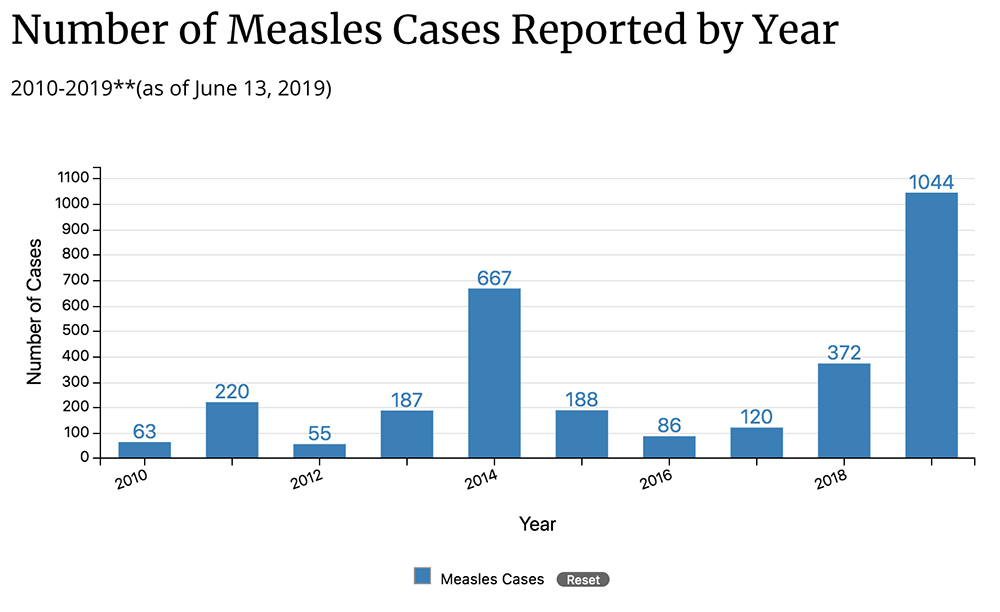 New York lawmakers voted last week to end religious exemptions for all required vaccines. The state does not allow for personal or philosophical exemptions, so now all children must receive the mandatory vaccinations to attend school unless they have a medical reason they cannot receive them. The law went into effect immediately but gives students 30 days to catch up on immunizations after they enroll in school.
New York has seen the worst of the current measles outbreak, with New York City alone reporting 588 cases since September.
Assemblyman Nader Sayegh, a Democrat from Yonkers, voted in favor of the bill to allow it to advance out of the health committee but voted against the measure when the Assembly voted. The law ultimately passed with a narrow margin in the Assembly amid protests.
Sayegh, who previously worked as a principal and school board member, told The 74 he is not against vaccinations — all of his children are immunized, he said — but he was concerned about taking away parental freedom and children potentially missing class because of their immunization record.
"Having my educator hat on, having kids out of school really is upsetting for me," he said.
Still, Sayegh said he thought the full Assembly should be able to debate the measure and take a vote.
Gov. Andrew Cuomo signed the bill ending religious exemptions as soon as it reached his desk. The New York outbreak has largely been concentrated in ultra-Orthodox Jewish communities in Brooklyn and Rockland County, where misinformation has spread rapidly and some see vaccine refusal as a religious freedom issue.
"The science is crystal clear: Vaccines are safe, effective and the best way to keep our children safe," Cuomo said in a statement. "This administration has taken aggressive action to contain the measles outbreak, but given its scale, additional steps are needed to end this public health crisis."
All 50 states and Washington, D.C., have vaccine requirements for children to attend school, according to the National Conference of State Legislatures. The Supreme Court ruled in the 1905 case Jacobson v. Massachusetts that states have the authority to make vaccines mandatory. That ruling was reaffirmed in a 1922 case that allowed the San Antonio, Texas, school district to exclude unvaccinated children from school.
All states allow medical exemptions, such as for children with allergies or autoimmune disorders who cannot receive immunizations, and most allow exemptions for philosophical or religious reasons as well.
In Maine, where the vaccine opt-out rate is above the national average, lawmakers voted earlier this month to end all nonmedical exemptions.
A Massachusetts lawmaker has also introduced a bill to end religious exemptions there.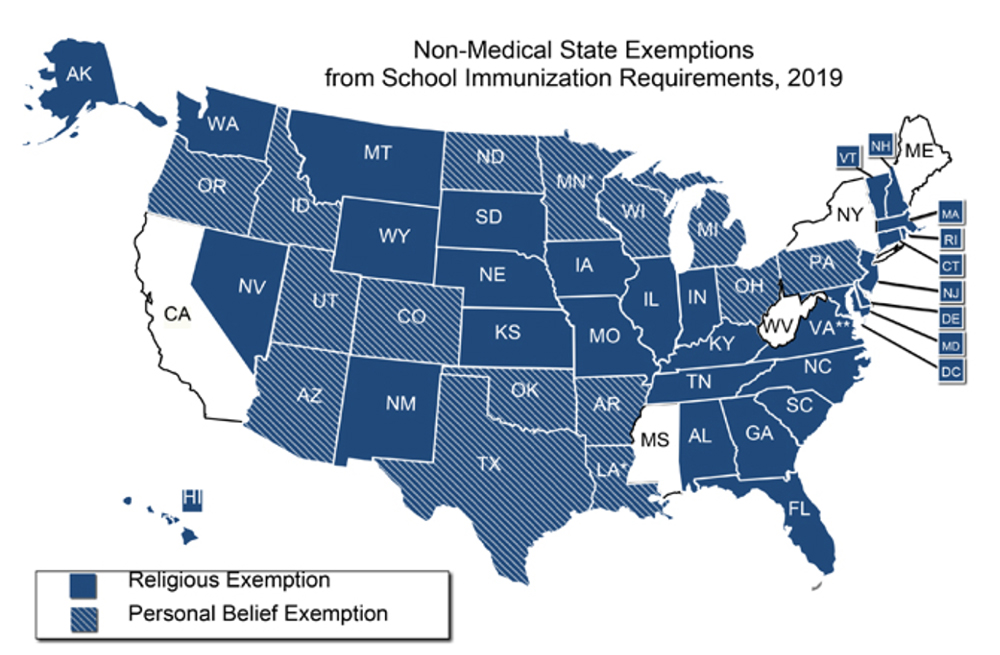 On the West Coast, actress Jessica Biel raised eyebrows this week when she lobbied against an effort by some California lawmakers to tighten the state's policies regarding medical exemptions. After a 2014 measles outbreak originated at Disneyland, California enacted some of the country's strictest vaccine policies, requiring students to have a doctor's form citing a medical reason if they are not vaccinated.
Biel said that she is in favor of vaccines generally but thinks the proposal goes too far.
"I support children getting vaccinations and I also support families having the right to make educated medical decisions for their children alongside their physicians," she wrote on Instagram.
The bill in question would take away doctors' ability to grant medical exemptions and instead require parents to request exemptions from the California Department of Public Health, submitting documentation from a doctor with the application. California has reported 52 cases of measles in 2019.
California Gov. Gavin Newsom has also expressed some concern about putting the power in the hands of government officials instead of medical professionals. "I'm a parent, I don't want someone that the governor of California appointed to make a decision for my family," the Democrat said.
Vaccinate California, the California Medical Association and the American Academy of Pediatrics, California, are co-sponsoring the bill.
Research published last year in Pediatrics indicated that some doctors in California were granting medical exemptions for children who did not need them, sometimes charging parents a fee in exchange for the exemption form.
Lawmakers in Washington state have also reacted to the measles outbreak. They were not able to get enough support to fully end nonmedical exemptions, but they did pass a law that ends the personal and philosophical exemptions from the measles, mumps, rubella (MMR) shot. Washington was an early epicenter of the measles outbreak, prompting Gov. Jay Inslee to declare a state of emergency in January.
"We would have preferred removing the personal exemption for all vaccines, but we weren't able to — there was so much political pushback," said Washington state Rep. Monica Stonier, a Democrat. "We just wanted to get something done."
Correction: There have been 52 reported cases of measles in California in 2019. An earlier version of this story incorrectly reported the year-to-date total. 
Support The 74's year-end campaign. Make a tax-exempt donation now.