New Video: This High School in Vermont Doesn't Have Class Wednesday, So It Began the National School Walkout Over Gun Violence a Day Early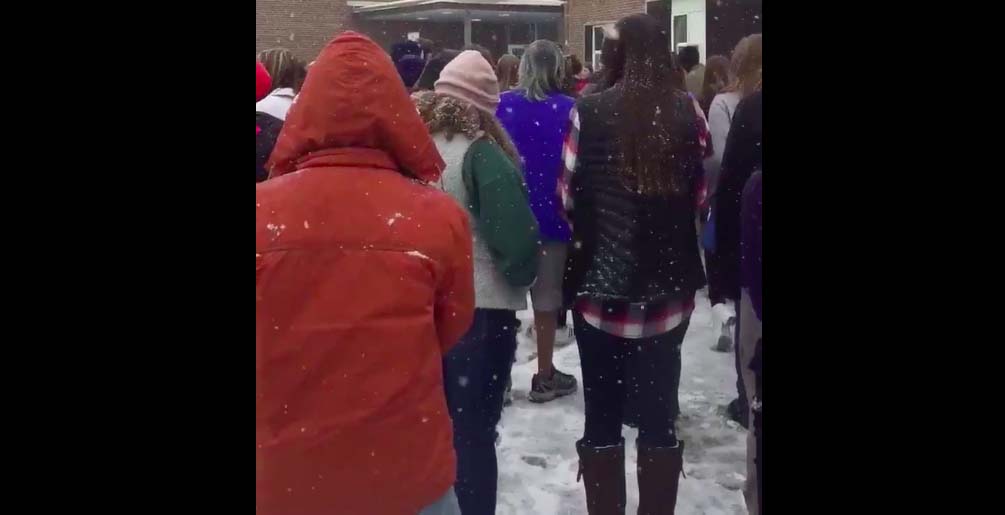 For live coverage of Wednesday's National School Walkout — and our continuing reporting on gun deaths and injuries at schools across the country — sign up for The 74 Newsletter.
After weeks of planning and an array of spontaneous demonstrations, students across the country will be launching a coordinated National School Walkout at 10 a.m. Wednesday morning, March 14.
Marchers are expected to leave their classrooms for 17 minutes, in recognition of the 17 people killed a month ago at the school shooting in Parkland, Florida. Several schools have organized official activities during that time; many colleges and universities have publicly stated that the protests — and any resulting disciplinary actions — will not impact a high schooler's application to attend.
Vermont's Randolph Union High School doesn't have class on Wednesday, though, so students there began the national movement a day early. Video of their walkout has started to trend on social media:
Elsewhere Tuesday, thousands of shoes were arranged on the Capitol Lawn in Washington, D.C., as an impromptu memorial to the thousands of children who have been killed by guns since the shooting at Sandy Hook Elementary.
This week's walkout is just the first in a series of national actions planned over the next month, all addressing the issues of gun violence and school safety. Here's everything you need to know about the upcoming student-led events, in 100 seconds:
The 74 will be tracking gun-related injuries and deaths at schools through the remainder of 2018. You can bookmark this page for the latest reports and updates — or sign up to receive updates straight to your inbox via The 74 Newsletter.
Get stories like these delivered straight to your inbox. Sign up for The 74 Newsletter