New Survey Shows Nearly Two-Thirds of Likely Voters Support School Choice — but 'Trump Effect' Has Emboldened Opposition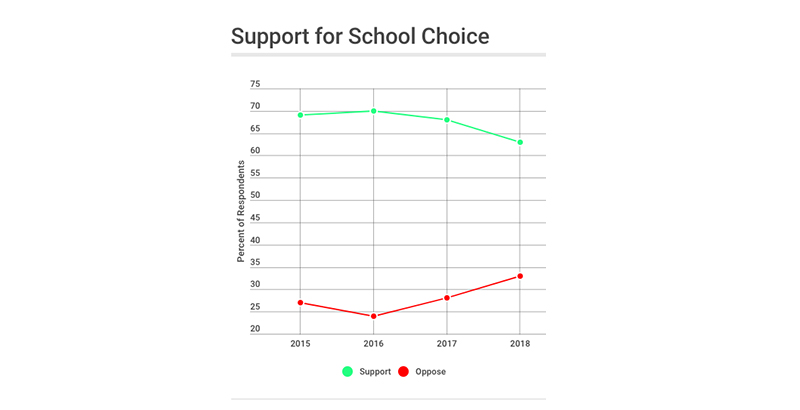 This is the latest article in The 74's ongoing 'Big Picture' series, bringing American education into sharper focus through new research and data. Go Deeper: See our full series.
Public support for school choice has taken a small hit but remains high among likely November voters, according to a survey gauging public support for a range of school choice options. The survey was discussed at the recent conference of the American Federation for Children.
The poll found that 63 percent of likely November voters support school choice, with 41 percent saying they "strongly agree." The question was put to voters this way: Generally speaking, would you say you favor or oppose the concept of school choice? School choice gives parents the right to use the tax dollars designated for their child's education to send their child to the public or private school which best serves their needs. (The question has been tweaked slightly from previous years: Previous polls described the funding as "dollars associated with their child's education" and used the word "better" instead of best.)

The Federation, an advocacy group that seeks to expand school choice and was founded by Education Secretary Betsy DeVos, commissioned the fourth annual study.
The decrease, which continues a trend that started last year, could be a "Trump effect," with more voters viewing school choice unfavorably because of President Donald Trump's support for the policies, the president of the research firm that did the survey, Deborah Beck, told Education Week.

Support for school choice appears to be bipartisan: 75 percent of Republicans, 62 percent of Independents, and 54 percent of Democrats reported that they support choice. A 2017 Gallup poll found that federal funding for school choice programs was one of only four out of 15 policy actions or proposals associated with Trump that a majority of Americans supported.
While overall support for choice dipped this year, the popularity of education savings accounts has increased, with 74 percent of voters supporting the idea, up from 69 percent last year. For the first time, the poll asked specifically about support for education savings accounts for children from military families, which 77 percent of respondents supported. Education savings accounts hold public dollars that families who take their children out of public school can use for costs such as private school tuition, online courses, tutoring, counseling, books, or other education-related expenses. They may be available for certain groups, such as students with special needs or who attend a failing school, depending on state laws.

That a majority of Americans continue to support school choice policy is a relief for advocates like Tommy Schultz, director of communications at the American Federation for Children. Over the past year, Schultz told The 74, the school choice movement has faced attacks from teachers unions and negative media attention that threatened to sink public opinion. Instead, respondents showed they still support the policies, with 86 percent showing support for at least some form of private school choice through scholarships, vouchers, or education savings accounts.
"Month in and month out in 2017, we saw these salacious headlines and attacks coming from various corners of the education establishment, and the poll numbers show that the attacks didn't stick, and that parents still believe that they deserve to have some measure of educational freedom and choice for their child," Schultz said.
Beck Research LLC, a Democratic polling firm, conducted the survey by phone in both English and Spanish January 8–13, 2018, among 1,100 likely November 2018 voters; the margin of error is +/- 3.5%.
This is the latest article in The 74's ongoing 'Big Picture' series, bringing American education into sharper focus through new research and data. Go Deeper: See our full series.
Get stories like these delivered straight to your inbox. Sign up for The 74 Newsletter