New Study: Suspending Students for Minor Infractions Like Cursing Hurts Kids but Benefits Nobody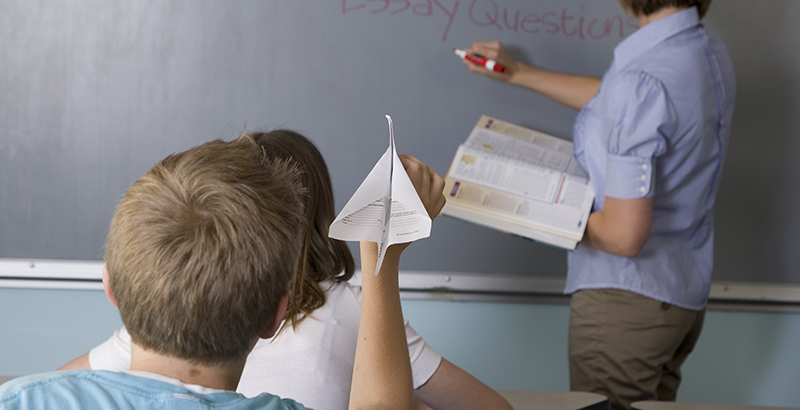 This is the latest article in The 74's ongoing 'Big Picture' series, bringing American education into sharper focus through new numbers, research, and reporting. Go Deeper: See our full series.
Schools are increasingly suspending children for minor infractions like profanity, hurting their academic performance while offering no tangible benefits.
That's the key finding of a comprehensive new study on the effects of out-of-school suspensions on the academic performance of students who get in trouble, as well as their classroom peers. And while student test scores suffered as a result of the suspensions — both for serious and minor violations — the effects are more modest than previously understood. The study was published in Educational Evaluation and Policy Analysis, a peer-reviewed academic journal.
The study, conducted by researchers from Mathematica Policy Research and the University of Pennsylvania, comes amid a heated debate over school discipline reform. Responding to concerns that suspensions could harm students and cause them to disengage in class, districts and states across the country have created policies to reduce suspensions and implement alternatives such as restorative justice and instruction in emotional and behavioral competence. Meanwhile, critics have warned that reducing suspension rates could cause classroom disruptions, hampering the academic performance of students who are well behaved.
Amidst the controversy, Education Secretary Betsy DeVos is weighing whether to rescind an Obama-era guidance document that called on districts to reduce their reliance on suspensions. Students of color and those with disabilities have long been punished at disproportionate rates, an issue the guidance document said could be evidence of a federal civil rights violation. The discipline debate also plays a prominent role in the fervor over school shootings. President Donald Trump has directed his Federal Commission on School Safety to explore the Obama-era guidance through the lens of school violence.
"A lot of people can agree that there are some instances where suspensions are necessary in schools — when something violent happens, when a kid is a real threat to other kids or to teachers or to themselves," said Johanna Lacoe, a researcher at Mathematica and co-author of the report. But an increasing share of suspensions stem from lower-level infractions like insubordination, she said. "It's a big deal to be suspended for something that's not a serious issue, and there's no benefit to peers."
Lacoe teamed up with Matthew Steinberg, an assistant professor of education policy at the University of Pennsylvania, to explore student discipline data in Philadelphia during the 2011-12 and 2013-14 school years. Many studies have found correlations between suspensions and negative academic outcomes, but those studies didn't adequately isolate discipline from other potential factors, said Steinberg, whose study uses two separate models to estimate the relationship between suspensions and test scores. Steinberg said these models together, which reached similar conclusions, allowed them to eliminate other potential factors behind test score declines, like traumatic events at home.
Students who are suspended for serious and minor infractions experience a decline in math and English test scores at similar rates, the researchers found, and suspended students are between 2 and 9 percentage points less likely to achieve academic proficiency in math.
"Some of these test score declines, especially the ones we see in math, result in declines in proficiency and [reduced] probability of passing exams," Lacoe said. "That's a much bigger deal than just a couple of points here or there on a test. That's whether you are at grade level or not."
While the report added muscle to research on the effects suspensions have on disciplined students, it also explored the effects exposure to discipline has on peers who are not themselves in trouble. Exposure to out-of-school suspensions for minor infractions didn't affect academic outcomes in peers, but exposure to discipline for more serious issues harmed performance among well-behaving classmates.
One factor the study cannot answer, however, is whether the drop in peer academic performance is caused by student misbehavior or the resulting punishment. Therefore, Steinberg said, it's difficult to tell whether increasing suspensions for serious infractions would result in better outcomes for well-behaved students.
"What would happen to the achievement of kids who aren't suspended if we just suspended more kids who are misbehaving, or alternatively if we suspended fewer kids?" Steinberg said. "That's a question that has not yet been answered."
Given the limited effects of suspensions on student performance observed in the study, the policy debate over exclusionary discipline is remarkably heated, said David Griffith, senior research and policy associate at the Thomas B. Fordham Institute, a right-leaning education think tank. "I think it would probably behoove everyone to take a deep breath," he said.
But Lacoe said the effects aren't small enough to ignore. Since students of color are disproportionately disciplined, she said, they're also disproportionately affected by the consequences of those suspensions — working against efforts to close racial achievement gaps.
"I don't think anything good comes from just sending kids home without addressing what's going on," she said. "It's just such a short-term solution to the issue. What would be much better, in my opinion, would be a school-wide approach that tried to prevent that misbehavior in the first place."
Support The 74's year-end campaign. Make a tax-exempt donation now.