New Study Finds No Asian American Discrimination in Admissions at Elite Colleges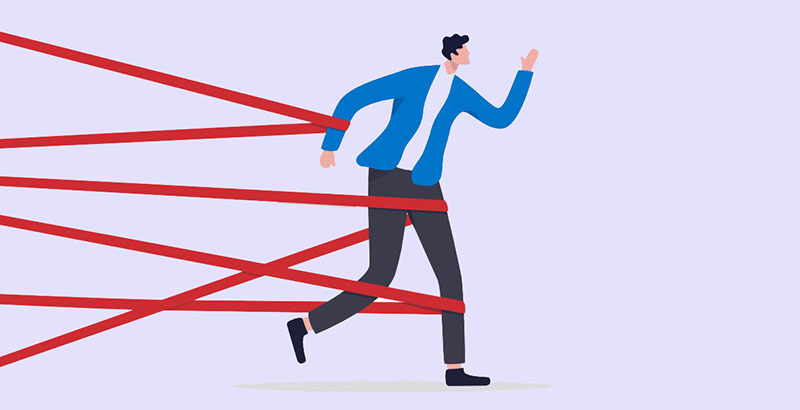 Get essential education news and commentary delivered straight to your inbox. Sign up here for The 74's daily newsletter.
The argument that admission to the nation's most elite colleges is discriminatory against Asian Americans has been deemed inaccurate in a new study by researchers at Georgetown University's Center of Education.
The study, "Selective Bias Asian Americans, Test Scores, and Holistic Admissions" found the current holistic admissions system, which looks at many aspects of a student's application beyond their GPA and test scores and is used at many selective colleges, benefits Asian American applicants more than an alternative test-only system.
Critics have claimed holistic admissions and affirmative action conceals illegal practices of racial quotas and as a result, Asian American applicants are being denied to maintain a range of other ethnic groups.
But the study found that at the nation's 91 elite colleges, Asian American enrollment has remained stable for the last 20 years.
The study also found that only a small number of Asian American and Pacific Islanders (AAPI) would be admitted under a test-only system. Under the holistic admissions system, AAPI students typically gain nearly 14,500 spots in a year, while a test-only system only results in a mere 3,000 student gain.
The study explained the higher rate of Asian American students being rejected as a result of the higher proportion of Asian American applicants who apply to selective colleges regardless of their test scores.
Dr. Anthony Carnevale, the primary author in the Selective Bias Study, believes the debate over Asian Americans and affirmative action reflect a larger issue with college admissions.
"I firmly believe, as it shows in all our other work, the argument over Asian Americans, in a sense, misses the point. The real question here is what should we be using as metrics and other kinds of standards for admitting students?" said Dr. Carnevale. "This study begs the question of what should we do? What should colleges do, in terms of their admissions policies?"
Here are they key findings from the report:
1. Enrollment of Asian Americans at the Most Selective Colleges Has Remained Stable Over the Past Decade
In the past 20 years, Asian American enrollment increased to match changes in demographics of college's incoming classes. Between 1999 and 2018, enrollment of AAPI at the most selective colleges grew by 4 percentage points; while their enrollment at other four-year schools grew by 2 percentage points.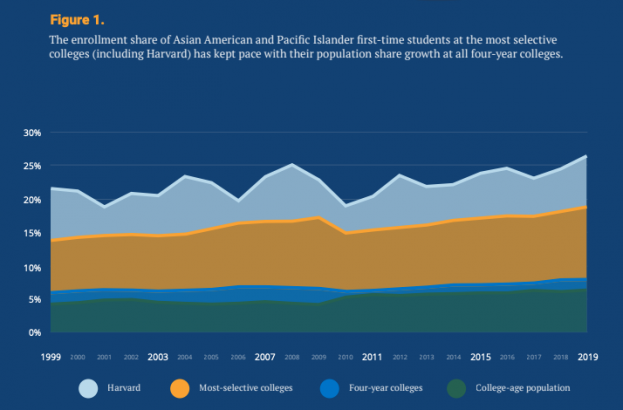 2. Asian American Students are More Likely to Apply to Highly Selective Colleges Regardless of Test Scores than other Racial Groups
Asian Americans applicants with below average test scores are more likely than students from other ethnic groups to apply to selective colleges driving up the number of AAPI applicants, according to the study.
Of the Asian-American students who scored a 1300 and above on the SAT, 65% applied to the selective colleges in comparison to 50% of non-Asian American students. For students who scored below 1300, 12% of Asian American students applied to those schools compared to 5% of non-Asian American applicants.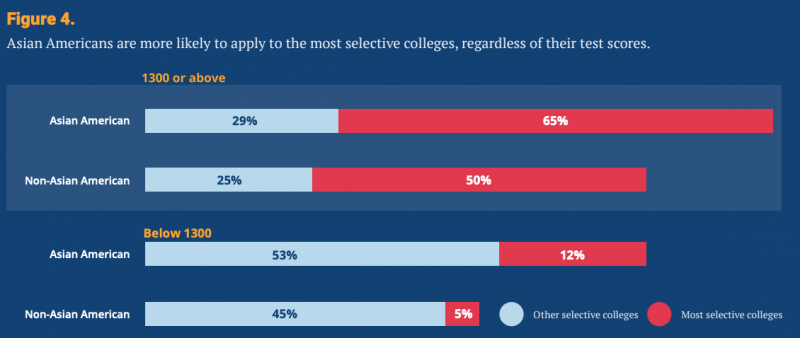 3. In A Test-only Admissions System Would Produce Marginal Gains for Asian American Applicants
Advocates have long pushed for a test-only, race-blind admissions system in their arguments against affirmative action. Advocates point to California schools, such as UC Berkeley and UCLA as examples of elite institutions with high numbers of Asian Americans students.
But in the study's simulation of what would happen if college admissions did not use "race, legacy status, athletics, extracurricular activities, academic interest, ability to pay," instead basing admission solely based on test scores, Asian American enrollment would only result in a mere 2% increase.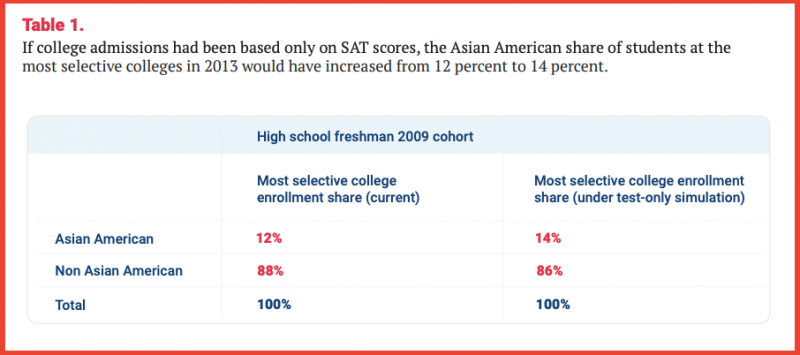 4. Many Asian American Applicants Already Benefit from Holistic Admissions
The simulation also showed that without holistic admissions, 21% of Asian American students and 39% of non-Asian American students would not have received acceptances, with their spots going to students with higher test scores.
In a solely test based approach, Asian American students who would have been denied overall do have higher test-scores, however, they are also "twice as likely as their non-Asian peers to have the lowest scores in the application pool." This is because Asian Americans are not monolithic, as 40% of AAPI college students have test scores below than average.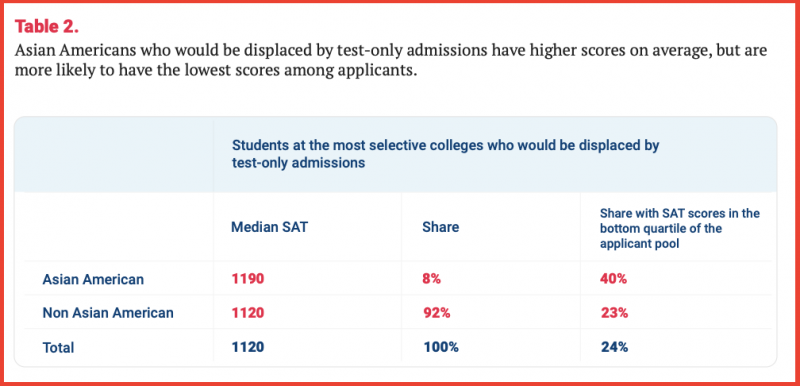 Support The 74's year-end campaign. Make a tax-exempt donation now.