New SAT Doesn't Change Link Between Achievement Gap and Weak College Readiness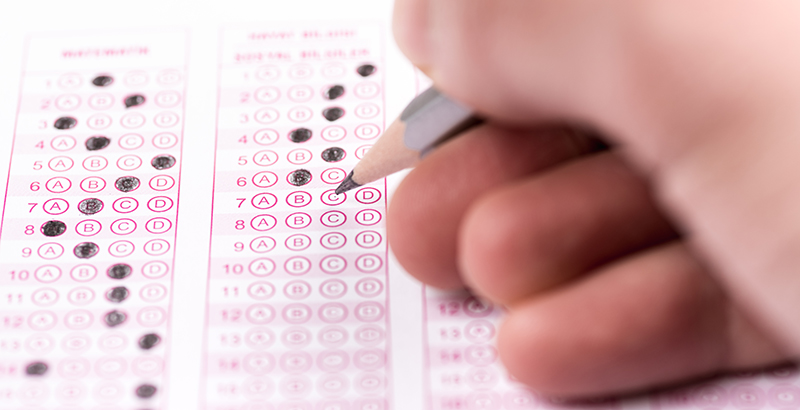 SAT results released Tuesday don't provide a ton of new information. The College Board redesigned the test, making year-to-year comparisons impossible. But the outlines of student performance were familiar; as an InsideHigherEd headline put it, "New Test, Old Gaps on Race."
Less than half of test takers — 46 percent — achieved scores that indicate college readiness, the College Board's shorthand for an ability to earn a C or higher in an entry-level course.
On this year's test, that equated to scoring at least 533 in reading and writing and 527 on math. As in the past, groups that help underserved high school students expressed alarm.
"Less than half of our kids meeting the college-readiness benchmark?" Phillip Lovell, policy director of the Alliance for Excellent Education, told EdWeek. "That's just not good. And it's not sustainable."
(The 74: When $7B in Remediation Falls Short: The Broken Promises Colleges Make to Students Who Need More Help)
More than 90 percent of 1.8 million students from the class of 2017 — the largest group ever — took the new version. It no longer penalized guessing and included Common Core–ish features: fewer arcane words, more focus on the use of evidence, fewer but deeper math problems. It's also shorter and was recalibrated to render a score on the traditional 1600-point scale.
The nearly 10 percent rise in test takers (including the PSAT) would typically have driven down scores. But the new test yielded higher if non-comparable numbers, with an average score of 533 on reading and writing and 527 on math. These are higher than past versions of the test produced in recent decades.
The race/ethnicity breakdowns yielded expected disparities: Asian students achieved at higher levels than their peers, with an average score of 1181. White and multiracial students averaged 1118 and 1103, respectively — all considerably above the 1060 average for all test takers. Hispanic students, who scored 990 on average, and black students, who scored an average of 941, trailed substantially.
College-readiness gaps reflected these differences. Asian students (70 percent) were three and a half times as likely to be prepared as black students (20 percent). Fifty-nine percent of white students, 54 percent of multiracial students, and 31 percent of Hispanic students met the College Board threshold.
Twelve percent of Asian students and 15 percent of whites failed to reach the mark in either reading and writing or math, compared with 39 percent of Hispanic students and 40 percent of black students.
Researchers have shown that the SAT does not define student ability, and the College Board itself says, "It is important to note that college readiness is a continuum — students scoring below the SAT benchmarks can still be successful in college, especially with additional practice and perseverance."
High school grade point average is usually considered a better predictor of college success. Non-cognitive strengths, such as self-discipline and confidence, often compensate for weaker academic preparation.
Studies have also identified a series of achievements and behavior beginning in elementary school — third-grade literacy, low middle school absence rates, passing Algebra I in eighth grade — that are associated with post-graduate success.
Nor is the College Board's readiness score sacrosanct. In 2013, headlines greeted Superintendent Paymon Rouhanifard shortly after he arrived in perennially distressed Camden, New Jersey. In a school system of 11,000 students, a total of three scored high enough to be considered college-ready. The test indicators were accurate: Camden schools were in bad shape. Even so, "a lot more than three students are going to college," he said.
Get stories like these delivered straight to your inbox. Sign up for The 74 Newsletter