Minneapolis Teens Stage Walkout, Observe Moment of Silence for Daunte Wright as Chauvin Case Heads to the Jury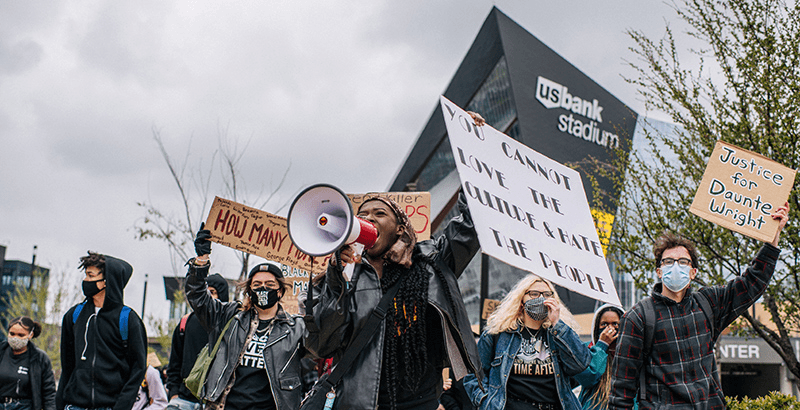 As closing arguments were held Monday in the trial of former police officer Derek Chauvin, students from some 110 Minneapolis-area schools walked out to protest the death of Daunte Wright in the nearby suburb of Brooklyn Center. Some of the teens, who organized online, gathered outside suburban and exurban schools, while others demonstrated at a downtown plaza not far from the courthouse.
At 1:47 p.m., the time Wright was shot by a police officer during a traffic stop April 11, the students observed a moment of silence.
National Guard and police from other states have established a heavy presence in the Twin Cities, and Minneapolis Public Schools on Friday announced a temporary return to distance learning because of the possibility of unrest.
Though it's unclear when or whether he graduated, Wright was a former Minneapolis Public School student. He attended Edison High School, where at least for a time, his dean of students was the girlfriend of George Floyd, whom Chauvin is accused of murdering. Since the trial started in late March, teachers throughout the Twin Cities have grappled to help students process the graphic images played repeatedly in the courtroom as testimony has been given.
After Floyd's death, students were among those who protested on Minneapolis streets for days, demanding, among other things, that the school district sever its ties to the Minneapolis Police Department. Like Floyd, Wright was a Black man who died at the hands of white police officers. Over the weekend, Rep. Maxine Waters of California and the Rev. Jesse Jackson, among other Black leaders, attended vigils in the Twin Cities.
mnteenactivists, the group that organized the walkout, posted photos, graphics and videos to Twitter, Instagram and other social media. The Instagram videos appended here were taken at Fridley High School, near where Wright was killed.
View this post on Instagram
View this post on Instagram
View this post on Instagram
"It seems like Minnesota can't get a break … so proud of you all for coming out here…" at Fridley Senior High:
View this post on Instagram
"Since 2020, police have killed 21 young people" … at Fridley Senior High:
View this post on Instagram
Support The 74's year-end campaign. Make a tax-exempt donation now.