The Kids Are Not All Right: How 4 States Are Rushing to Improve Student Access to Mental Health Care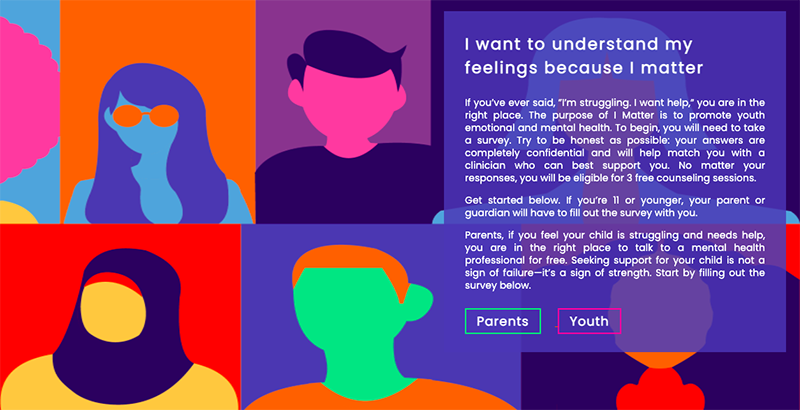 Get stories like these delivered straight to your inbox. Sign up for The 74 Newsletter
Families, lawmakers, doctors and educators across the political spectrum are in agreement: The kids are not all right.
Maryland, Colorado, California and New Jersey are among the states that have recently passed laws that expand access to youth mental health care. New protocols and resources are aimed at getting care to those who need it most — particularly youth experiencing abuse at home, uninsured and LGBTQ+ students.
In all four states, rates of youth struggling with substance use and mental illness have worsened with pandemic isolation and inconsistent schooling. Nationally, only 8-9 percent of students of color with major depressive episodes received treatment, compared to 22 percent of their white peers.
"This worsening crisis in child and adolescent mental health is inextricably tied to the stress brought on by COVID-19 and the ongoing struggle for racial justice and represents an acceleration of trends observed prior to 2020," an October statement from the American Academy of Child and Adolescent Psychiatry, the American Academy of Pediatrics and Children's Hospital Association read.
But increasing demand for services comes in an era of limited capacity. There's only about 9.75 child psychiatrists per 100,000 youth under 19. According to the AACAP, there should be more than four times as many available, particularly because providers are congregated in large cities. Most U.S. counties don't have a single child psychiatrist.
The groups declared a national state of emergency in children's mental health late last month, advocating for increased access and funding for telemedicine, school-based mental health care and workforce development programs for practitioners.
Some recent laws fund free therapy and depression screening for youth. And in California, all middle and high schoolers in health class will learn about mental health and illness.
Statewide reforms have historically been slow to meet student needs. While many like Wisconsin are now allocating federal relief money for school-based mental health care, it's not yet clear from legislation which programs may take root.
Between half and one third of U.S. children experience trauma before adulthood. And for children aged 5 to 11, visits to the emergency room for mental health reasons increased 24 percent last year. The U.S. Department of Education even published a resource report in late October to help educators and schools better support children.
Here are four statewide efforts underway that address the youth mental health crisis:
Maryland
As of Oct. 1, Maryland minors 12 and older can consent to mental health treatment on their own. Previously, youth needed to be 16 to access mental healthcare without a parental guardian.
Advocates of the legislation assert this will expand mental healthcare access to LGBTQ+ youth, those in abusive homes and those whose families may stigmatize mental illness and therapy.
Others, including the Maryland Board of Nursing and Psychological Association, have expressed concern that 12 may be too young to make informed decisions about treatment, or that youth may be suicidal without the parents' knowledge.
Providers can ultimately still choose to disclose treatment information to parents, unless they believe it would lead to harm or deter the minor from seeking care.
The law also requires health care providers to determine whether the minor is mature enough to understand consent before treatment begins, regardless of age. Psychiatric medication cannot be prescribed to those under 16 without parental consent.
California, Illinois and West Virginia have similar laws allowing youth under 16 to access care without parental consent.
Colorado
All Colorado youth under 18 now have access to at least three free mental health counseling sessions. No proof of insurance is needed.
The counseling, by licensed clinicians predominantly via telehealth, is also available for youth 18-21 receiving special education services.
The 'I Matter' program was made possible when state lawmakers allocated $9 million for the effort — the Rapid Mental Health Response For Colorado Youth bill was signed into law in June. I Matter launched officially on Oct. 27.
To access services, youth first complete an emotional health survey on I Matter's site. Funding for the temporary initiative expires in June 2022.
"I've already pulled a bill to make this an ongoing program," Representative Dafna Michaelson Jenet told Colorado Public Radio. "I think this is something that we need ongoing in Colorado.
Colorado has higher rates of youth mental health and substance use issues than 44 other states.
California
All California middle and high school health education classes must now include mental health as a part of their curricula.
The state Department of Education will also develop plans to expand mental health education in more schools by January 2024.
And over the next two years, teachers, parents, counselors and students will develop new protocols for schools to address student mental health needs. The protocols will cover how schools will identify which students need support and how to approach external counselling referrals.
California also joined a host of other states reforming their approach to missing school for mental health needs — the state's schools will now treat mental health-related absences as they would for physical health concerns.
The policy reforms signed this summer and fall by California Gov. Gavin Newsom were met with some criticism from conservative parents and politicians who were looking to see, "less mandates coming from Sacramento and a lot more freedom."
New Jersey
Beginning next school year, New Jersey youth in 7th through 12th grade will have access to depression screening in school.
If the screening reveals that a student may be experiencing depression, parents must be notified and provided further resources to support their child.
Districts will apply for state funding to facilitate screenings and collect non-identifiable data that will then be shared with the state's DOE and Department of Children and Families.
The American Academy of Pediatrics recommends that youth 12 and older be screened annually.
Reflecting on rising suicide rates, assemblywoman and bill co-author Carol Murphy said, "these tragic losses didn't need to — and never should have —happened. We must be more proactive so that we are not simply reacting to tragedies, but preventing them before they take place."
New Jersey also revealed a central resource website at the end of September. The website's welcome message acknowledges how common anxiety and stress are, and serves as a tool for youth and their families to access resources and behavioral care information.
"We ask that parents be aware of the signs — maybe it's uncharacteristic changes in mood, or increased and prolonged patterns of fighting or lying, or maybe it's not enjoying the activities that they once enjoyed. Don't be afraid to ask your children what's wrong, and normalize asking for help when they need it," Department of Children and Families Commissioner Christine Norbut Beyer said in the state's press release.
Get stories like these delivered straight to your inbox. Sign up for The 74 Newsletter