NewsfeedMarching and Mourning: Students Protesting Florida Lawmakers in Wake of Parkland Shootings Inspire Wave of Walkouts, Vigils Around the Country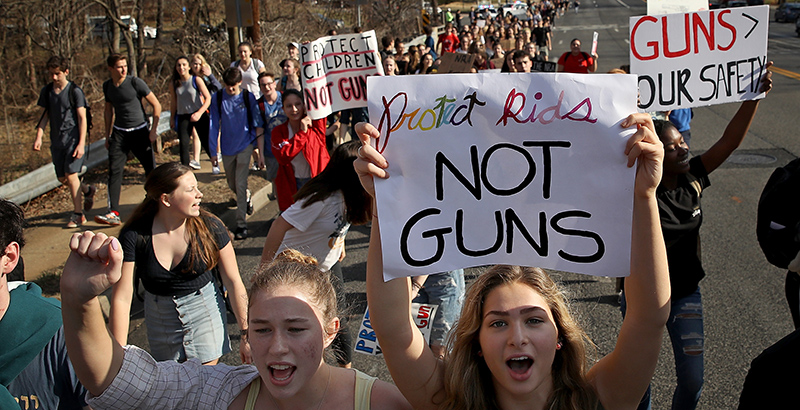 As survivors of last week's shooting at Marjory Stoneman Douglas High School in Parkland, Florida, took buses to the state capitol to implore lawmakers to enact stricter gun control, like-minded students around the country staged marches and walkouts to cast a national spotlight on the tragedy.
"Our message is very simple," Tanzil Philip, 16, told the Miami Herald. "Never again. This never should have happened."
The message reverberated around the nation.
Students in Independence, Kentucky, walked out of school for 17 minutes in honor of the 17 victims of the Parkland shooting. District officials said the protest was student-led but supported by the district.
In Florida, about 100 students from Parkland took buses to Tallahassee Tuesday afternoon after attending a funeral for a classmate, one of 17 killed in the shooting. They spent the night in the local civic center, welcomed by students and staff from nearby Leon High School.
Amanda De La Cruz, left, is riding to Tallahassee to honor her friend Helena, a kid with "a galaxy of freckles." Helena died in the Feb. 14 shooting. pic.twitter.com/gh7UYtMo1u

— julieturkewitz (@julieturkewitz) February 20, 2018
State Sen. Lauren Book, a Democrat, also spoke with the students and spent the night with them. Book helped organize meetings for the students as well.
On Wednesday morning, the students broke into smaller groups for more than 70 meetings with Florida lawmakers and officials.
#BREAKING: Marjory Stoneman Douglas students arrive in the Florida Capitol. Via @EmilyMichot #ParklandStudentsSpeak #ParklandSchoolShooting #DouglasHighSchool pic.twitter.com/WuVjIrkaq6

— Miami Herald (@MiamiHerald) February 21, 2018
Young woman from Marjory Stoneman Douglas in tears as she pleads with lawmakers, "Don't let this ever happen again." #ParklandStudentsSpeak pic.twitter.com/Ma6cDSf44c

— Eliott C. McLaughlin (@EliottCNN) February 21, 2018
Some lawmakers welcomed the student activists.
A few of the state senators have signs in front of their offices welcoming the Marjory Stoneman Douglas students. #ParklandStudentsSpeak pic.twitter.com/xNYszJnb8e

— Eliott C. McLaughlin (@EliottCNN) February 21, 2018
Students gathered in the state Senate chamber to watch a session.
I watched students meet with two state senators, an R and a D. I will post info soon. Now we're in the Senate. Session just began w a prayer. Rabbi urged "vision in a sea of confusion." pic.twitter.com/ouermHz9zD

— julieturkewitz (@julieturkewitz) February 21, 2018
Inside the Senate chamber, a student spoke about one of the victims before explaining her argument for stricter gun regulations.
"She was going to change the world, and I'm sure of that," the student said about her classmate. "But she doesn't have the chance now."
Marjory Stoneman Douglas senior Ariana Ortega, 17, tells senators about her slain friend Carmen Schentrup, 16, before addressing legislation. Senate President Joe Negron responds.#ParklandStudentsSpeak pic.twitter.com/1Axt8Oia2W

— Eliott C. McLaughlin (@EliottCNN) February 21, 2018
Senate Appropriations Chair Rob Bradley, a Republican, told the students he and his colleagues were working as fast as they could.
"We are moving as quickly as the system allows, with the urgency that is deserving of the emotion and the concern that … I feel," Bradley said.
Senate Appropriations Chair Rob Bradley assures Marjory Stoneman Douglas students that lawmakers are working at an expedited pace. #ParklandStudentsSpeak pic.twitter.com/pF6TQTtkLh

— Eliott C. McLaughlin (@EliottCNN) February 21, 2018
Outside the Senate chamber, Marjory Stoneman Douglas students and their supporters observe a moment of silence for the 17 people they lost in last week's shooting. pic.twitter.com/aZfn2zfoAz

— Eliott C. McLaughlin (@EliottCNN) February 21, 2018
Some students watched from the gallery Tuesday night as Republicans in the Florida House of Representatives voted not to debate a ban on assault weapons, which would have outlawed the gun used in the shooting at their school February 14.
Students were scheduled to speak with Gov. Rick Scott, a Republican, at 5 p.m. in a closed-door meeting before heading back to South Florida, according to a schedule posted by Book.
Meanwhile, protesters marched to the capitol in Tallahassee, shouting "This is what democracy looks like!" and "Vote them out!" Capitol police estimated 3,000 protesters were in the crowd, the Tallahassee Democrat reported.
The Parkland students, who quickly became known nationwide after harnessing the power of social media and appearing on Sunday news shows, inspired other students to join the cause.
Students in Silver Spring, Maryland, marched in solidarity.
Students also showed support with marches, walkouts, and rallies across Florida and around the country.
Happening Now: over 3200 students from Western High School in Davie walking out in protest against gun violence after Parkland shooting. More at 11 @nbc6 pic.twitter.com/EmHe65hcnq

— Darryl Forges (@DarrylNBC6) February 21, 2018
#RIGHT #NOW Students from Coral Glades High are now on Sample Road and Coral Springs Drive on their way to #StonemanDouglas. Police are redirecting traffic, drivers blowing their horns in support. pic.twitter.com/hQeLzzrN1Y

— Carlos Suarez (@CarlosWPLG) February 21, 2018
A teacher praised the students at this walkout in Upper Arlington, Ohio.
Nice job students, respectful and intentional @UAwalkout pic.twitter.com/x6Mv4L7yMH

— Mrs. Deal (@Bearsread) February 21, 2018
The students have also garnered high-profile support from Oprah Winfrey, George and Amal Clooney, and others.
Oprah Winfrey and Steven Spielberg match George and Amal Clooney's $500,000 donation to March For Our Lives, an event formed by survivors of the Florida shooting. https://t.co/WdoKJgdILY

— CNN Entertainment (@CNNent) February 20, 2018
A series of events are planned for the coming months, including a march in Washington, D.C., March 24, and nationwide school walkouts on March 14 and April 20, the 19th anniversary of the deadly Columbine High School shooting.
On March 24 we will take the streets of Washington DC and our communities across the country to #MarchForOurLives. Sign up at https://t.co/2m7ItdfFjV pic.twitter.com/yokyEdj7Jq

— March For Our Lives (@AMarch4OurLives) February 18, 2018
So, what's our plan? On Friday, April 20th, the 19th anniversary of the Columbine shooting we propose a National High School walk out. Don't attend school, wear orange and protest. Sign the petition on our page if you pledge to do so. #nationalwalkout #schoolwalkout

— National School Walkout (@schoolwalkoutUS) February 16, 2018
The March 14 effort is supported by the youth branch of the Women's March organization.
Enough is enough!

Women's March Youth EMPOWER is calling for students, teachers, and allies to take part in a #NationalSchoolWalkout for 17 minutes at 10am on March 14, 2018. Join us in saying #ENOUGH!https://t.co/8ZE8uthRlZ pic.twitter.com/45yCZl4zDm

— Women's March (@womensmarch) February 16, 2018
Submit a Letter to the Editor