LA Parents Begin Sending Kids Back to School As Omicron Recedes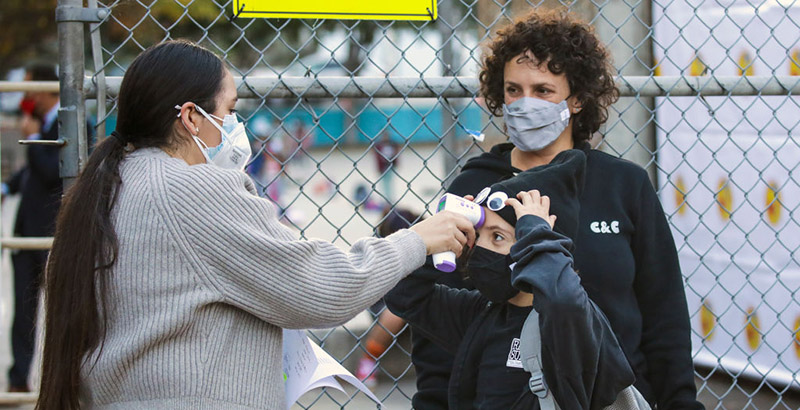 No paywall. No pop-up ads.
This article is part of a collaboration between The 74 and the USC Annenberg School for Communication and Journalism.
Even as Omicron surged through Los Angeles early last month, Hilda Avila knew she would send her son back to his public middle school when classes resumed.
"As a parent, it is my responsibility to teach my son that there are going to be challenges," said Avila, whose 12-year-old son Jaziel attends Wilmington Middle School. "Adversities are going to come, and as a human being one cannot live out of fear."
But the first few weeks were not easy, said Avila, who recalled feeling frustrated that teachers were absent and substitutes she did not know led her son's classes. Some teachers at the school taught online after getting a vaccine exemption, she added.
Many LAUSD parents seemed last week to have caught up with Avila's thinking, sending their children back to school in growing numbers after keeping them home earlier in the month.
According to the Los Angeles Unified School District, attendance increased from 66.2 percent in the first week of school in early January to nearly 80 percent last week.
When schools resumed classes on January 11, The Los Angeles County Department of Health was reporting 12,617 new COVID daily cases.
But parents and educators said that while things have slowly gotten better inside the nation's second largest district's schools, the first week was not easy.
Irma Villalpando, an aide at the Maywood Center For Enriched Studies Magnet school, said more than 300 students and at least 10 teachers were out the first week.
"There were two subs sent from the district and the rest of the classrooms were covered by counselors, principal, assistant of principal, some teachers had a training period and they also helped in and covered classrooms," said Villalpando. "It ran very smoothly."
But Villalpando said while classes were covered, not much learning was going on: "Some students did tell me that it was difficult because they were not doing much, they were bored." she said.
The parent of two high school students attending Maywood, Villalpando said one of her daughters told her "she had a hard time staying awake in one of her classes because she had nothing to do."
Last week, Interim LAUSD superintendent Megan Reilly, emphasized COVID cases were dropping, and added that 100 percent of school teachers and employees are fully vaccinated. Teachers that would fail the vaccination mandate would get fired.
"We continued to be intelligent and agile in creating the safest learning environment," said Reilly, "Monitoring conditions daily, consulting with experts and doctors and reviewing COVID-19 data to ensure all measures are effective."
District's health safety guidelines include weekly COVID-19 testing for both students and employees, isolation for five days if testing positive, and mandatory use of masks. The LAUSD implemented a new mask mandate on Monday, prohibiting cloth masks.
Vanessa Aramayo, a parent advocate with Alliance for a Better Community said the school district is doing everything possible to implement those guidelines.
"I believe the schools reopening during the pandemic allowed for increased testing, identification of cases and environments that are safe for children, and they also provide environments and information for parents to be able to obtain the resources, they need to be able to protect themselves and their families from infection or from further spread," said Aramayo.
Despite the guidelines and precautions, some families don't believe it is safe to send children back to school, including parents of students with special needs, said Lisa Mosko, a parent advocate with Speak UP.
"Many families I know were relieved to be back at school in person because the academic and mental health toll of being out of school for so long on their kids was too much," said Mosko. "Other families I know did not feel ready to go back, especially families of kids who are medically fragile."
"They [The LAUSD] have a very difficult job and that's making sure that schools are safe, that teachers and students, and that all the faculty will not be in harm's way if they go back to school," said Aramayo. "And the testing that they've implemented has been groundbreaking and they've been a leader in doing that."
Veronica Sierra is a sophomore pursuing a journalism degree at the USC Annenberg School for Communication and Journalism. She was born and raised in Valencia, Venezuela; and moved to California in 2015 where she continued high school, graduating in 2015.
Get stories like these delivered straight to your inbox. Sign up for The 74 Newsletter