Introducing The 74's 16 Under 16 in STEM — Nominate a Student Today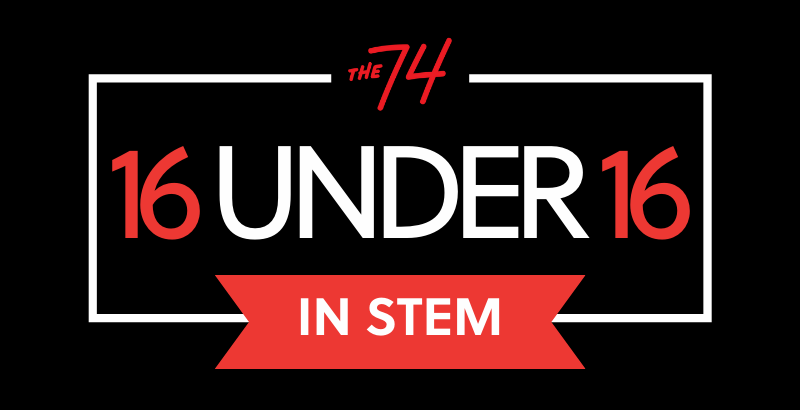 Science, technology, engineering and mathematics are the backbone of our society and economy. They are the gears that turn dreams into reality and they are the fuel that drive invention, innovation and progress.
Pioneers in STEM fields are invariably leaders of our country. They have built our infrastructure; designed modern conveniences that have become necessities; revolutionized how we travel, communicate and think; introduced methods to understand and sustain our natural world; allowed us to explore planets beyond our own; and saved countless human lives in ways we never could have imagined — just to name a few.
And they were all youngsters, once. So we're deeply curious: What were these trailblazers up to in their youth? Are there young vanguards in STEM right now who are on their way to becoming this country's future leaders in those fields?
That's why we're asking for your help to identify our inaugural class of "16 Under 16 in STEM." We are looking for 16 of the most impressive students who are 16 years of age or younger who have shown extraordinary achievement in STEM-related activities. The final 16 selected will be profiled in text, photo, and/or video at The74Million.org, along with details about the work that makes them outstanding.
Click here to submit a nomination.
Our guidelines are intentionally broad, because we want to be introduced to as many of America's extraordinary students as possible. The rules for nominations are:
The student nominee must reside in the United States and attend a school (or homeschool) in the United States.
The student nominee must be 16 years of age or younger as of Aug. 1, 2022.
The student's work that is relevant to the nomination must be in or related to the fields of science, technology, engineering and mathematics.
Extended deadline: The nomination must be submitted by 11:59 p.m. Pacific Time on March 23, 2022.
Both the person submitting the nomination, as well as the student being nominated, must be available to respond to follow-up questions between March 24 and March 31, 2022 should the nominee be selected as a finalist.
The student nominee must agree to photography and filmography of him/her/themself, as well as to photography and filmography of their related work.
The final 16 honorees will be selected by the following panel of judges who work across several STEM fields. Click on each headshot to read their bio.
If you are having trouble viewing the interactive graphic, click here.
Honorees will be notified of their selection in April, and our profiles of these talented youngsters will publish later this spring.
Nominate a student here today.
Support The 74's year-end campaign. Make a tax-exempt donation now.