Infamous 'Sheriff Joe' Arpaio to Run for Senate in AZ, With Implications for Undocumented Students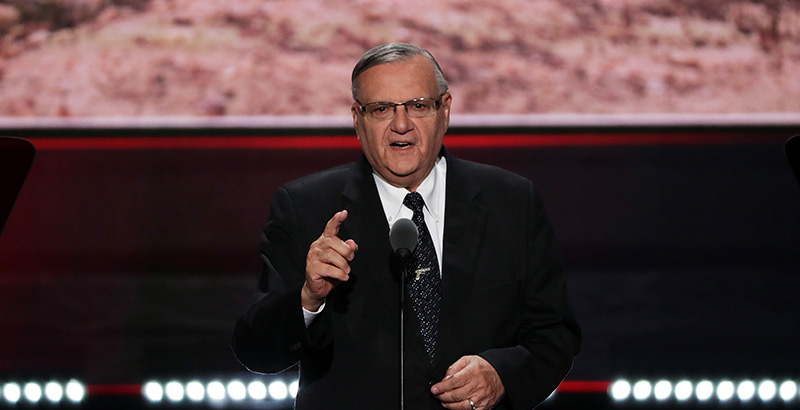 Former Arizona sheriff Joe Arpaio, the polarizing 85-year-old who is best known for his hard line on federal immigration enforcement that netted a criminal conviction, announced on Tuesday he is running for U.S. Senate. If he is elected, his victory could have a profound effect on undocumented students as President Donald Trump, his closest ally and the man who pardoned him, works to ramp up federal immigration enforcement.
Arpaio, who is running to replace retiring senator Jeff Flake, outlined his political ambitions to the Washington Examiner, and they appear to center squarely on illegal immigration. As a senator, he noted, he'd have more power than he did as sheriff. Arpaio served as sheriff in Maricopa County, which includes Phoenix, for 24 years until he lost his re-election bid in 2016 to a Democrat. "If you're going to come across that border, you should be arrested and get the consequences of it," Arpaio told the newspaper.
Democrats were quick to criticize Arpaio after Tuesday's announcement, including Democratic National Committee Chairman Tom Perez, who called the former sheriff "one of our nation's most notorious agents of racism and bigotry." "He has spent his career tearing apart immigrant families and devastating Latino communities, and he has no place in the U.S. Senate," Perez said in a statement.
As the Trump administration and Congress negotiate a legislative fix to save the Deferred Action for Childhood Arrivals, Arpaio offered the Examiner his own solution. DACA, which provided deportation relief to some 800,000 undocumented immigrants who were brought to the U.S. as children, was scrapped by Trump in 2017 with a six-month delay. On Tuesday, Trump vowed to sign a "bill of love" that spares DACA in exchange for money to build a border wall.
"I have a far-out plan, which may look stupid," Arpaio told the Examiner. "When they come to your attention that they're here illegally, these young people, deport them back to Mexico — or whatever — and then try to put them on a fast track to come back into the United States legally with special permits. What's wrong with that? They'd say they don't know where their home country is, so let them go there and spend six months, because it might take that long to do paperwork to get them here legally and let them see their home country and see what it's really like. They ought to be proud where they came from. I'm proud being an Italian American. I'm proud of Italy. I'm proud my father, mother came over, proud of it. So, you could kill two birds with one stone."
During his time as sheriff, Arpaio came under fire on several occasions for policies that affected Arizona students. Over the course of three years, ending in 2007, officers under Arpaio reportedly failed to investigate more than 400 reported sex crimes, including dozens of alleged child molestations in which many of the victims were the children of undocumented immigrants.
Following the mass shooting in Newtown, Connecticut, Arpaio stationed 500 armed volunteers at Phoenix schools in an effort to combat potential gunmen. But some immigrants' rights advocates publicly opposed that strategy, noting that Arpaio once formed an "illegal immigration posse" to track down undocumented immigrant families. Salvador Reza, an activist with Barrio Defense Committees, told the Daily Beast in 2013 that Hispanic children in the area saw Arpaio as "El Cucuy" — the Bogeyman. Following an immigration raid in 2008, a school official reported fear among students, who worried their parents would be detained during the school day.
"We have heard stories of kids peeing themselves during Arpaio raids," Reza told the Daily Beast. "Even American citizens are terrified of Arpaio because they think he will take away their parents. It petrifies them. They don't want to go to school."
Perhaps most notably, Arpaio sued then-President Barack Obama over an executive order that created the Deferred Action for Childhood Arrivals program to provide deportation relief to some undocumented immigrants who were brought to the U.S. as children. Arpaio alleged the program, known as DACA, increased crime in his county and therefore led to an increase in the jail population. His lawsuit was ultimately dismissed after a federal appeals court ruled he lacked standing to sue over federal immigration policy.
The Examiner notes that Rep. Martha McSally, who is expected to announce her candidacy for the Senate this week, is viewed as the front runner in the Republican primaries.
In August, Trump pardoned Arpaio when he was convicted of violating a court order to stop detaining people solely on suspicion that they're undocumented immigrants.
"So was Sheriff Joe convicted for doing his job?" Trump asked the crowd at a Phoenix rally prior to the pardon. "You know what, I'll make a prediction: I think he's going to be just fine, OK? But I won't do it tonight because I don't want to cause any controversy. But Sheriff Joe should feel good."
Get stories like these delivered straight to your inbox. Sign up for The 74 Newsletter