'I Can't Teach From a Coffin': Across the Country, Teachers, Parents and Students Hit the Streets to Protest Reopening of Schools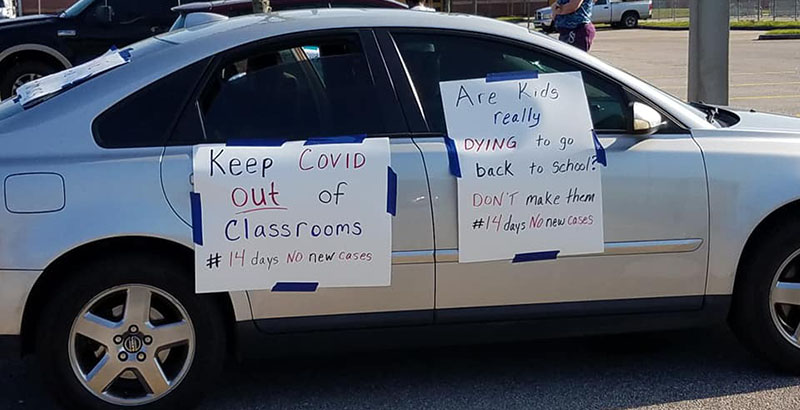 With President Donald Trump threatening schools if they don't fully reopen, COVID-19 ripping through states that rapidly lifted their lockdown restrictions and the new school year as little as a month away, teachers, parents and students from Florida to Missouri to Texas to Arizona and Michigan are taking to the streets to protest their districts' plans for resuming in-person classes.
In Detroit, dozens of parent and teacher protesters blocked school buses from leaving to pick up students for summer school, which started July 13. On Wednesday, the activist group coordinating the protests, By Any Means Necessary, sued the district and the state, seeking to halt in-person instruction.
After visiting some schools as they welcomed students back, Superintendent Nikolai Vitti tweeted that he was confident the district had made the right decision. The protests did not deter the school board from a day later approving a fall reopening plan that would include in-person classes, an option a majority of parents surveyed said they would prefer if adequate precautions are taken.
In Florida, where Gov. Ron DeSantis stands by a June order mandating that schools return to in-person classes full time despite surging numbers of COVID-19 infections, protests have broken out in numerous districts.
In St. Petersburg, teachers circled the Manatee County Public Schools headquarters in their cars, waving signs and honking horns. In a video posted to Facebook by NBC affiliate WFLA, a Jeep can be seen with an oversize, blue face mask draped across its front grille.
With school scheduled to start Aug. 10, the district has been considering allowing full-time in-person instruction for elementary grades and hybrid classes for older students. Teachers protest that it is too soon to do so safely.
Demonstrations also took place in Hillsborough County Public Schools, which includes Tampa. "I can't teach from a coffin," read one sign held by teachers protesting on foot and in masks.
"I don't think there's a safe way to do this," a teacher said about reopening campuses soon. "I don't know how they can ignore the data." https://t.co/IUcRWQoohi

— Tampa Bay Times (@TB_Times) July 14, 2020
In the Tampa suburb of Dover, parents and activists from Black Lives Matter and the group People Over PACs used Facebook to coordinate a protest outside Strawberry Crest High School, with some people participating from inside their cars and others on sidewalks.
"This is part of a larger FIGHT CLUB! legal strategy to stop this dangerous and deadly back-to-school plan," organizers posted on social media.
In Austin, Texas, teachers staged a sit-in outside the Texas capitol, demanding assurances and a rule prohibiting in-person instruction until a county's infection rate is below 0.5 percent of the population. Earlier this month, Gov. Greg Abbott had said schools should operate virtually for the first three weeks of the year but could lose state funding if they did not return to full-time in-person classes after that. Superintendents pushed back, with some saying they would delay the start of school to buy time.
With virus cases spiking throughout the state, Abbott announced Tuesday that schools can extend the time buildings are closed to students.
The teachers want classes to stay online until COVID-19 cases decrease. https://t.co/xly9l2lYiN

— WFAA (@wfaa) July 15, 2020
Another caravan-style protest and sit-in at the capitol are planned for Saturday.
Near Athens, Georgia, a group of teachers and parents protesting the Oconee County School District's plan to reopen schools without a mandatory mask policy was met with a small counterprotest. A separate action was organized by University of Georgia faculty with children in the district.
In Arizona, protesters in cars ringed Tucson High School on Thursday morning. St. Louis teachers demonstrated silently outside school district headquarters Tuesday, demanding that instruction remain at a distance until there have been no new COVID-19 infections for 30 days.
Get stories like these delivered straight to your inbox. Sign up for The 74 Newsletter