How a News Site for Kids Is Providing Comfort — and Free Educational Content — in a Time of Uncertainty and Anxiety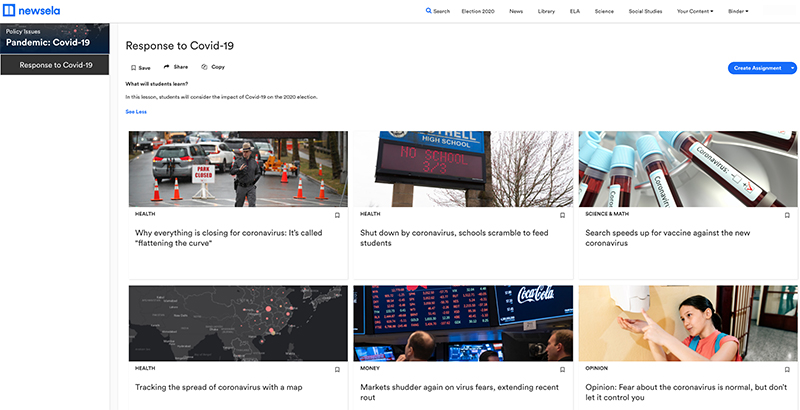 North Carolina teacher Sabrina Spada and her students found comfort in an unlikely place when their school shut down because of coronavirus: Newsela.
Logging on to the online education tool, known for providing news articles and short quizzes tailored by grade level, was something familiar her students could do amid all the uncertainty and chaos, said Spada, who teaches fourth grade at Foust Elementary School in Greensboro.
A few days after school shut down, but before the district's formal distance learning platform was set up, Spada signed into Newsela and saw that some of her students had been completing work there without being asked.
"I was very proud of them, and it gave me some comfort" to know they were taking responsibility for their learning, Spada told The 74. "They were out of school, they didn't know what to do — but the one thing that they could trust was, 'Well, I know how to log on to Newsela and read articles, so I should probably do that.' And they did."
Forty-six states and many individual districts have closed schools because of coronavirus, according to a rolling count by Education Week. That has left more than 54 million kids out of class — and many teachers and parents scrambling to find ways for students to continue their education from home.
In response, Newsela has made all its materials free and is offering teachers virtual training sessions that are typically available only to schools that pay for a subscription. In addition to articles about current events adapted from traditional news sources like The New York Times and the Associated Press, Newsela offers content at various reading levels for science, social studies, reading and social-emotional learning. Some articles are also available in Spanish.
In addition to its website, Newsela offers easy printing options and a mobile app that allows users to download articles when they have internet service and read them offline later.
Before their school shut its doors, Spada and her class used Newsela every day. She usually assigned articles for students to read on their laptops and then led a group discussion about the day's reading. Her district, Guilford County Schools, is working to make sure all students have a device they can use for online learning while schools are shuttered.
In the days before Gov. Roy Cooper ordered schools to shut down on March 14, Spada's class read articles about what a virus is, how the COVID-19 outbreak started and proper handwashing techniques. Getting accurate information from a source they trust was "huge" in curbing students' anxiety, she said, especially when many were seeing misinformation on social media.
"Talking about all of those [coronavirus articles] and dispelling any myths, right there in the classroom, I think gave [students] a lot of comfort, because they felt much more comfortable talking about it, not only in the class to me but when they went home, too," Spada said.
In February, Newsela published a Science News for Students article with the headline "Your most urgent questions about the new coronavirus" at five reading levels. A section about how the illness spreads explains it like this in a version for fourth-graders: "The new virus is spreading from person to person. It probably spreads between people similarly to other respiratory diseases, the CDC says. Respiratory droplets from an infected person's cough or sneeze can carry the virus to someone new."
The version for second-grade readers is simpler: "The virus spreads from person to person. An infected person coughs or sneezes. The droplets carry the virus to someone new."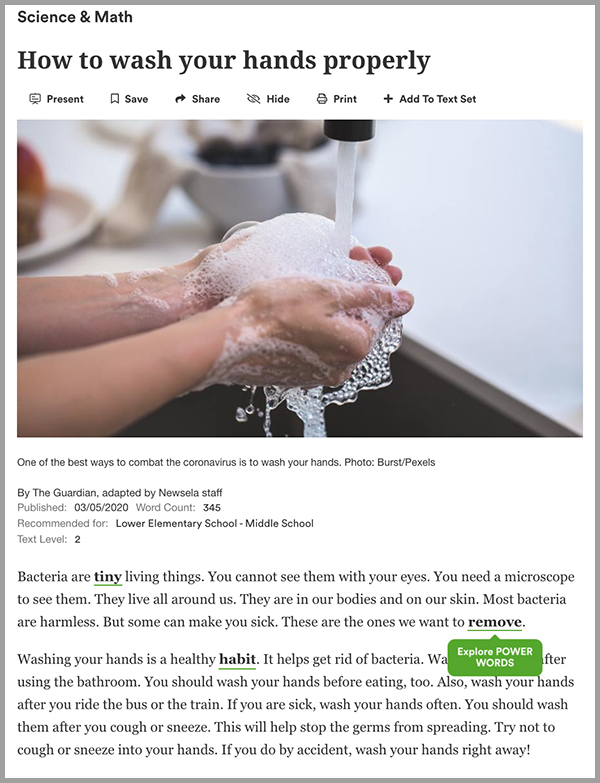 After announcing on March 13 that the site would make all content available to anyone who requested access, the Newsela team worked through the weekend to get accounts set up for thousands of schools, said co-founder and chief academic officer Dan Cogan-Drew. Parents can set up free accounts as well.
"It does feel like there's a sort of calling and responsibility we have" to help educators and students at this time, he told The 74. The potential financial fallout was not a primary concern for the company or its board, Cogan-Drew said, because of the challenges schools are facing right now.
"It's like wartime, you know?" he said. "You don't charge people for … bread and eggs and flour. You say, 'Here, what do you need? You're my neighbor; how can I help?'"
Support The 74's year-end campaign. Make a tax-exempt donation now.