Houston Reopens Schools for 600,000 Students — but That's Just the Beginning, as Educators Look to Comfort Traumatized Kids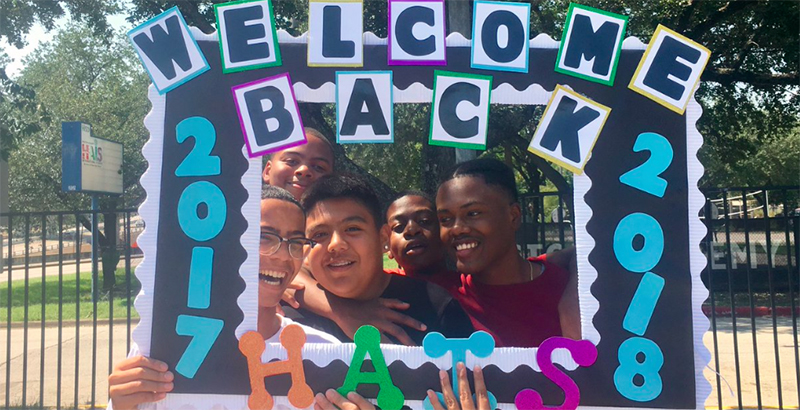 Two weeks after Hurricane Harvey delayed the start of the school year, 243 of the 284 schools in the Houston Independent School District opened Monday, and 29 more were to open Tuesday, the Houston Chronicle reported. Students from seven schools that were badly damaged in the storm will attend classes at other locations. The remaining schools will open by the end of the month, according to the Chronicle.
Initially, 202 schools were projected to be ready by Monday, the Chronicle said. In total, some 200 schools suffered some storm-related damage.
Other districts in the Houston area either started school last week or were slated to open Monday as well.
Getting students back in class was a priority because research shows that having routines helps children recover from trauma.
Coincidentally, over the past year, Houston has trained teachers in restorative justice and trauma-informed education, which Superintendent Richard Carranza called a "wise investment," NPR reported. Carranza has also said that community schools and support services are going to be a priority in the coming months, as will increasing the number of counselors in schools.
"Wraparound services is absolutely part of our strategic plan," he told NPR. "Community schools are going to become an increasingly vital part of what we do."
Carranza welcomed students back Monday by riding the school bus with them and serving breakfast.
The extra services that schools provide, such as counseling, free meals, and welcoming environments, are also important for aiding families and children in recovery. The district will serve students three free meals a day for the entire school year because of the hurricane, KHOU.com reported.
Over the weekend, the district also provided free school uniforms to students in need.
Officials in Houston — the largest school district in the state and the seventh-largest in the country, with more than 600,000 students — are relying on lessons learned in New Orleans after Hurricane Katrina hit in 2005, the Huffington Post reported. After Katrina, many schools in New Orleans closed, and families became homeless or moved away, causing some children to fall through the cracks. Some students lost a year or more of learning, but Houston leaders seem determined to put their schools at the forefront of recovery efforts.
The district will "use technology to identify and track displaced and homeless students," Carranza told the Huffington Post.
"Schools have to be central to the recovery," he told NPR. "One of the things all cities have are students."
Get stories like these delivered straight to your inbox. Sign up for The 74 Newsletter