The City Amazon Should Choose for Its Next Headquarters (If It's Looking for College Grads With STEM Degrees)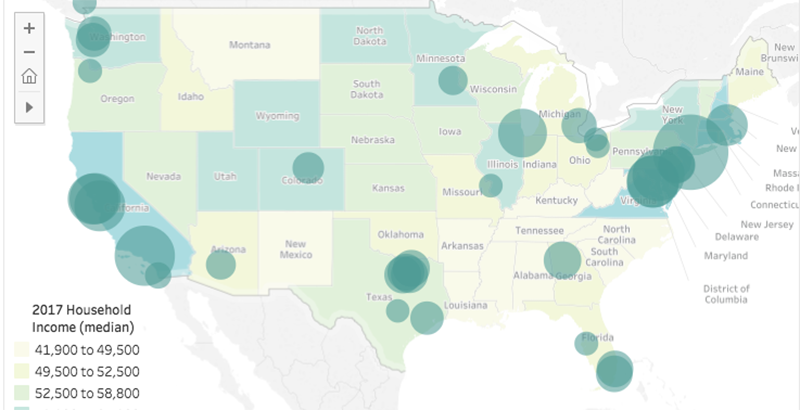 Ever since Amazon announced it would open a second headquarters — a proposal that's expected to generate up to 50,000 new jobs for the winning municipality — cities across the country have been rushing to show the online retail giant that their locale has the goods. Just about as quickly, journalists and data analysts have been trying to predict Amazon's big decision.
As just about every expert has already tweeted, many factors will go into Amazon's ultimate decision: tax breaks, unemployment rates, population, proximity to major universities, average commuting times, quality of life, proximity to airports or other amenities — and, to our pleasure, education.
Here at The 74, we'd like to think that the average education level of a given city could be enough to drive Amazon's big next move. More than 100 cities have expressed interest in housing HQ2, according to The Seattle Times. But of those cities, we wondered, which have a sufficient supply of college-educated residents to fit Amazon's needs?
So we crunched the Census and education data, and ranked the contenders. Below is a new list of cities we predict could fit Amazon's specific education needs.
Before we get started, though, let's be clear about one thing: This ranking isn't exactly "scientific." Here's some insight into our investigation.
In its request for proposals, Amazon announced it was looking to build its new headquarters in an area with more than 1 million residents, capable of filling about 50,000 jobs over the next few years. So we filtered America's most populated regions, and roughly 50 metropolitan areas (many of which encompass several major cities) make the cut, according to Census Bureau estimates.
Next, given that around 80 percent of Amazon employees have a bachelor's degree or higher, according to a data analysis by Paysa, we ranked the country's top 25 metropolitan areas by the percentage of residents (25 and older) who hold at least a bachelor's degree:
Based on this metric alone, Denver tops the list, at 47.5 percent. That's good news for the Mile High City, since Amazon says it hopes to build in an area with "a highly educated labor pool."
Next, we wanted to consider possible specializations. While it remains unclear exactly what type of workers Amazon will solicit for its new headquarters, we're assuming — for the sake of this debate — that those new employees will need an educational background in STEM. According to the National Science Foundation, about a third of all bachelor's degrees awarded in the country between 2000 and 2012 were for majors related to science and engineering,
Drilling down yet further, in hopes of identifying degree holders active in the labor market, we looked at potential applicants with STEM degrees who are currently working in STEM jobs. According to a 2014 Census report, this includes roughly 25 percent of all STEM college grads.
Using all these filters, we arrive at this list of the cities that make the cut, ranked in order of potential "qualified" employees living in the area:
While no doubt states are waging a sophisticated financial argument, stacked with perks and incentives, to woo Amazon to their major cities, if the company made its decision based purely on the supply of potential employees and relevant educational attainment, the answer is clear.
Given that the company will need roughly 40,000 employees with bachelor's degrees — many of them with some level of expertise in STEM areas — they will find 57 percent more qualified college grads in New York City.
Support The 74's year-end campaign. Make a tax-exempt donation now.