3 Students Killed, 6 Injured in Texas Church Shooting; Schools Provide Grief Counseling, Extra Security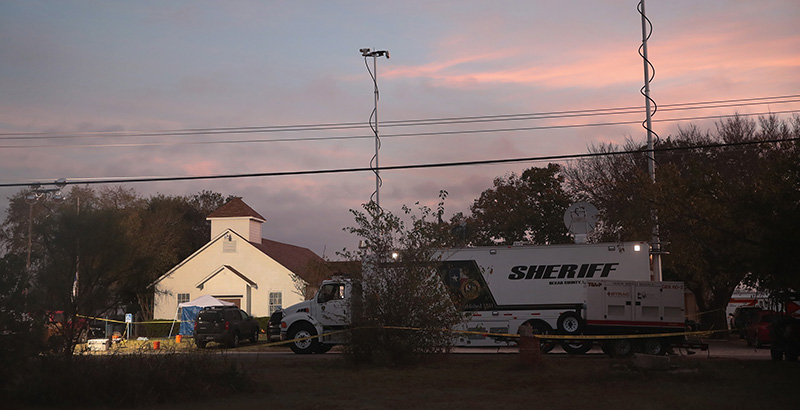 Updated: 6 p.m. Monday
Three students were killed and six were injured in Sunday's mass shooting at a church in Sutherland Springs, Texas, according to a preliminary tally local school district officials released during a press conference Monday afternoon.
In total, 26 people were killed in the mass shooting and dozens were injured. Local officials said about half of the victims were children: Those killed ranged in age from 18 months to 77 years, and those injured ranged from 5 to 72. Among those killed were 14-year-old Annabelle Pomeroy, the youngest daughter of church pastor Frank Pomeroy; Emily Garza, 7, and her sister Brooke Ward, 5. Their brother Ryland, 5, was shot four times and was flown by helicopter to University Hospital in San Antonio.
One of the slain children and three of the injured were students in the nearby La Vernia Independent School District. Two students from Floresville Independent School District were killed and three were injured. Officials did not release the names or descriptions of the young victims.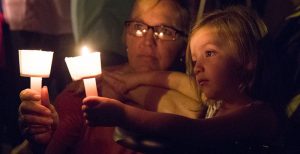 Schools opened on a normal schedule Monday despite the tragedy, officials said, to provide children with a sense of stability.
Officials from the two districts said during Monday's press conference that they are providing grief counseling to help students and staff cope with the tragedy. The superintendent of a third nearby district, Stockdale Independent School District, also spoke Monday about the effects of the shooting on children there, though he could not confirm whether any students from his schools had been injured or killed.
"One of the most important things is just to make sure that those students understand that there could be a range of feelings that they feel through the next days, weeks, and months, and that there are adults who care about them," Floresville Superintendent Sherri Bays said. "This was a terrible thing that happened, but that there are good people out there that are working hard to take care of them every day. We want them to feel safe and to know that they're cared for."
She said school officials notified the parents of elementary school children who shared a homeroom with the affected students. Then, officials broke the news to the children.
"We brought the students in, we had a counselor, and she told them that we had some bad news to share with them," Bays said. "She told them that their classmate had died yesterday. She told them that it was OK to be sad and she read a book about different feelings, and then they went back to their class and had an art project."
La Vernia Independent School District Superintendent José Moreno announced in a Facebook post that each school in the district has a designated location for students seeking one-on-one counseling. Local police are also providing additional surveillance this week at the district's four campuses.
"Their presence always seems to provide our staff with a sense of calm during times such as these," Moreno said in the Facebook post.
As school officials work to support their students, educators themselves have also been affected, Bays said.
"Our staff members are just so upset, and these children are their children," Bays said. "It's been hard, but the public school community comes together and supports each other, and even though we can't imagine right now what good can come of this, I am confident that all of our communities will be resilient and will be stronger."
Get stories like these delivered straight to your inbox. Sign up for The 74 Newsletter