Gates Foundation, Chan Zuckerberg Initiative, NewSchools Venture Fund Look to 'Supercharge' Math Learning by Bolstering Students' Executive Function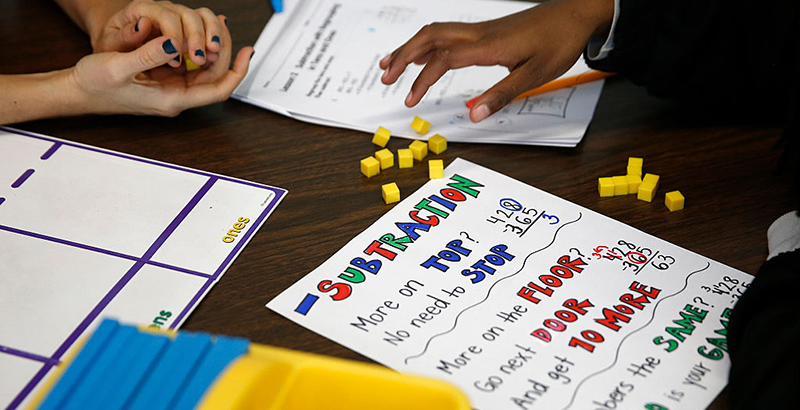 Three of the biggest names in education philanthropy are teaming up to boost math education.
NewSchools Venture Fund announced today it will invest about $9 million annually over the next five years in efforts to improve math learning by incorporating executive function development in elementary and middle school students.
With equal funding from the Bill & Melinda Gates Foundation and Chan Zuckerberg Initiative, the EF+Math Program will award grants to teams of educators, researchers and designers to develop and test new approaches that build students' executive function skills. The goal is to improve math outcomes for students in grades 3-8, especially traditionally underserved groups such as those from low-income communities.
Executive function refers to skills like self-control and working memory that allow people to focus their attention and solve problems. Research indicates that math achievement is strongly correlated to these abilities in elementary school students.
"Executive function allows us to take control of our learning and our lives, and evidence suggests they may be skills that can supercharge math learning," NewSchools Venture Fund CEO Stacey Childress said on a press call ahead of the announcement.
Only a third of eighth-graders nationwide are proficient in math, according to the latest National Assessment of Educational Progress scores. Improving students' executive function skills has been shown to improve their math outcomes, and research suggests that students from low-income backgrounds would benefit the most, said Dana Miller-Cotto, a research scientist for the project, on the press call.
The interdisciplinary teams will be funded on short-term cycles of seven to 18 months, and educator input will be included at all stages of the process. School districts and educators can apply to participate right away. There will be a separate application process for developers and researchers, and NewSchools Venture Fund will help individuals form teams as needed.
"This program is designed with educators at its core because it really would be impossible to do the work well without them," Childress said. "They're content experts, and they also bring the unique perspective of understanding what works well inside classrooms."
NewSchools Venture Fund, an education philanthropy nonprofit, has traditionally steered its charitable donations into three areas: ed tech, innovative schools and efforts to diversify the educator and education leadership pipelines. This initiative will boost all three areas, Childress said.
Disclosure: The Bill & Melinda Gates Foundation and Chan Zuckerberg Initiative provide financial support to The 74.
Get stories like these delivered straight to your inbox. Sign up for The 74 Newsletter