Florida Governor's Plan to Nix End-of-Year Tests Might Be Popular, But Experts Wait for the Details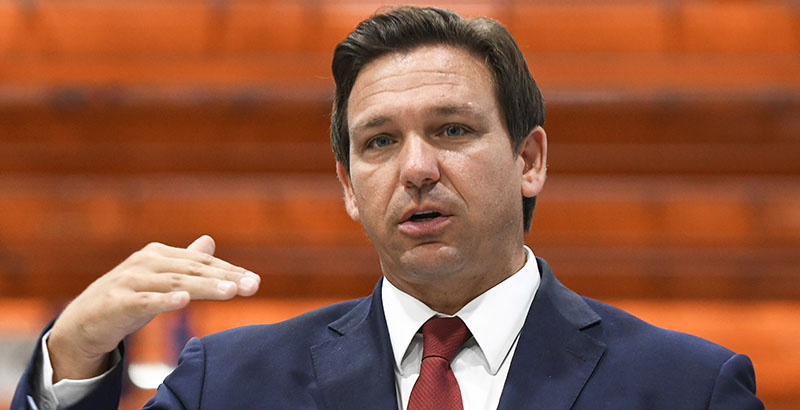 Support The 74's year-end campaign. Make a tax-exempt donation now.
Florida Gov. Ron DeSantis, considered a possible GOP candidate for president in 2024, scored some points with educators Tuesday when he announced the end of the state's testing program. But some experts wonder whether teachers and administrators will like what the state puts in its place.
A new Florida Assessment of Student Thinking, which the state legislature still needs to approve, would involve three "progress monitoring" tests spread throughout the school year. DeSantis called the plan the "final step to eradicate Common Core from our assessments."
Last year, the state dropped Common Core standards, which many Republicans associate with the Obama administration, and is phasing in new standards. To comply with the federal Every Student Succeeds Act and receive federal funds, however, the state would still have to test all students in reading and math, produce end-of-year results and share the data with parents.
The "announcement feels like somebody trying to make a point with teachers and parents, but the devil is in the details," said Paige Kowalski, executive vice president of the Data Quality Campaign, a nonprofit that focuses on making education data clear to parents.
The governor's announcement comes amid growing anti-testing sentiment and complaints from educators that testing takes too long, often offering unhelpful results after students have moved on to the next gradel. With state tests cancelled in 2020 because of the pandemic, teachers have also been relying more on programs such as NWEA's MAP assessments to gauge how the pandemic has impacted students' progress. Federal law doesn't require states to test in the spring, and under an existing innovation pilot program, some states, such as Georgia, are already trying interim tests throughout the year to minimize emphasis on end-of-year exams.
But experts say there are downsides.
"If they take the current test and cut it into three pieces, spreading it out over the year, it's perhaps not that big a deal," said Dale Chu, a senior visiting fellow with the Thomas B. Fordham Institute, a conservative education think tank. "But if schools didn't like the 'high-stakes' nature of annual testing, they'll be in for a rude awakening when the pressure's on three times a year."
Kowalski added that districts might not want to give up "benchmark" tests, such as MAP, Renaissance Learning's Star or Curriculum Associates's i-Ready, because teachers find them useful. If the new Florida Assessment of Student Thinking — or FAST tests — are layered on top of those, schools could find themselves giving more tests throughout the year instead of less.
Another possibility is that districts might stop paying for MAP or a similar test, leaving teachers with fewer data points to know if their "kids are on track," Kowalski said.
Testing all students once a year in two core subjects sounds like a simple charge, she added.
'But we haven't been able to nail it," she said. "How are we going to approach an innovative assessment system that you need a chart to explain?"
Patricia Levesque, executive director of Foundation for Florida's Future — part of the Foundation for Excellence in Education launched by former Florida Gov. Jeb Bush — raised additional questions about the plan. One is whether teachers would be required to teach on Tallahassee's timetable in order to be prepared for the three statewide tests and another is whether the spring test would simply replace the end-of-year test, giving teachers "less time to cover the full year of content."
The testing program DeSantis is ending was a centerpiece of Bush's two terms as governor.
DeSantis's proposal applies to standardized tests for English language arts and math, but doesn't eliminate high school end-of-course tests in algebra, U.S. history and biology.
Teachers unions praised the plan, and Miami-Dade County Public Schools Superintendent Alberto Carvalho — even though he's been at odds with DeSantis over his ban on universal masking in schools — applauded the move.
Chu noted that even though the U.S. Department of Education required states to give tests this year, officials have allowed considerable flexibility with COVID-19 continuing to disrupt learning. Some states were allowed to delay spring assessments until this fall, the District of Columbia hasn't conducted state tests for two years, and California allowed districts to choose which tests to administer.
"In today's environment," he said, "it's hard to see the feds pushing back that hard."
Support The 74's year-end campaign. Make a tax-exempt donation now.