Federal Judge Dismisses Rhode Island Students' Suit for Right to Civic Education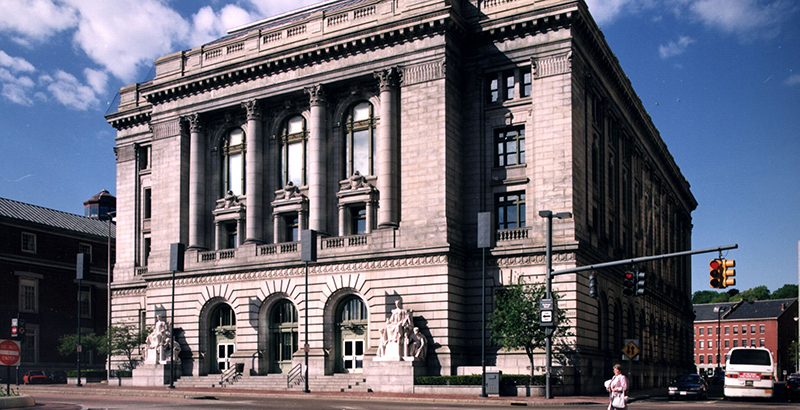 After nearly two years in court, a federal judge dismissed a suit filed by a group of Rhode Island students who alleged that their inadequate civics education left them ill-equipped to exercise their constitutional rights. But he struck an encouraging note in his decision, which he intended to "call out the need for" better civic education.
"This is what it all comes down to: We may choose to survive as a country by respecting our Constitution, the laws and norms of political and civic behavior, and by educating our children on civics, the rule of law, and what it really means to be an American, and what America means," wrote U.S. District Court Judge William Smith. "Or, we may ignore these things at our and their peril."
Despite his evident sympathies, Smith on Wednesday, granted a motion filed by the defendants — Rhode Island Gov. Gina Raimondo, the leaders of the state legislature, and the state's Council on Elementary and Secondary Education — to throw out the case.
The case, Cook v. Raimondo, was brought in Rhode Island District Court in 2018 by 18 student plaintiffs who argued that the state had failed to instruct them in the values and skills necessary to participate in a democracy, such as voting or serving on a jury. The case immediately garnered national media attention, earning a profile in the New York Times and a segment on the Daily Show.
The U.S. Supreme Court has previously rejected arguments in favor of a constitutional right to an education, an immovable legal impediment that led some to believe the plaintiffs' cause hopeless. In April, however, a three-judge panel of the Sixth Circuit Court of Appeals found in favor of a right to "a basic minimum education," which had putatively been violated by the shoddy education offered in Detroit schools.
The full circuit court later voted to rehear the case, after which the state of Michigan agreed to provide a nine-figure settlement to improve conditions of public education.
Judge Williams acknowledged the earlier decision, but ultimately concluded that the obligations of citizenship are "not wholly inaccessible without civics education." Still, he commended the former students for bringing the case, writing that it "highlights a deep flaw in our national education priorities and policies."
"The Court cannot provide the remedy Plaintiffs seek, but in denying that relief, the Court adds its voice to Plaintiffs' in calling attention to their plea. Hopefully, others who have the power to address this need will respond appropriately."
Michael Rebell, the lead plaintiffs' attorney and a professor at Teachers College at Columbia University, said that while he disagreed with the ruling, Williams's decision showed a "wonderful" grasp of the urgency around improving civic education.
"If I ever had a decision where I lost and felt good about it, it's this one," Rebell told The 74 in an interview. "It is remarkable how well he understood the civic crisis facing our country and the importance of teaching our young people a broad understanding and respect for constitutional values and civility in relations among people and all of these democratic values that are absolutely necessary."
Rebell added that he would appeal the ruling before the First Circuit Court of Appeals, saying that Williams's dismissal had clarified the case and given his clients "a clear map forward" to the appeals process.
"He's made our path forward for appeal as clear and crisp as possible," he said. "He brushed aside all the procedural issues and all technical legal standing issues."
Support The 74's year-end campaign. Make a tax-exempt donation now.