Expert: Charges Against Former Broward Deputy in Connection to Parkland Massacre Pose Thorny Questions for School-Based Police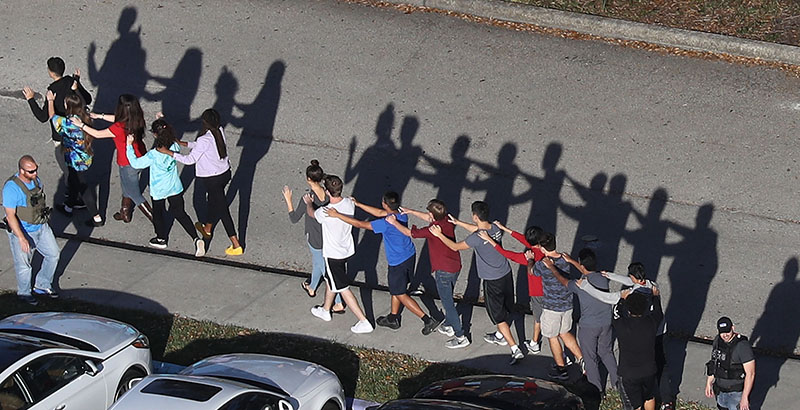 A former sheriff's deputy, who faced intense scorn over his response to the high school shooting in Parkland, Florida, last year, was arrested Tuesday and charged with neglect and perjury, according to local law enforcement officials. But the arrest could alter the way school resource officers across the state respond to emergencies, one school safety expert told The 74.
"I think it's going to have a dramatic impact on school resource officers statewide," said Curtis Lavarello, executive director of the School Safety Advocacy Council. "If I'm an SRO, I'm watching this one really carefully." He argued that the decision could dissuade people from working as school-based police officers, or cause them to enter dangerous situations unnecessarily.
Lavarello has a unique perspective, having worked as a school resource officer in Broward County, where Parkland is located, in the 1980s before founding and serving as executive director of the National Association of School Resource Officers. His skepticism is not shared by several parents who lost children in the shooting. Among them was Lori Alhadeff, whose 14-year-old daughter Alyssa was killed in the massacre. Alhadeff, since elected to the Broward County School Board, founded a nonprofit after the shooting that advocates for enhanced school security measures.
"He needs to go to jail and he needs to serve a lifetime in prison for not going in that day and taking down the threat that led to the death of our loved ones," Alhadeff told the Sun Sentinel. "It was his duty to go into that building and to engage the threat, and he froze and he did nothing."
The former deputy, Scot Peterson, was accused of inaction following the Feb. 14 shooting at Marjory Stoneman Douglas High School, in which 17 people were killed and 17 others were injured. Peterson was employed by the county sheriff's office but served as a school resource officer at the high school when the shooting unfolded.
Peterson's arrest follows a 15-month investigation by the Florida Department of Law Enforcement, which found that Peterson failed to investigate the source of gunshots, retreated during the shooting and told other officers to remain 500 feet from the building. Peterson was charged on Tuesday with seven counts of neglect of a child, three counts of culpable negligence and one count of perjury. He was arrested at the Broward Sheriff's Office headquarters and booked into the Broward County Main Jail.
The investigation found that Peterson "did absolutely nothing to mitigate" the Parkland shooting, FDLE Commissioner Rick Swearingen said in a statement. "There can be no excuse for his complete inaction and no question that his inaction cost lives." Neither Peterson nor his attorney had commented to news sources as of Tuesday evening.
Lavarello said he is "rather disgraced" by Peterson's response to the Parkland shooting. However, he expressed concern that the charges against Peterson could have ripple effects. Although school-based police are occasionally criticized for overzealous use of force when confronting children, Lavarello said he's unaware of another scenario in which a school-based officer faced criminal charges for failure to act.
Lavarello called Peterson's arrest "quite alarming" and said it could affect the way school-based police respond to emergencies. At the time of the shooting, Broward County Sheriff's Office policy said officers "may" enter the scene of an active shooting, though the wording has since changed to require that they "shall" enter in such scenarios. Lavarello argued that the previous policy afforded Peterson a chance to make a judgment call.
"Is it now going to cause officers to walk into a situation where they know absolutely they may be killed instantly?" he asked.
Get stories like these delivered straight to your inbox. Sign up for The 74 Newsletter