EduClips: TX to Spend $212 Million to Fix Special Ed; New Federal Civil Rights Data Show Racial Disparities in Student Discipline — and More Must-Reads From America's 15 Biggest School Districts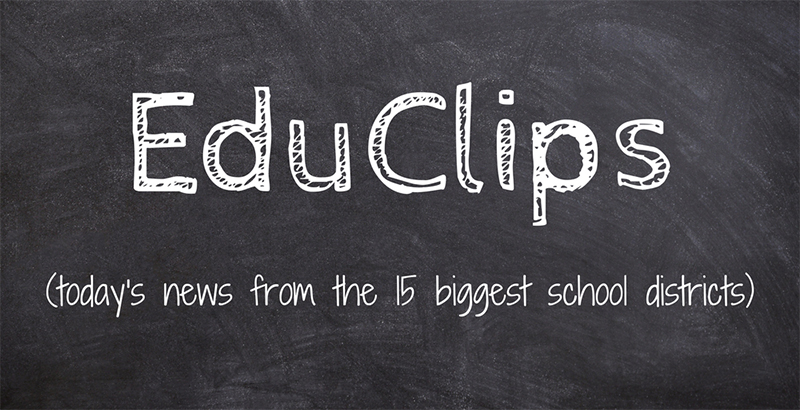 EduClips is a roundup of the day's top education headlines from America's largest school districts, where more than 4 million students across eight states attend class every day. Read previous EduClips installments here. Get the day's top school and policy news delivered straight to your inbox by signing up for the TopSheet Education Newsletter.
Top Story
CIVIL RIGHTS — At a time when the Trump administration is contemplating rolling back discipline guidance with protections for vulnerable groups, new federal data find continuing disparities in how students of color and those with disabilities are disciplined and in the opportunities they get in schools.
The U.S. Department of Education on Tuesday released two reports highlighting statistics from the 2015–16 school year's civil rights data collection on school safety and discipline and on students' access to science and math courses. The department released the full data, which provide an array of civil rights information for 50.6 million students attending more than 96,300 schools nationwide.
The new data — the most recent since information on the 2013–14 school year — come as the department considers significant changes in how its Office for Civil Rights guides districts and handles complaints around equity in education, such as rolling back Obama-administration guidance for states on analyzing disproportionate use of suspensions and expulsions. Among the most striking findings: The report notes a significant increase in disparities in arrests and referrals to police for black students, and students with disabilities remain vastly over-represented among students involved in police interactions. (Read at Education Week)
National News
SCHOOL CHOICE — Hard Battle Lines Drawn as Congress Considers Using $1.4B in Federal 'Impact Aid' to Expand School Choice for Military Families (Read at The74Million.org)
ARIZONA WALKOUT — #RedForEd walkout school closures will impact 820,000 Arizona students (Read at The Arizona Republic)
STUDENT PRIVACY — Schools Wrestle With Protecting Students' Privacy on Facebook (Read at PBS NewsHour)
TEACHER UNIONS — A Look at the Education Labor Movements Emerging Across the Country (Read at Pacific Standard)
ESSA — See Changes California and Florida Have Made to Their ESSA Plans to Win Betsy DeVos's Approval (Read at Politics K-12)
POT TAX — Pot taxes across U.S. shore up school budgets, drug-prevention efforts (Read at USA Today)
District and State News
TEXAS — In plan to fix special education, Texas Education Agency will spend $212 million (Read at the Houston Chronicle)
FLORIDA — Constitution Revision Commission attacks public schools, ignores public good | Editorial (Read at the Sun-Sentinel)
NEVADA — The Independent Poll: Public Support for School Choice Initiatives Remains Mixed (Read at the Nevada Independent)
CALIFORNIA — San Francisco Considers Public Schools as a Solution for Homelessness (Read at Study Breaks)
NEW YORK — Rise & Shine: What will the state Senate elections mean for schools? (Read at Chalkbeat)
CALIFORNIA — Will the California Teachers Association endorse Feinstein over former employee De León? (Read at LA School Report)
Think Pieces
PRE-K — How the Push for Preschool Teachers to Earn Costly College Degrees Could Strain a System in Which Wages Are Only Half of K-12 Teachers' (Read at The74Million.org)
MATH ANXIETY — 3 Ways Parents Can Support Their Children's Math Development — and Soothe Their Own Math Anxiety (Read at The74Million.org)
Quote of the Day
"Schools are places where there's tremendous amounts of discretion with regard to when to call law enforcement. As a result, we end up with folks who fear black kids, fear for their physical safety, fear that they can't control their class. … Anytime you have high levels of fear and high levels of discretion, you're going to end up with high levels of disparity." —Phillip Goff, the president of the Center for Policing Equity at the John Jay College of Criminal Justice in New York. (Read at Education Week)
Want the day's top school and policy news delivered straight to your inbox — for free? Sign up for the TopSheet Daybreak Education Newsletter.
Get stories like these delivered straight to your inbox. Sign up for The 74 Newsletter