EduClips: The Cities With the Most Effective Schools, the States Cutting Funding the Most — and More Must-Reads From America's 10 Biggest School Districts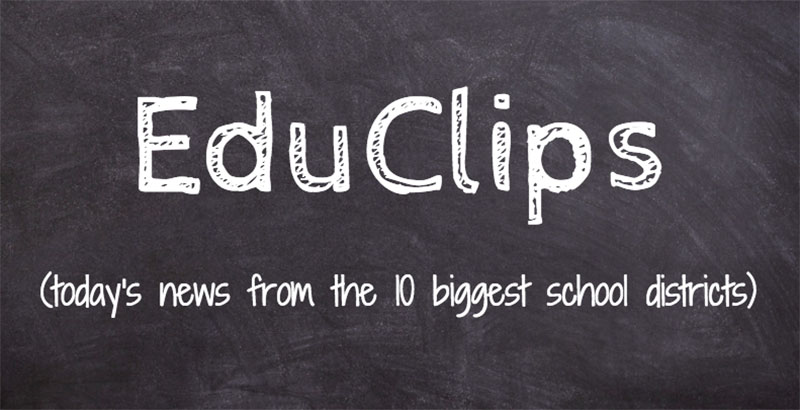 EduClips is a roundup of the day's top education headlines from America's largest school districts, where more than 4 million students across eight states attend class every day. Read previous EduClips installments here. Get the day's top school and policy news delivered straight to your inbox by signing up for the TopSheet Education Newsletter.
Top Story
GRADUATION — The nation's highs school graduation rate hit a record high, with more than 84 percent of students graduating on time in 2016. It is the highest rate recorded since the U.S. Department of Education began requiring schools to report standardized graduation rates in 2011. While all minority groups saw a rise in on-time graduation rates in 2016, gaps persist. (Read at The Washington Post)
National News
TOP SCHOOL DISTRICTS — How Effective Is Your School District? A New Measure Shows Where Students Learn the Most (Read at New York Times)
TAX BILL – Tax Bills Could Expand Private School Benefits and Hurt Public Education (Read at New York Times)
CYBERTHREATS –  Schools Struggle to Keep Pace With Hackings, Other Cyber Threats (Read at EdWeek)
District and State News
CALIFORNIA — How Education Could Shape the Governor's Race in California: Funding, Accountability, Charter Schools (Read at The74Milion.org)
PUERTO RICO —About 90 Percent of Puerto Rico's Schools Are Open, But Enrollment Is Down (Read at Politics K-12)
NEW YORK —Only one school campus has asked to have metal detectors added or removed since New York City created guidelines for requesting changes (Read at Chalkbeat)
ILLINOIS — Opinion: Why that new bill requiring cursive in Illinois schools is good news (Read at Chicago Tribune)
NEVADA – Budget writers to weigh penalty for schools that missed teacher pay target (Read at Argus Leader)
TEXAS — Texas and Louisiana Among Top 10 States For Cutting K-12 Education Funding (Read at Red River Radio)
CALIFORNIA — Analysis: Green Dot's Suspension Rates Continue to be Remarkably High (Read at School Data Nerd)
Think Pieces
CHARTERS — Opinion: In a deeply flawed 'analysis,' the Associated Press blames charter schools for America's segregated cities. (Read at The74Million.org)
DEBT— Opinion: How Not to Erase Student Debt (Read at Bloomberg)
HIGH SCHOOL — Has the high school diploma lost all meaning? (Read at Fordham Institute)
Quote of the Day
"I think this is going to be an important race. My view is, the current regime in Washington has actually not pushed California further to the left, it has pushed it further into the national spotlight.– John Deasy, CEO of The Reset Foundation, on the California governor's race. (Read at The74Million.org)
Want the day's top school and policy news delivered straight to your inbox — for free? Sign up for the TopSheet Daybreak Education Newsletter.
Get stories like these delivered straight to your inbox. Sign up for The 74 Newsletter