EduClips: The 11th School Shooting of 2018; Special Ed Shell Game in TX — and More Must-Reads From America's 10 Biggest School Districts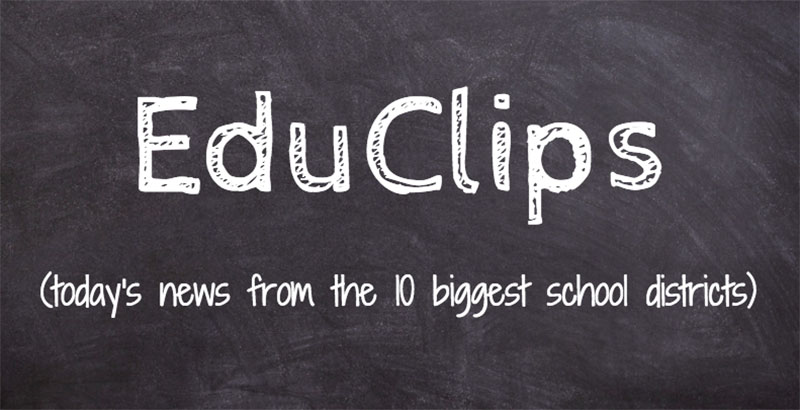 EduClips is a roundup of the day's top education headlines from America's largest school districts, where more than 4 million students across eight states attend class every day. Read previous EduClips installments here. Get the day's top school and policy news delivered straight to your inbox by signing up for the TopSheet Education Newsletter.
Top Story
SCHOOL SHOOTINGS — There have been 11 school shootings since January 1, and roughly 50 since the start of the 2017–18 school year. The latest, in Benton, Kentucky, on Tuesday was the worst so far in 2018: Two 15-year-old students were killed and 18 more people were injured.
Researchers and gun control advocates say that since 2013, they have logged school shootings at a rate of about one a week. As The New York Times reports, "Some of the shootings at schools this year were suicides that injured no one else; some did not result in any injuries at all. But in the years since the massacres at Columbine High School in Colorado, Virginia Tech and Sandy Hook Elementary School in Newtown, Conn., gun safety advocates say, all school shootings seem to have lost some of their capacity to shock." (Read at The New York Times)
National News
EDUCATION DEPARTMENT — Trump Team May Combine Innovation, K-12 Offices, Advocates Say (Read at Politics K-12)
RANKINGS — The 10 most and least educated states in 2018 (Read at CNBC)
DEVOS — Betsy DeVos Taps Former Bush Administration Lawyer as Top Adviser (Read at Politics K-12)
District and State News
TEXAS — Analysis: Special Ed Shell Game in Texas. Who's to Blame? Follow the Money. (Read at The74Million.org)
CALIFORNIA — LA schools have a tentative deal with labor partners on health benefits — but watchdogs warn it's not aggressive enough in reining in costs (Read at LA School Report)
TEXAS — Commission Begins Discussing Texas School Finance Overhaul (Read at U.S. News and World Report)
FLORIDA — Florida Senate panel backs scholarships for bullied students (Read at Orlando Weekly)
NEW YORK — New York won't apply for federal program that would have allowed for 'innovative' state tests (Read at Chalkbeat)
FLORIDA — Florida lawmakers consider requiring schools to post "In God we trust" (Read at Tampa Bay Times)
NEW YORK — Teacher says East Village principal neglected racial issues (Read at New York Daily News)
CALIFORNIA — Despite promises, Trump administration has had little impact on public education in California (Read at EdSource)
ILLINOIS — 3 of top 10 school districts in the U.S. found in Illinois, home security group says (Read at WGN)
Think Pieces
SCHOOL SHOOTINGS — Alarmed and Ashamed: 3 School Shootings in 25 Hours — and All We Can Say Is the Active Shooter Training Helped (Read at The 74Million.org)
SOCIAL-EMOTIONAL LEARNING — Social-Emotional Learning for Senators: This Elementary School Exercise Helped End the Shutdown (Read at Education Week)
TESTING — A surprising link: when kids work harder on tests, their countries' economies grow more (Read at Chalkbeat)
TECHNOLOGY — As schools continue to digitize and automate, where do teachers fit in? (Read at Hechinger Report)
BLACKLIST — An Arizona school district kept a secret blacklist for decades. A reporter found it (Read at Columbia Journalism Review)
Quote of the Day
"We have absolutely become numb to these kinds of shootings, and I think that will continue." — Katherine W. Schweit, a former senior F.B.I. official and the co-author of a study of 160 active shooting incidents in the United States. (Read at The New York Times)
Want the day's top school and policy news delivered straight to your inbox — for free? Sign up for the TopSheet Daybreak Education Newsletter.
Support The 74's year-end campaign. Make a tax-exempt donation now.