EduClips: Texas Turns to Virtual Teachers in Response to Staff Shortage; FL Teacher Bonus Lawsuit Heads to Mediation — and More Must-Reads From America's 15 Biggest School Districts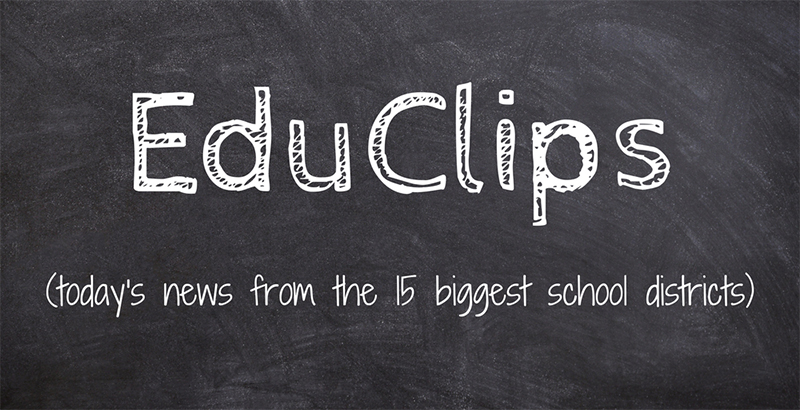 EduClips is a roundup of the day's top education headlines from America's largest school districts, where more than 4 million students across eight states attend class every day. Read previous EduClips installments here. Get the day's top school and policy news delivered straight to your inbox by signing up for the TopSheet Education Newsletter.
Top Story
EQUITY — J.T. Brackenridge Elementary sits on the eastern edge of zip code 78207, which is the way people refer to the Mexican-American community that surrounds the school. Located just west of downtown San Antonio, the neighborhood is as rich with art and history and culture as the rest of the city. Yet it's a world apart.
To travel to or from the school is to take a compressed trip through time. Head east, and every few hundred feet Guadalupe Street presents a different line of demarcation — each a visual reminder of who lived here and what life was like during those respective eras of human habitation.
In a daily school commute up and down Guadalupe Street, parents and students are presented with a vivid illustration of their stark reality: By virtually any statistical measure, San Antonio is the most economically segregated city in the United States. Its poorest neighborhood, the 78207, is located a scant few miles from the epicenter of the third-fastest-growing economy in the country. But as the city as a whole thrives, the residents on the West Side are all but locked out of the boom.
Into this divided landscape three years ago came a new schools chief, Pedro Martinez, with a mandate to break down the centuries-old economic isolation that has its heart in the 78207. (Read at The74Million.org)
National News
ED TECH — How tech took rural school district from among Idaho's worst to one of the nation's most innovative (Read at CBS This Morning)
E-CIGARETTES — Coming to High School Bathrooms Near You: Posters on the Dangers of E-Cigarettes, Part of an 'Aggressive' FDA Campaign to Curb Student Use (Read at The74Million.org)
COLLEGE — Need Help Paying for College? There's an App for That (Read at NPR)
District and State News
TEXAS — Texas high schools turn to virtual teachers in the wake of staffing shortages (Read at Education Dive)
FLORIDA — Florida 'Best and Brightest' bonus lawsuit heads to mediation (Read at the Tampa Bay Times)
CALIFORNIA — Two schools that share a campus fight over a dwindling number of students (Read at the Los Angeles Times)
NEW YORK — New study shows grade school girls read better than boys (Read at the New York Post)
CALIFORNIA — First-grade textbook hails politician as 'champion' of gay rights. Some say it goes too far. (Read at the Sacramento Bee)
HAWAII — Report: Transgender youth in Hawaii public schools at greater risk of bullying, suicide (Read at Hawaii News Now)
NEVADA — CCSD discusses how it evaluates and releases info on school threats (Read at Las Vegas Now)
NEW YORK — Local school board group wants limits on de Blasio's control of public schools (Read at the New York Daily News
Think Pieces
AFFIRMATIVE ACTION — OPINION: Educators must prepare for the dismantling of affirmative action (Read at The Hechinger Report)
SCHOOL IMPROVEMENT — Arnett: To Truly Improve a School, Teachers Must Be On Board. 3 Common Misconceptions About Managing Change — and Strategies to Avoid Them (Read at The74Million.org)
Quote of the Day
"Our goal is to show our staff, this is what it means to prepare our children for the next level. How do we show parents like mine, who had a second-grade education, what is possible?" —San Antonio Superintendent Pedro Martinez, who launched a radical socioeconomic integration plan in the district. (Read at The74Million.org)
Want the day's top school and policy news delivered straight to your inbox — for free? Sign up for the TopSheet Daybreak Education Newsletter.
Support The 74's year-end campaign. Make a tax-exempt donation now.