EduClips: Teachers at Los Angeles's Lowest-Performing Schools Often Don't Get Evaluated — and When They Do, Most Do Well, Group Finds; 2 Chicago Teachers Removed in Sex Abuse Probe — and More Must-Reads From America's 15 Biggest School Districts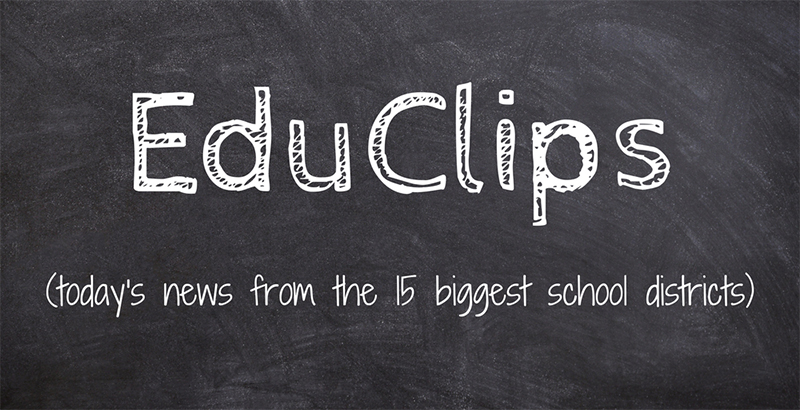 EduClips is a roundup of the day's top education headlines from America's largest school districts, where more than 4 million students across eight states attend class every day. Read previous EduClips installments here. Get the day's top school and policy news delivered straight to your inbox by signing up for the TopSheet Education Newsletter.
Top Story
SCHOOL SAFETY — It was less than one month into 2018 when a spate of firearm incidents in schools — including a January shooting in Kentucky that killed two people and injured 18 others — prompted news stories highlighting the prevalence of gun violence on American campuses. Since then, mass school shootings in Florida and Texas have revived a heated debate about gun laws and strategies to keep students safe.
In order to help contextualize the prevalence of gun violence in schools, The 74 built a map to track firearm incidents at K-12 schools and universities that result in injury or death. Six months into 2018, the map offers a window into the prevalence of firearm incidents in education institutions, which have resulted in at least 41 deaths and 74 injuries. Beyond mass shootings, that tally includes a shooting after a fight broke out at a university party, a teacher who accidentally fired a gun during a public safety class, and four student suicides.
But across incidents of varying scale and motive, they share several similarities. In all fatal incidents, the identified suspect is male. That includes suspects in mass school shootings, a trend that corresponds with mass shooters outside an educational setting. And in 9 of 13 campus firearm incidents resulting in a fatality at this point in 2018, the suspected shooter was identified as a student at the institution where the violence unfolded. (Read at The74Million.org)
National News
CAREER & TECHNICAL EDUCATION — Senate Jump-Starts Process for New Career-Education Law (Read at Inside Higher Education)
EXCELLENCE GAP — Educators Turn to Programs for Top Students to Narrow the 'Excellence Gap' (Read at The New York Times)
EDUCATION DEPARTMENT— Senate Approves Jeb Bush's Former Lt. Gov. for Top K-12 Job at Education Department (Read at Politics K-12)
District and State News
CALIFORNIA — Group finds teachers at L.A.'s lowest-performing schools don't often get evaluated — and when they do, almost all do well (Read at the Los Angeles Times)
ILLINOIS — 2 Chicago High School Principals Removed in Sex Abuse Probe (Read at U.S. News and World Report)
NEW YORK — School Accessibility Gets $150 Million Boost in N.Y.C. Budget (Read at Education Week)
CALIFORNIA — High opt-out rates on state exam continue to frustrate school district (Read at Palo Alto Online)
NEW YORK — Suit Says NYC Schools Shortchange Some Black, Latino Athletes (Read at City Limits)
PENNSYLVANIA — The new Philly school board convenes next month. What do people want members to know? (Read at The Philadelphia Inquirer)
NEVADA — Nevada allows online charter school to continue operating for now (Read at the Las Vegas Review-Journal)
TEXAS — Dallas prep school wins legal battle over student's expulsion (Read at Fox 4 News)
ILLINOIS — Will Illinois raise the minimum salary for teachers? Bill awaits Rauner's action (Read at the Herald & Review)
FLORIDA — Education on 6 Special Report: Superintendents on School Safety (Read at NBC Miami)
TEXAS — Local Superintendents Come Together to Address School Safety (Read at NBC DFW)
Think Pieces
CIVICS — How Schools & Philanthropists Are Joining Forces to Fight Back Against Fake News: Inside the Renewed Push for Social Studies, Media Literacy, Civic Engagement (Read at The74Million.org)
EDUCATION DEPARTMENT — Why We Should Spare the Education Department — for Now (Read at The Chronicle of Higher Education)
SCHOOL CHOICE — Early school choice deadlines mean affluent parents often get first shot at coveted schools, new study shows (Read at Chalkbeat)
EDUCATION DEPARTMENT — Rotherham: 3 Things to Consider About Trump's Risky, but Not Necessarily Bad, Idea to Merge the Education & Labor Departments (Read at The74Million.org)
Quote of the Day
"The question for us as a society is whether schools will recognize that the way we learn about the world has fundamentally changed in an incredibly short amount of time. As a nation, if we don't undertake that challenge, it will contribute to our undoing." —Sam Wineburg, a professor of history at Stanford. (Read at The74Million.org)
Want the day's top school and policy news delivered straight to your inbox — for free? Sign up for the TopSheet Daybreak Education Newsletter.
Get stories like these delivered straight to your inbox. Sign up for The 74 Newsletter