EduClips: Questions on CA Absentee Data; OK Teacher Walkout Enters Week 2 — and More Must-Reads From America's 15 Biggest School Districts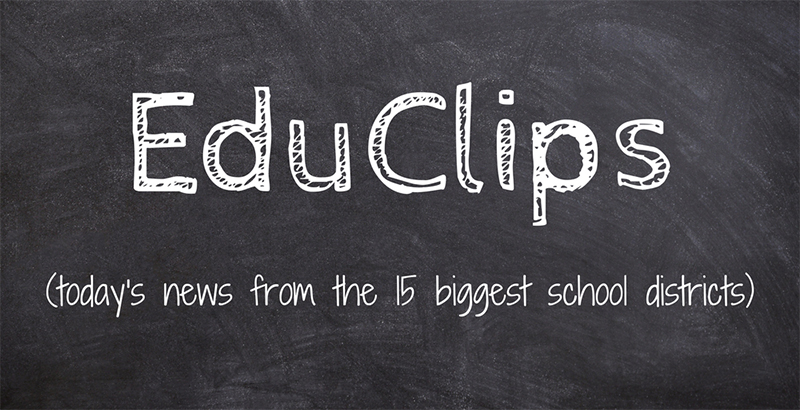 EduClips is a roundup of the day's top education headlines from America's largest school districts, where more than 4 million students across eight states attend class every day. Read previous EduClips installments here. Get the day's top school and policy news delivered straight to your inbox by signing up for the TopSheet Education Newsletter.
Top Story
OK TEACHER STRIKE — Oklahoma lawmakers were returning to the state Capitol on Monday as teachers in the state's largest school districts entered a second week of massive demonstrations to demand more education funding. Teachers, students, and supporters were again expected to flood the Capitol. Leaders of Oklahoma's largest teachers union have said protests will continue unless lawmakers approve a repeal of a capital gains tax exemption and the governor vetoes a repeal of a proposed lodging tax.
The $5-per-night lodging tax for hotels and motels would generate about $50 million annually. It's faced opposition from chambers of commerce and the hospitality industry. Axing the capital gains tax deduction would generate about $120 million annually. The Senate sent Gov. Mary Fallin two bills Friday projected to generate $40 million more annually for education by expanding tribal gambling and taxing certain internet sales. Teachers said that wasn't enough. (Read at USA Today)
National News
KS FUNDING CRISIS — Kansas lawmakers work weekend in effort to solve school funding crisis (Read at USA Today)
HOMELESS STUDENTS — In an Era When Hurricanes and Wildfires Are Common, Homelessness Is an 'Ongoing Disaster' for Students Across the U.S. (Read at The74Million.org)
TESTING PILOT — School Choice Fans Liked This ESSA Funding Pilot. Will They Be Disappointed? (Read at Politics K-12)
OK TEACHER STRIKE — Betsy DeVos to Oklahoma teachers: 'Serve the students' (Read at The Washington Post)
CHARTER SCHOOLS — Walton Family Foundation leading push to add $300 million to charter school loan funds (Read at Arkansas Online)*
District and State News
CALIFORNIA — Questions surface on accuracy of California school absentee data (Read at the Los Angeles Daily News)
PUERTO RICO — Puerto Rico closing 283 schools over sharp drop in enrollment (Read at CNN)
NEW YORK — NYC is expanding a program to boost diversity at its elite high schools. But it mostly helps white and Asian students (Read at Chalkbeat)
NEVADA — CCSD's failed desegregation history remains visible today (Read at the Las Vegas Review-Journal)
TEXAS — Austin bombings cast unwelcome spotlight on home schooling (Read at The Houston Chronicle)
NEVADA — Former LAUSD superintendent John Deasy is a finalist to lead Clark County School District in Las Vegas (Read at the Los Angeles Daily News)
ILLINOIS — Students, teachers to see millions of dollars in new funding this week — finally (Read at the Chicago Sun Times)
TEXAS — How To Put Ethics Into Texas' Draft Special Education Plan (Read at Houston Public Radio)
CALIFORNIA — More California teenagers are pre-registering to vote after March gun violence protests (Read at EdSource)
NEW YORK — Top New York policymakers to tackle state budget, student privacy, and teacher certification at April meeting (Read at Chalkbeat)
ILLINOIS — Rauner signs law easing licensing for out-of-state teachers (Read at ABC 7 Chicago)
HAWAII — Ige's Pick to Lead School Board Has an Unusual Background: Education (Read at the Honolulu Civil Beat)
Think Pieces
TEACHER TRANSFERS — Without Warning System, Schools Often 'Pass the Trash' — and Expose Kids to Danger (Read at NPR)
TEACHER STRIKES — The deeper cause behind the school strikes: Teachers are competing with the elderly (Read at The Washington Post)
BABY GRIT — What You Never Realized You Were Teaching Your Child About Grit & Resilience: MIT Study Captures Techniques That Work for Babies as Young as 13 Months (Read at The74Million.org)
TEACHER STRIKES — TEACHER VOICE: Is Arizona next? Fed-up educators learn from actions in West Virginia, Kentucky, and Oklahoma (Read at The Hechinger Report)
INTERNATIONAL TESTING — 'Countries Aren't Sports Teams': International Test Rankings Distort More Than They Reveal, Renowned Statistician Warns (Read at The74Million.org)
TEACHER STRIKES — Teachers across America are striking because courts are shrinking from the school funding fight (Read at the Los Angeles Times)
AT-RISK STUDENTS — What do at-risk students, English language learners, and adult college students have in common? (Read at The Hechinger Report)
Quote of the Day
"The rankings that are commonly used to report the results … draw headlines, but they are often incredibly misleading. The countries aren't sports teams to be ranked as winners and losers." —Judith Singer, a senior vice provost and the James Bryant Conant Professor of Education at Harvard, on the misuse of international tests. (Read at The74Million.org)
*Disclosure: The Walton Family Foundation provides funding to The 74.
Want the day's top school and policy news delivered straight to your inbox — for free? Sign up for the TopSheet Daybreak Education Newsletter.
Support The 74's year-end campaign. Make a tax-exempt donation now.