EduClips: Post-Scandal, Texas Seeks Special Ed Funding Fix; Government Shutdown Watch — and More Must-Reads From America's 10 Biggest School Districts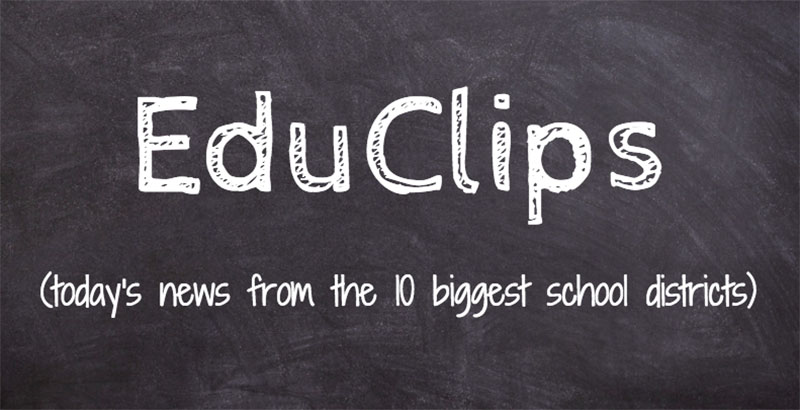 EduClips is a roundup of the day's top education headlines from America's largest school districts, where more than 4 million students across eight states attend class every day. Read previous EduClips installments here. Get the day's top school and policy news delivered straight to your inbox by signing up for the TopSheet Education Newsletter.
Top Story
SHUTDOWN WATCH — As the government shutdown entered into its third day, there was more partisan rancor over the Democrats' apparent rejection of the latest offer from Senate Majority Leader Mitch McConnell (R-Ky.), who said he would consider allowing a floor debate on immigration issues in mid- to late February if leaders do not strike an agreement before then.
The Senate is preparing for a procedural vote at noon today that would allow for a three-week extension of government funding, which Democrats want to firmly link to a consideration of an immigration bill in the Senate. On Sunday night, Senate Minority Leader Charles E. Schumer (D-N.Y.) said the two sides had "yet to reach an agreement on a path forward" after moderate senators spent the day trying to bridge the gap. President Trump took to Twitter to argue Democrats are acting at the behest of their "far left base" in demanding protections for young undocumented immigrants in negotiations to reopen the government. (Read at The Washington Post)
National News
DACA — After the Shutdown: Why DACA Architect Janet Napolitano Says It May Already Be Too Late For 'Dreamer' Students & Teachers (Read at The74Million.org)
SHUTDOWN — More Than 90 Percent of Ed Dept. Staff Would Be Furloughed in Shutdown, Will Slow ESSA Plans, Hurt 'Impact Aid' Schools (Read at The74Million.org)
FOSTER CHILDREN — Analysis: 11 States Struggle to Meet Federal Education Requirements for Foster Youth (Read at the Chronicle of Social Change)
READING — These kids started a book club for minority boys. It's the most popular club in school. (Read at The Washington Post)
District and State News
TEXAS — Abbott seeks feedback on proposed $84 million special ed fix as funding questions linger (Read at the Houston Chronicle)
ILLINOIS — Bill Would Give Rural Illinois Schools High-Speed Internet (Read at U.S. News and World Report)
FLORIDA — When a Hurricane Closes Schools, No Work Means No Pay for Thousands of Hourly Workers (Read at WLRN)
NEW YORK — Some struggling New York City schools can lose ground and still hit performance targets (Read at Chalkbeat)
CALIFORNIA — Education activist launches new school accountability campaign (Read at EdSource)
ILLINOIS — Illinois schools test approach that lets students learn at own pace (Read at the Peoria Journal Star)
NEVADA — Sex ed, guns spark spirited debates (Read at the Las Vegas Sun)
TEXAS — Texas panel set to discuss school finance fix. Can they iron out lawmakers' disagreement? (Read at the Texas Tribune)
NEW YORK — In divisive political times, an East Harlem government teacher strives for nuances (Read at Chalkbeat)
CALIFORNIA — Opinion: the yin and yang of California's school crisis (Read at Mercury News)
Think Pieces
TECHNOLOGY — What If Children Should Be Spending More Time With Screens? (Read at The Wall Street Journal)
TEEN MOMS — Fewer teenage mothers, but they still present a dropout puzzle (Read at Hechinger Report)
VOUCHERS — The 'V' word: Why school choice advocates avoid the term 'vouchers' (Read at Chalkbeat)
HEALTHCARE — OPINION: We can't afford not to supply school-based healthcare (Read at Hechinger Report)
RACE — It's time to shatter the silence about race (Read at Hechinger Report)
Quote of the Day
"Comically sad if it weren't so punitively true. More time and effort being spent on spinning responsibility for federal government #shutdown than on strategy to avoid it. Imagine the possibility if reversal were true." —Tweet from Miami-Dade Superintendent Alberto Carvalho, on the shutdown's effect on "Dreamers." (Read at The74Million.org)
Want the day's top school and policy news delivered straight to your inbox — for free? Sign up for the TopSheet Daybreak Education Newsletter.
Get stories like these delivered straight to your inbox. Sign up for The 74 Newsletter